The Tempest
William Shakespeare
Donmar Warehouse
King's Cross Theatre
–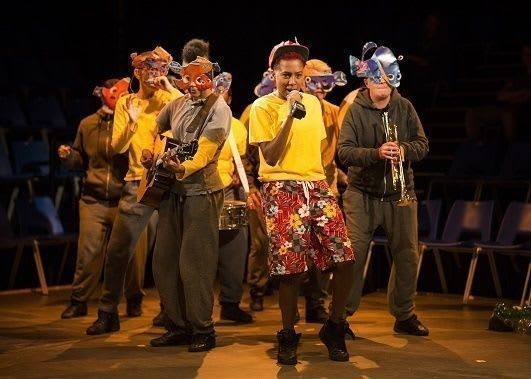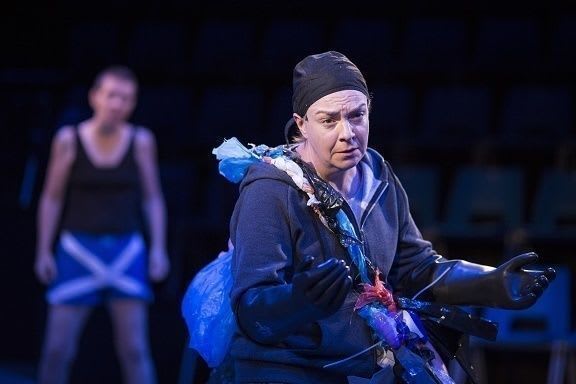 By the time that viewers reach The Tempest, especially while watching this trilogy in a single day, a very familiar play has taken on a different character from that originally anticipated.
Rather than merely an opportunity to enjoy a third, abridged version of a well-known work written by the Swan of Avon, the last part of a six-hour day (11 including intervals) has become the completion of a detailed character study featuring a group of individuals who mix brash braggadocio on the one hand with internal insecurities on the other.
The Tempest is introduced by Hannah/Prospero played by Dame Harriet Walter. As Hannah explains, she has been imprisoned for 35 years having driven the getaway car in a bank robbery that ended with fatalities and was instituted by a gang of political terrorists.
She is intelligent but has no chance to leave prison for the remainder of her life. Therefore her only real escape from daily drudgery comes through mentoring her peers and taking an opportunity to play some leading theatrical roles.
This 1¾-hour abridgement would seem short by any standards but contains a number of songs and prison scenes, thus cutting the original play and further.
This means that while the comedy scenes involving Stefano, Trinculo and Caliban (respectively Jackie Clune, Karen Dunbar and Sophie Stanton) will please the audience, something that is lost, despite the efforts of the leading actress leading from the as a kindly, thoughtful Prospero.
The main strength of this production comes from the ability to observe the manner in which the underlying characters change and develop as they each take on three roles through a long day for them and for us.
For example, Jade Anouka was able to show a more mischievous but also vulnerable side as Ariel than has been the case in her earlier dramatic roles, while Sophie Stanton turned her lumpish, Cornish Caliban into a deeply sympathetic figure, looking like a miserable bag man down on his luck.
The lovers too are particularly touching, Lear Harvey finally stepping up to a substantial role as her deeply troubled prison persona is given a real boost with the opportunity to portray a touchingly innocent Miranda, while Sheila Atim proved to be a lovable, bloke-ish Ferdinand.
At the end of the day, this experiment has proved a resounding success, demonstrating that women can play almost any Shakespearean role without ever making its audiences feel that they are watching a poor imitation of the real thing. It has also given viewers an opportunity to get a better understanding of the difficulties that prisoners face and the way in which theatre can help them to escape from their troubles, at least briefly.
In the final reckoning, at the end of a full-on day at King's Cross Theatre that is always fun, often moving and has hidden depths thanks to the framing device of the prison, viewers will be grateful to Phyllida Lloyd and her dedicated and inventive ensemble for an experience that might not be perfect but is enjoyable and deeply rewarding.
See also reviews of Julius Caesar and Henry IV.
Reviewer: Philip Fisher