Henry V
William Shakespeare
Royal Shakespeare Company
Barbican Theatre
–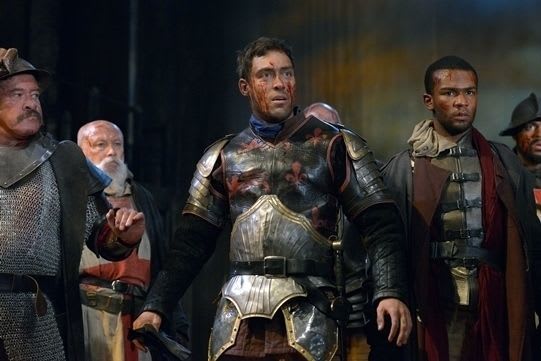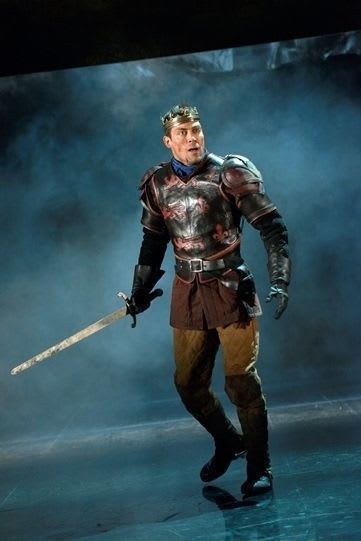 The RSC makes a welcome return to its old London home with a traditional production to replace the Lyndsey Turner / Benedict Cumberbatch vision of Hamlet.
Artistic Director, Gregory Doran's history plays cycle continues with Henry V, accompanied on this London transfer by the earlier plays, which are particularly remembered for Sir Antony Sher's award-winning Falstaff.
Centre-stage now is his one-time jousting companion Hal, now ruling the country as the respectable Henry V. There is continuity as he is still played by Alex Hassell, a dead ringer for Jude Law a few years back.
Stephen Brimson Lewis's design is on a grand scale as befits this big stage, with a shimmering, golden-twined backdrop onto which images are projected, the impression consolidated by Paul Englishby's musical compositions, which inject pomp and circumstance.
Into this arena steps Hassell, who for most of the evening is a far from imposing monarch, seemingly still struggling to complete the transition from playful vagabond to imperious ruler.
One issue is his vocal projection, which is shown up by the wonderful Oliver Ford Davies, who is a fine Chorus using his booming, fruity voice to narrate wittily and evocatively at intervals throughout the three hours.
The early scenes show the King becoming involved in the sometimes sordid politics of state at the same time as some of his equally sordid subjects tearfully bemoan the loss of their rascally friend Sir John Falstaff.
The declaration of war on the insulting French, personified by Robert Gilbert playing an effeminate Dauphin, moves things up a gear, with "Once more unto the breach" delivered in a deliberately hesitant style, which for many will make the words more pertinent.
Even the St Crispin's Day call to arms for the massively outnumbered British Army stays low-key and only on the battlefield does Henry finally show the warrior-like aspects that viewers (and his followers) expect.
The war won, and Joshua Richards as Fluellen given the opportunity to amuse along with Simon Yadoo playing his literally unintelligible Scottish colleague, the peace must follow.
This involves not only the surrender of Simon Thorp's French King but some of the play's funniest moments as the King of England becomes a lusty wooer of his beaten rival's daughter Jennifer Kirby taking the role of Princess Katherine. The marriage that the stumbling pair negotiate will ultimately be not only a chance to love but also bring the two kingdoms together.
Gregory Doran is always keen to mine the text for new meanings. This manifests itself best as he draws comedy from lines and words previously imagined to be serious, which helps the evening along no end.
In the final analysis, this production is likely to be remembered as a solid and worthwhile part of an epic cycle that might possibly, by its end, encompass Henry VI and Richard III.
Reviewer: Philip Fisher