Herons
Simon Stephens
Lyric Hammersmith
–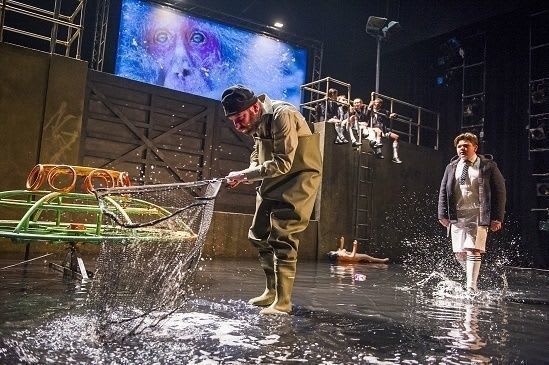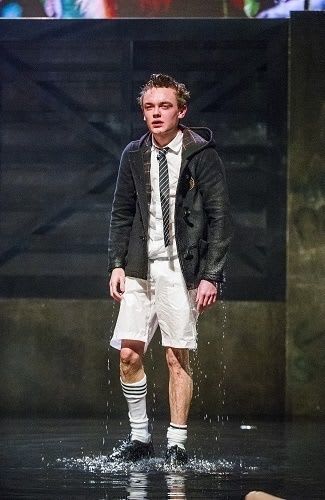 Soon after he became the Lyric's Artistic Director, Sean Holmes staged a revival of Saved. Edward Bond's play is arguably the most shocking of the 1960s but could almost work as a back-story to Herons, a play with sensibilities close to those of the In-Yer-Face genre, which was still going strong when it premièred at the Royal Court in 2001.
In the last 50 years since Bond outraged the nation, we have all become immune to anything but the most shocking depictions of violence but even today's viewers might find scenes and images in this piece deeply unsettling.
The setting, stylishly created by Hyemi Shin, seems innocuous. A well-spread children's playground is set not in concrete but in an ankle-deep pool, overlooked by raised platforms behind which a giant screen projects images not of herons but baboons and their like.
This is a not particularly subtle way of informing us that the teenagers we are to observe for the next 80 minutes are red in tooth and claw. If there is any doubt, the allusions to the birds of the title and their ability to swoop and kill confirm the point.
As is slowly revealed, a year before the events on stage, a schoolgirl was brutally murdered by a bunch of local thugs.
The main story revolves around Billy Matthews as Scott, a 15-year-old whose brother is in prison as one of the co-conspirators in the crime, and Billy played by Max Gill, an articulate lad a year younger whose father witnessed the crime and discovered the body.
Scott is a typical loudmouthed bully with a small, loyal gang in tow and a girlfriend, Sophia Decaro's Adele, whom he treats as badly as most people would their enemies.
Scott is clearly still in thrall to his murderous brother, while struggling to discover his own place in society.
Overweight Billy is torn between his needy, unemployed Dad, portrayed by Ed Gaughan, who practically turns swearing into an art form, and Sophie Stone as his deaf Mum.
While both boys are finding their teenage years difficult, the generation above seems to be doing little better and Simon Stephens's message probably lies in the vacuity of a society where those growing up have aspirations that stretch little further than getting a dead-end job or avoiding prison—at least some of the time.
Herons can hardly be classified as a cheery play but is deftly staged by Sean Holmes and presents a wonderful opportunity to a team of young actors, including two graduates of last year's Bugsy Malone in Max Gill and Sophia Decaro, who along with Billy Matthews are names that we are likely to hear a lot in coming years.
Reviewer: Philip Fisher