If Play Is Play…: Two / Before The Interval / The Days The Nights The Wounds The Night
Choreography by Johan Inger, Luca Silvestrini, Matthew Dunster and Company
HeadSpaceDance
Linbury Studio Theatre, Royal Opera House
–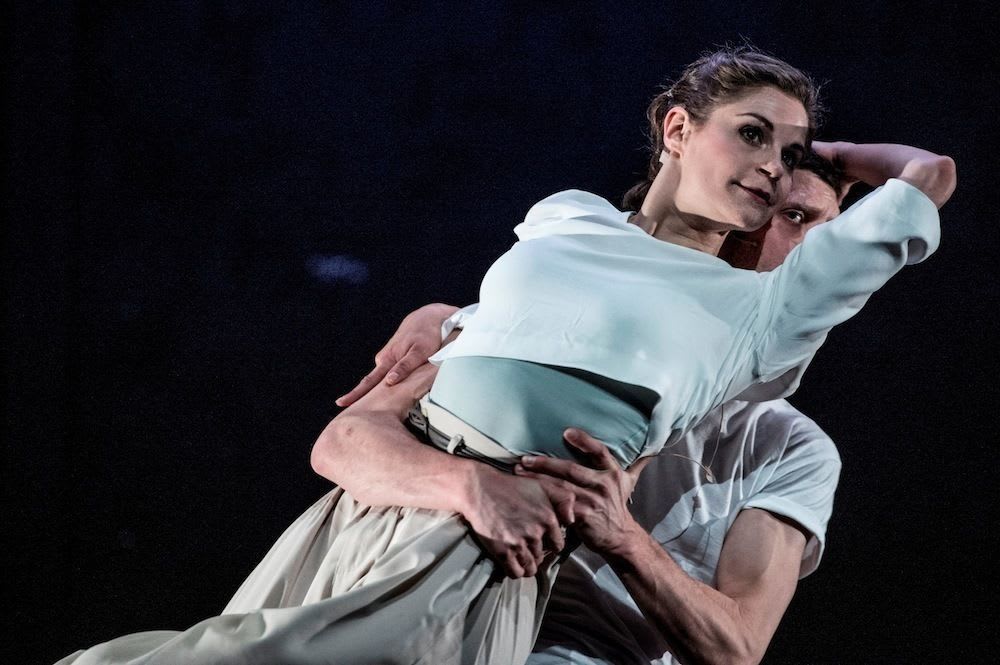 HeadSpaceDance continues as it began in 2012—with wit, intelligence, and too much thinking for their own good (I jest but only a little). The dancing is superb and the audience is very appreciative. Enthusiastic performances reap an enthusiastic reception.
Of the 2012 trio, Charlotte Broom is not performing, as she 'phones in to tell fellow artistic director Christopher Akrill, but darling Clemmie Sveeas, who wonders whether this is her moment, is. They are joined by Gemma Nixon and Jonathan Goddard—"only 34... Dracula – he's got the face for it"…
Luca Silvestrini choreographs a companion piece to 2012's After the Interval, and Matthew Dunster (playwright, director and actor) has been welcomed into the dance drama fold, adding another feather to his and their bows.
But the best is Johan Inger's (NDT former dancer, now its associate choreographer) opening intense six-minute Two. Arvo Pärt's Silouan's Song (My soul yearns for the Lord) speaks of life and death, of the beginning and the end, in resonating cathedral heavy chords.
A couple flits one around the other—he (Akrill) with avian arms, she (Nixon) with a grounded solidity. When they finally come together they are dancing on their knees in each other's arms until one slips away and the other is left embracing only air. A whole lifetime in six minutes—remarkable.
Silvestrini's twenty-six-minute Before The Interval is familiar territory. Akrill, Sveeas, and Goddard pull in different directions, in their own egotistical ambitious bubbles. Sveeas is charming and funny as she speaks and twists and folds her flexible body in a lovely solo.
'What if' confidences to the audience about the other two, who join her in a jazzy number, internal dialogue, and direct address to the audience—all lightweight Silvestrini tropes.
The music mix is fun, there's a follow-the-leader element, and a tug-of-war one too, lots of contact work, deliberately clumsy work-in-progress nuts and bolts, choreographic trial and error process, and not much left to the audience's imagination. It could have gone on and on, tinkering around the edges if interval had not been called.
The final thirty-five-minute piece by Matthew Dunster does seem interminable in its point-making repetition. A dance drama about 'what it is to be a dancer in a city like London and how it affects the rest of their lives. These ideas are explored through an innovative choreographic process using psychological techniques and theatrical game playing.'
All four dancers take the stage in individual OCD anxiety, repetitive hand washing to Ian Dickson's sound design, beat box rhythmic sound, street noise, sirens, classical music and narrative torch song.
'Phone calls punctuate the lonely people's lives, whilst Simon Bennison's lighting squares and strips (very Michael Hulls) represent rooms, lamp lit streets, and individual boxes.
Nixon and Goddard couple in dysfunctional coldly erotic manner. Goddard and Sveeas have an aggressive head-butting encounter in the street. Akrill seems to be a troubled angry choreographer with Sveeas on the receiving end of his tongue in rehearsal.
But the resulting solo for her is again so suited to her talents and ability. Sveeas's emotional acting / dancing brings the fractured narrative, and the evening, to the end. She is the winner, as she's hoped she'd be.
The journey is not an easy one. I think that's what the title is aiming to convey. It's not all play, one has to mine the emotions. All the performers are excellent, each in their own way.
But I do wish the directors had trusted dance and the dancers' expressive bodies to speak more and the spoken word less. When they are dancing they are so much more eloquent. Actions really do speak louder than words.
Reviewer: Vera Liber