Inadmissible Evidence
John Osborne
Donmar Warehouse
(2011)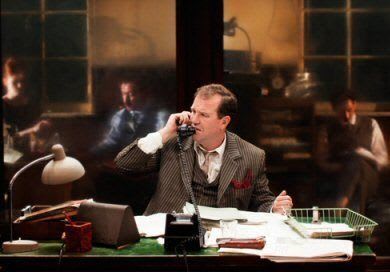 They don't make them like this any more - thank goodness. Like the eponymous anti-hero of Simon Gray's recently revived Butley, Bill Maitland is a male chauvinist pig left over from the era when they were in their pomp.
Douglas Hodge, who takes the leading role, really is a versatile actor. Viewers will remember him most recently from La Cage Aux Folles and further back, lots of Pinter. Now, he plays an Osborne archetype with roots in Jimmy Porter and Archie Rice.
Maitland is nominally a solicitor running a practice into the ground in seedy premises, lovingly created as a symbolic, paper-and book-strewn mess by designer Soutra Gilmour.
However, the middle-aged lawyer spends more of his time swilling whisky and raging against the dying of the light than concentrating on cases. The shabbily-dressed Maitland's primary hobby though is cheerless womanising at which he is unremitting, betraying unseen Anna with practically every female that crosses his path.
Hodge's energy levels never fall away, as he rants for England with, at moments of stress, vocal intonations strangely reminiscent of Norman Wisdom.
The surprise is that this odious man can hold employees or women for any period, given his joy in humiliating anyone unfortunate enough to come into contact with him.
While the two pretty secretaries are merely treated to physical disrespect, the male solicitors face their own equivalent. His much put-upon senior assistant Hudson has to clear up the problems that inevitably occur on both personal and legal levels. The trainee, Al Weaver's Jones, becomes a punch bag forced to put up with a constant stream of bullying insults.
After the interval, a day on, Maitland becomes a little more sympathetic as we apparently enter his dreams or, more accurately, nightmares. Now, we observe a series of disastrous encounters that say something about the law, more about his business and most about the irremediable disaster that he has made of his life.
This 2½ hour drama is basically a star vehicle and, under Jamie Lloyd's direction, Douglas Hodge rises to the challenge, inhabiting the Osborne surrogate to the manner born and quite possibly opening up the opportunity for acting awards at the end of the year.
While Hodge is the undoubted focal point, he receives good support, inter alia, from Daniel Ryan playing Hudson, Amy Morgan as the boss's latest conquest-cum-secretary Joy and Serena Evans in the role of a tearful client whose unfaithful husband sounds like a Maitland replica.
Inadmissible Evidence bears all of the hallmarks of early John Osborne with its selfish, central figure vomiting out unpleasant tirades. In this case, he is on the brink of what might well be a fatal bodily malfunction that is indubitably self-inflicted.
The good news is that since 1964, political correctness and a big improvement in respect for human dignity have turned Maitland and his many real life models into dinosaurs.
The main attraction of this evening will be a chance to catch Douglas Hodge on top form, though John Osborne is always popular and this play rarely seen.
Playing until 26 November
Reviewer: Philip Fisher