Ivan the Terrible (The Maid of Pskov)
Nikolai Rimsky-Korsakov
Grange Park Opera
Grange Park Opera
–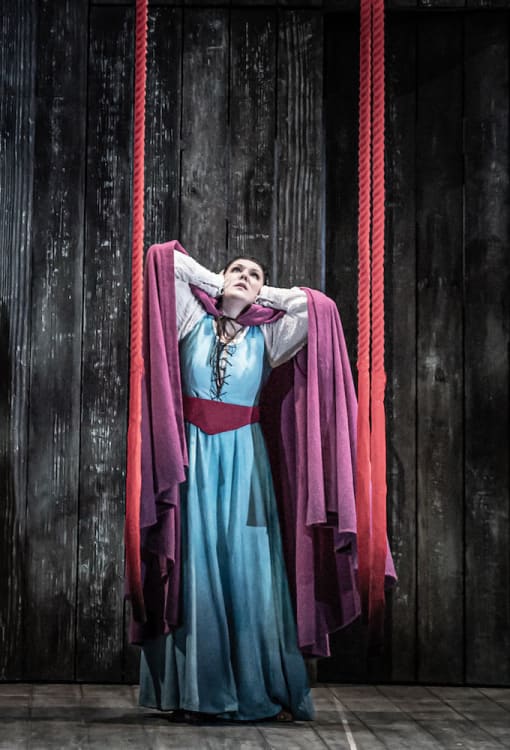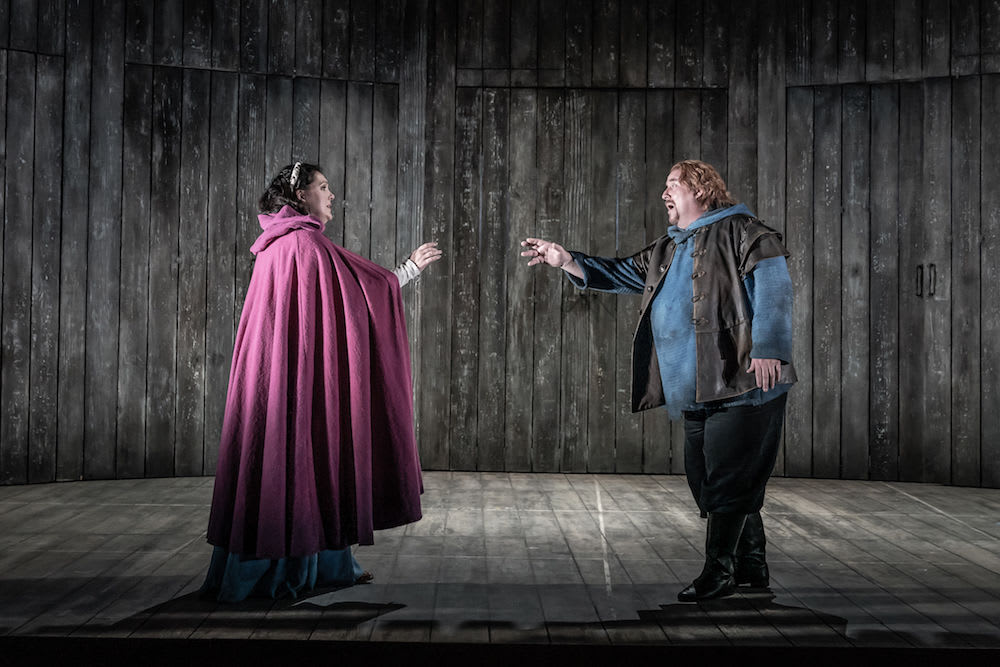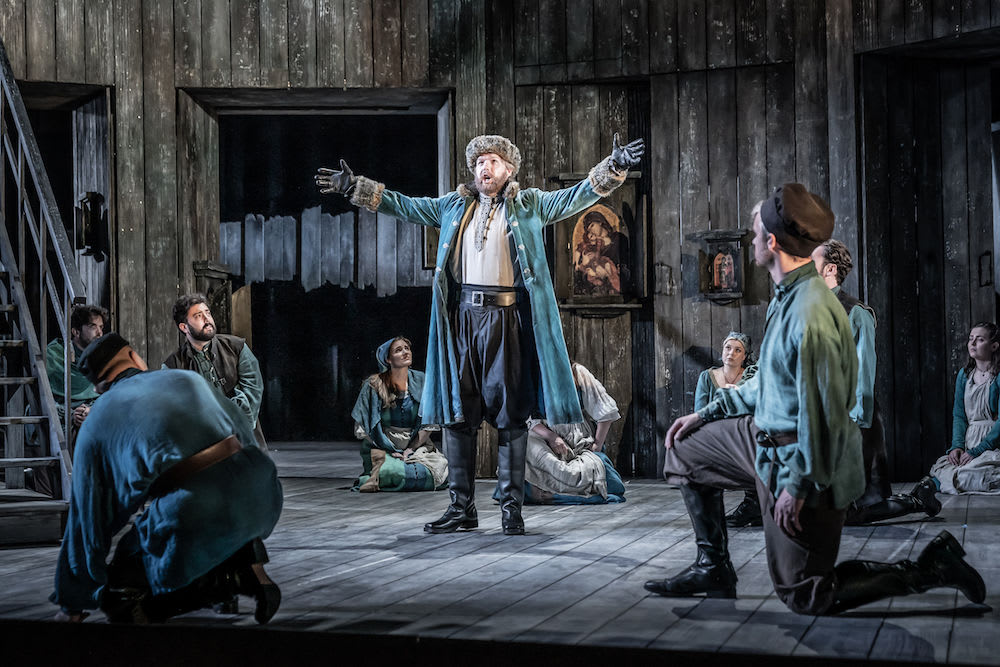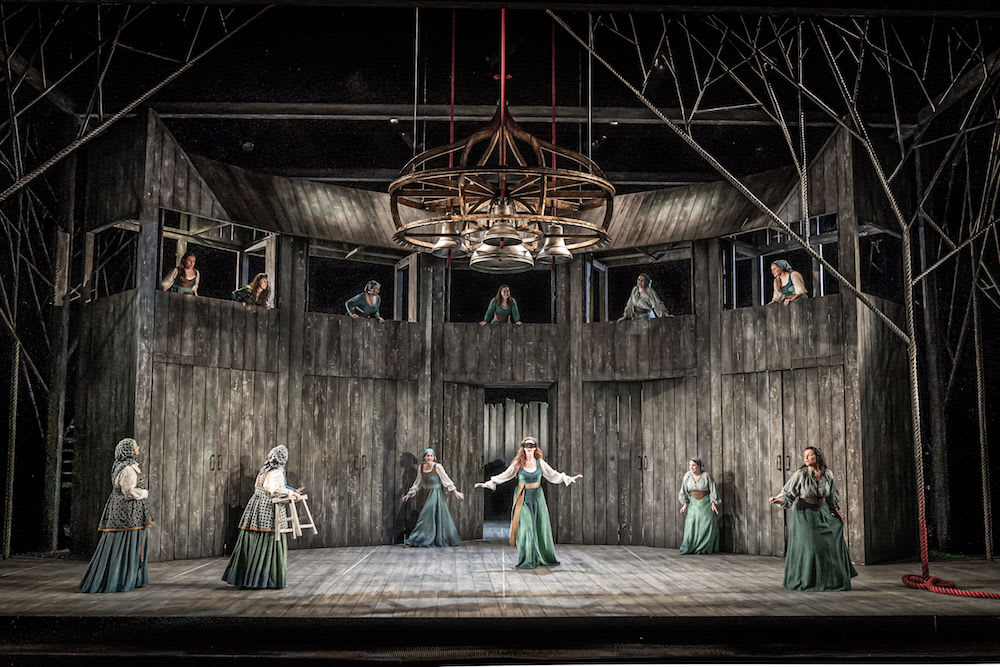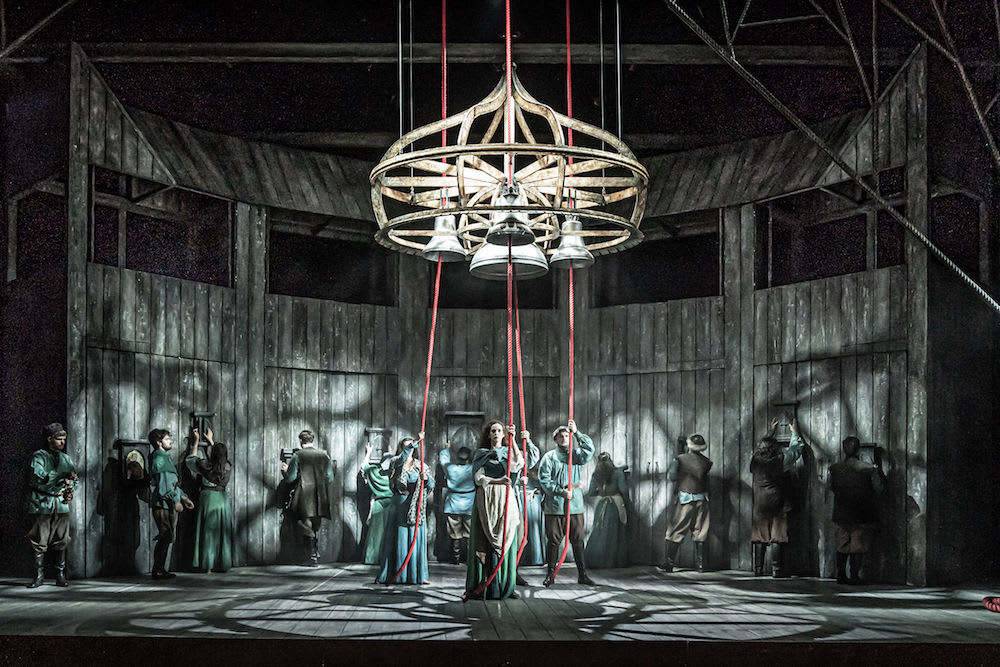 My reason for wanting to see Rimsky-Korsakov's Pskovityanka—the girl or maid from Pskov—is not just that it is hardly ever done in the West (the last time was in 1909 when Diaghilev brought it, renamed Ivan the Terrible, to Paris, where it shared the bill with Boris Godunov, Fyodor Chaliapin in both lead roles—that must have been something), but that it is a David Pountney production and it is being sung in Russian. If his magnificent War and Peace (sung in English) is anything to go by, I want to see what he can do with this historico-folkloric tale, though on a smaller stage. And it is certainly an interesting, intriguing, bold production. But do not be misled by Viktor Vasnetsov's portrait of Ivan the Terrible that embellishes the web site page for this opera.
I have seen a traditional production, albeit on screen, from the Bolshoi, dressed in sixteenth century bylina / bogatyr tales of old style, but here we have a concept. Almost four centuries concertina into a surprise unveiling. The tsar, Ivan the Terrible, who comes to sack Pskov after taking Novgorod, sheds his historical robes and Monomakh cap, and who do we find underneath but Stalin in his familiar uniform.
Stalin identified with Ivan. Russian autocratic rulers are like Matryoshka dolls, one inside the other, continuing reigns of terror and unquestioning obedience, or as Ivan says, "a single flock needs a single shepherd". Little has changed since. In act three we see him sitting at a desk in a bare room, surrounded by Soviet concentration camp lookout towers, mulling over lists of the condemned awaiting his signature. And watching, with a nod to Sergei Eisenstein's 1944 film Ivan Grozny, an old film reel of medieval Ivan bludgeoning his son to death...
Blood and guts mixed with the personal. The basic story is that Olga is tsar Ivan's illegitimate daughter, born to Vera Sheloga some fifteen years ago whilst her husband was away fighting. On his return, her sister Nadezhda (Amy Sedgwick) claims the child is hers to protect her. Nadezhda's husband Prince Tokmakov knows the truth, raises sweet Olga as his own when both Vera and Nadezhda die young. Now the Prince wants to marry her to a much older boyar, Matuta, but she is in love with a younger man, son of the mayor, Tucha, a rebel (or dissident as the surtitles spell it out) against the tsar Ivan / Stalin. Their love duet is lovely.
News comes from Novgorod of the pitiless slaughter of innocents, bodies in the river, but Pskov welcomes Ivan / Stalin with the traditional bread and salt. And Olga serves him wine. She is not afraid of him. He calls her Olga Ivanovna, using his patronymic not the Prince's, subtly acknowledging his paternity. And he holds back on sacking Pskov, but Tucha with his rebels attacks (offstage in this production) and Olga gets killed in the crossfire. Here she is shot in the back by one of Stalin's lieutenants, one of Ivan's Oprichniki. Stalin gives the order to shoot. Pountney has adjusted the tale to suit his purpose. Stalin asks the doctor to bring his little dove back to life. Pskov falls. "God's will", the chorus sings. "All Russia groans." The final image is the chorus sealing their lips with red tape.
Creepy Matuta (Adrian Thompson), in black fedora hat, has turned into a Beria (Stalin's head of the secret police) lookalike, as he seeks Olga in her forest rendezvous with Tucha (Carl Tanner). Beria was known to pick up underage girls, who were never seen again. Ivan's Oprichniki are in NKVD black leather coats and shapkas. And in the last act, Olga too has changed out of her modest sixteenth century maiden long robe and cloak into a thirties / forties frock and shoes.
I'm not entirely convinced by this compressed geological stratification, though it gives food for thought. But I do wonder how many know Russian history well enough not to be confused. Thankfully, the fulsome programme notes explain it and more. Do buy the programme, there is much of note in it, and it covers the whole 'Spaced Season 2021'.
Rimsky-Korsakov's first opera, written in a room shared with his friend Mussorgsky, who was composing Boris Godunov (and one hears a spilling over of influence) on a shared piano, is more folkloric than historical, based on a play by Lev Mei. He made three versions, the first premièring in 1873, revised it in 1876–1877, the final written 1891–1892 by which time Wagner came into his radar, and that can be heard, too, in the sung-through recitatives.
What ring loudest though are Russian folk melodies (as in Stravinsky) and the chorus is magnificent in its fulsome Russian timbre. Evelina Dobracheva sings both Olga and her mother Vera (in the prologue) with a purity of voice, but it's her nanny Vlasyevna (Liubov Sokolova) in whose contralto voice I hear fairy tale Russia and Tatyana's nanny in Eugene Onegin. Pushkin, of course, wrote many folk tales, used as bases for opera, Rimsky-Korsakov's The Golden Cockerel and The Tale of Tsar Saltan, for instance.
Pskovityanka comes out of that period of the mighty bunch (moguchaya kuchka) of composers (Rimsky-Korsakov, Mussorgsky, Borodin, Cui, and Balakirev collaborating in the 1850s to '70s) aiming to promote the Slavophile style of national music. And Francis O'Connor's two-tier design is a very clever, concise mix of Kizhi style church bell tower and Russian wooden house architecture with its many-doored terem women's quarter, where girls can play tag and gossip safely away from men's eyes. How quickly and easily the homely walls turn into observation posts in the back of beyond. Icons and red bell pulls briefly brighten the dark rustic wood look.
Clive Bayley is in fine voice as Stalin / Ivan the Terrible, as is David Shipley as the sympathetic Prince Tokmakov. Mariinsky conductor Mikhail Tatarnikov keeps it all together in the orchestra pit. There are only six performances of Ivan the Terrible: this seldom-seen work is a must for the curious. The surtitles at times struggle to keep up, but the romantically bucolic orchestral music is wonderful.
And I must add a note of thanks to Wasfi Kani, founder and CEO of Grange Park Opera, for her boundless energy in keeping the shows going come what may.
Reviewer: Vera Liber