JB Shorts 21
James Quinn, Peter Kerry, Dave Simpson, Diane Whitley, Lindsay Williams, Trevor Suthers
Reallife Theatre Company
53two
–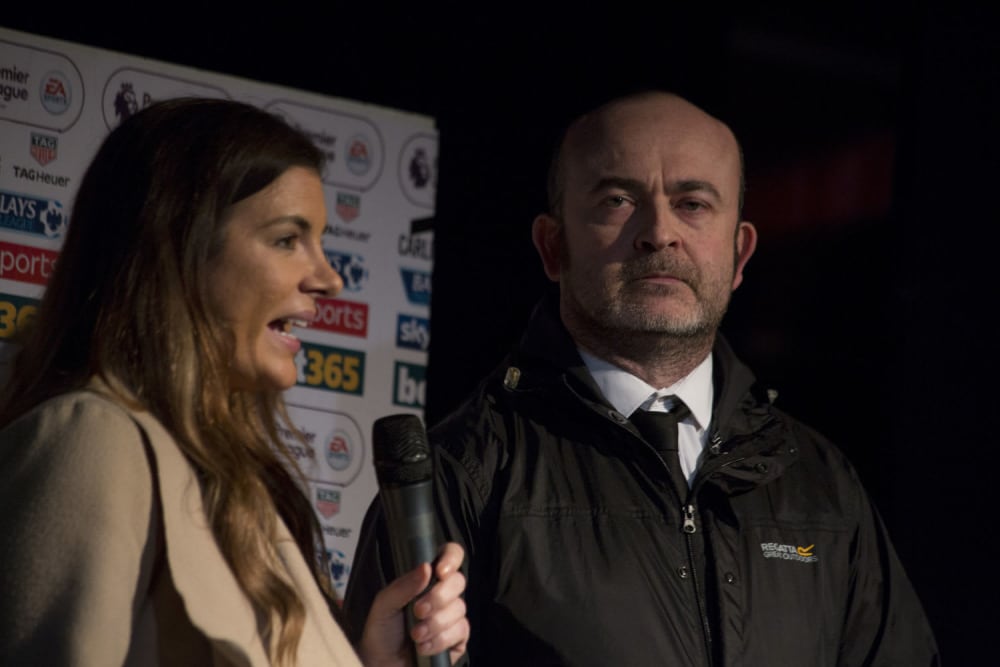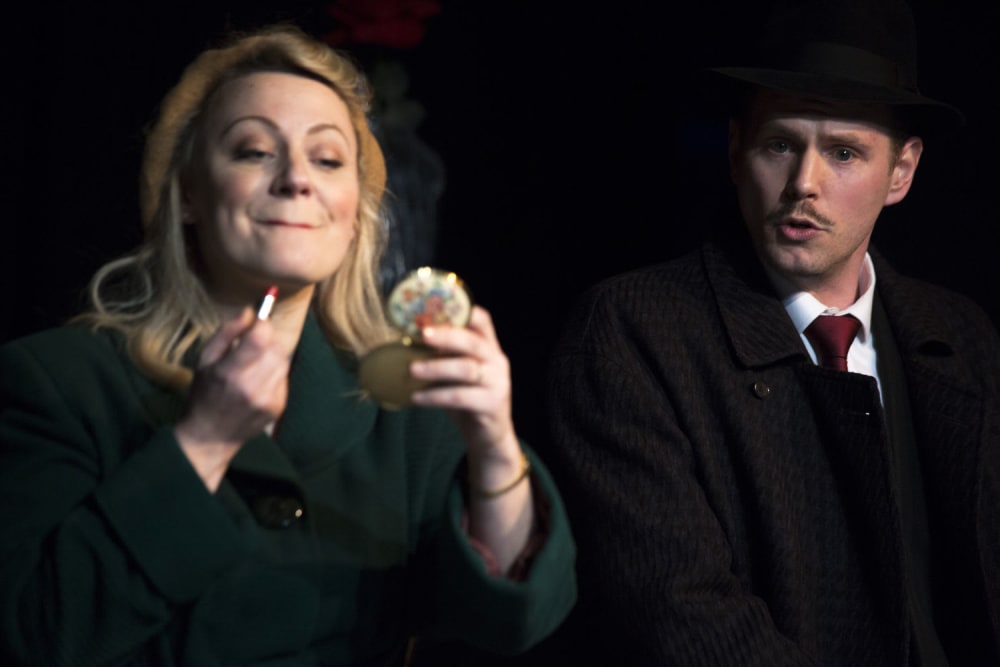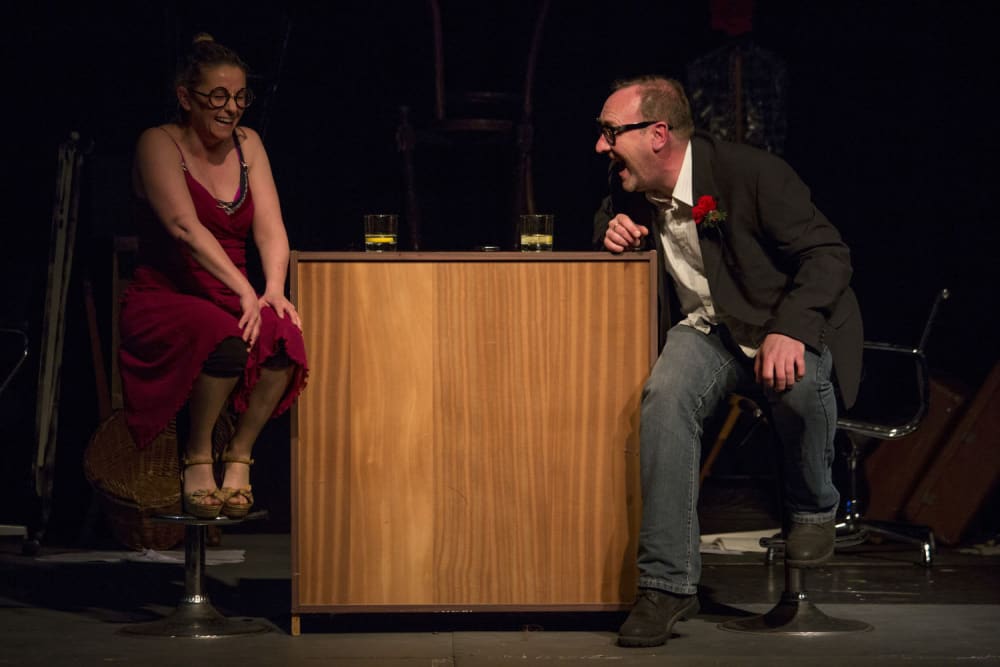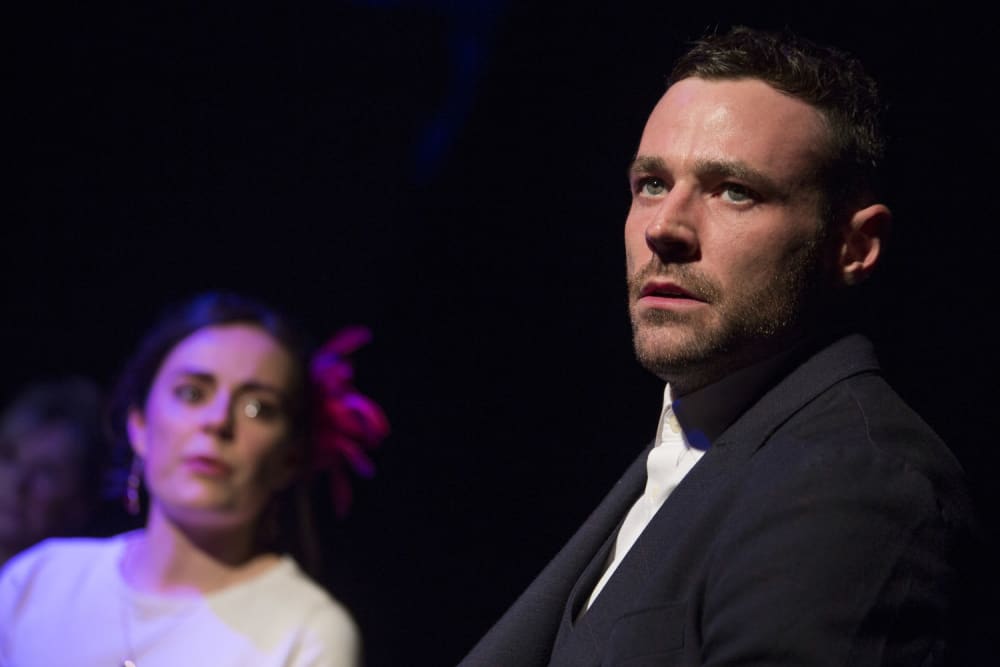 After twenty productions featuring 120 brand new plays over ten years, JB has taken a reflective approach to number 21, featuring reruns of plays featured in past JBs from some of its regular writers and directors, plus there are quite a few familiar faces in the cast.
To kick off the evening, we are taken right back to JB 1 in March 2009 by James Quinn, who writes, directs (with assistant director Aileen Quinn) and performs in At the End of the Day, words commonly heard in the world of the football interview where this piece is set. Quinn and Callum Sim are studio anchors Terry and Jim, making banal observations on the match and on the pitch-side interviews from reporter Georgina (Alexandra Maxwell), with Philip Shaun McGuinness and Peter Slater as the various players and managers of different nationalities. It's a well-observed spoof of a situation familiar to many but with a good running gag of Georgina's dull questions getting answers that are increasingly inappropriate for a Sunday afternoon broadcast, which are then reflected upon back in the studio. A fun way to open the evening.
From JB 2 in October 2009, Peter Kerry's Banal Encounter, directed by Chris Bridgeman, also appears to take us to familiar territory from the way the title, the 1940s station setting, the cut-glass English accents and even Lottie's (Laura Littlewood) opening line to fellow traveller Wilf (Andrew Bentley) that she has something in her eye is trying to steer us. However this apparently sweet little series of encounters takes a much darker turn later on, as we realise how we have been misdirected—in particular over that passing goods train. The chilling twist at the end is accompanied by the romantic piano chords of Rachmaninoff's second concerto to maintain the parallels but with a very different effect in this tightly written and directed piece.
Taking us into the interval is an old favourite from JB 9 in March 2013 that was popular enough to be given a sequel—well, the ending leaves you on a rather dour cliffhanger that pretty much demands a second episode, which it got in JB 10 later the same year. Dave Simpson's Blind Date, directed by Alice Bartlett, sees two 'mature' singles trying Internet dating for the first time and, taking advice from their more conventionally attractive best friends, aren't entirely truthful on their applications. Of course when Will Travis's Andrew and Susan McArdle's Angela meet, we can see they're perfect for one another—but will they realise it themselves? This is a sweet and gentle comedy perfectly performed.
After the interval, Diane Whitley's Snapshots from JB 5 in March 2011 is set at Bill (Glenn Cunningham) and Sally's (Julie Edwards) surprise fiftieth anniversary party, for which their granddaughter Zoe (Beth Nolan), whom they raised, and her fiancé Greg (Sean Ward) have prepared a slide show of their history together—at the thought of which the happy couple look horrified. As the slides are shown, Nolan and Ward stand in as Sally and Bill's younger selves, animated to show the real stories behind the photos, which weren't always as idyllic as the images seemed to indicate. The piece tends to meander around narratively, but the idea is sound, there are some interesting scenes and it is all well performed.
Lindsay Williams's The Outing from JB 14 in November 2015, directed by Miranda Parker, takes us into areas in which the tabloids like to manufacture outrage. Richard Hawley's (not the Sheffield singer) widowed Frank is on a coach trip to Conway (as it was spelled at the time), being attacked by seagulls for his chips in newspaper (so not set in the recent past), when he tries to strike up a conversation with loner Nellie (Jeni Howarth-Williams), partly to escape the attentions of the predatory widows in the tea shop. Nellie is obviously trying to hide something, but fellow tripper Veronica (Kerry Willison-Parry) knows what it is as she has seen her picture in the papers. The subtlety of the withholding of information is lost later on as it gets bogged down in explanations, which are less convincing, but this is still an interesting study into how those who commit acts that society considers unspeakable can ruin lives of those close to them as well as their more direct victims, and they are more likely to attract blame than sympathy.
Trevor Suthers provides the evening finale with Can We Stop It There, directed by Brainne Edge, from JB 2 in October 2009, a comedy about acting and theatre—a subject he has visited a few times before. A couple of actors are performing a scene with scripts in hands but are stopped by their director; but is this the rehearsal or is it still part of the play? It's a simple Ionesco-like idea taken to N F Simpson-style comic extremes with quite a few in-jokes for actors—of which there always quite a lot in a JB audience. For me it goes on too long and the content of some of the scenes doesn't go anywhere and loses the momentum, but it is all played superbly and with total commitment by a large cast of Martelle Edinborough, Emily Spowage, Darren Jeffries, Lucie Browne, Arthur Bostrum and Rob Hudson.
JB has certainly had an impressive ten-year run, as this selection shows. There may be a few I've seen over the years (I started reviewing from number 6 and have seen every one since) that I preferred to some of these, but it shows off the range of both comic and serious pieces that they have squeezed into the last 20 evenings of entertainment at Joshua Brooks and their new home of 53two. Here's to the next ten years.
Reviewer: David Chadderton