Jersey Boys
Book by Marshall Brickman & Rick Elice, composer Bob Gaudio, lyrics Bob Crewe
Trafalgar Theatre
From

Listing details and ticket info...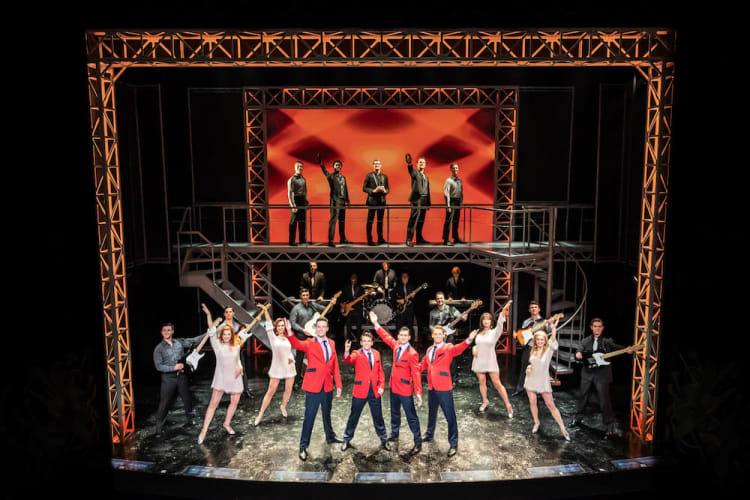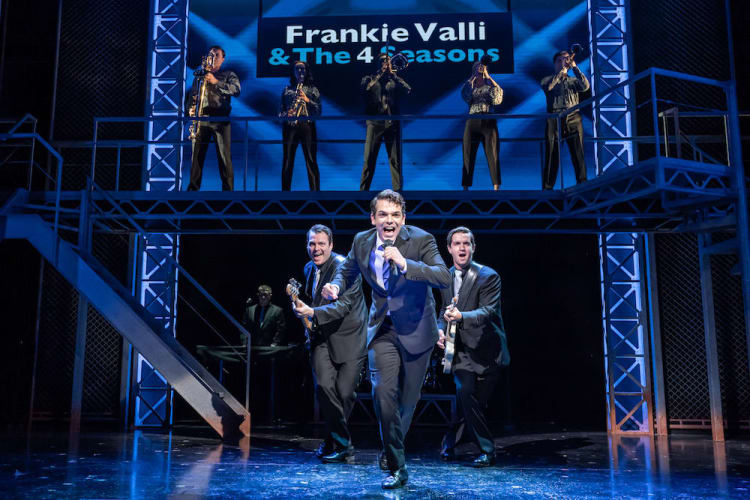 Why another press review of Jersey Boys? It's been reviewed multiple times, running and touring in USA, UK and Ireland since 2005. In any case, its nostalgic escapism is critic proof. A new cast that's why...
I covered Jersey Boys exactly two years ago, my first show after lockdown—did we need a feel-good jukebox musical to let off steam then… do we still need it now… The excited audience, the perfect audience, some are coach parties down for a special night, would be dancing in the aisles if only they could. So would I.
Strictly speaking, the three new Four Seasons (the group's ultimate name after several faux attempts) leads have performed in Jersey Boys in one way or another, often in touring groups, and Karl James Wilson is reprising the fourth one, the laconic bass player and bass vocals Nick Massi, who left the group for reasons he did not know—it just came out of his mouth, he says. He'd had enough. He died in 2000. But I'm skipping ahead.
The formation of the group in 1960, their hard early years—Frankie Valli of the falsetto voice joined when he was only 16, "a dark wop from New Jersey who never graduated high school"—the touring, the showbiz ups and downs, the shortage of money, the deals with the mob, their eventual successes after Bob Gaudio joined them. Their evolution told from four perspectives; their mature summation of the price of success and astonishing record sales (3 million)... The grafting was hard and took its toll.
Band members changed, for various reasons, but the essential core was Valli (Luke Suri) and Gaudio (Declan Egan). Gaudio (keyboards and tenor) a prolific genius from whom so many songs flowed—there are over thirty in the show, and a list of about twenty "that got away". For Valli, it was all about the music. He didn't know how good he was and what a special vocal range he had. He's still singing today.
For lead guitarist and baritone Tommy DeVito (Peter Nash), the wheeler-dealer for the group, who often got himself in trouble with the law and the mob, it was about money. And the women were just 'broads'. Sexist times, macho men—the songs spell it out.
Amazing that, though the group were never on my radar, I know the songs so well. I know them even better now. I take a Dutch companion, who has never heard of them, with me. I tell her she'll recognise the songs. She does! That speaks volumes. She has fun.
What I notice more the second time round is how slick the production is: the seamless narrative through Bob Crewe's lyrics, songs echoing lives and sugaring the pill. As boys from 'blue collar' immigrant backgrounds, there's the connection with their working class public. Valli talks of his Italian mother scrimping, even when he gave her money. Habits die hard: what else did they know…
I can't take my eyes off Peter Nash's DeVito, a highly energetic convincing performance as the piece of rough. I can't take my eyes off Declan Egan's Gaudio, the quietly confident songwriter. A hunched Suri shows Valli's insecurity well, his troubled life, divorce, death of a daughter, which feeds into his voice. Basically, they all did their growing up on the road, constantly away from family and home. But what vocal harmonies…
The supporting cast is great. Joey Cornish as Joe Pesci, the young lad who ran their errands who became the Oscar winner, whom DeVito later chauffeured when down on his luck. Andy Barke as Gyp de Carlo, Joseph Peters as Bob Crewe and Oliver Tester take on several roles.
Jacob McIntosh stands out in many small roles—can he sing, can he dance… The show opens with him in a surprising French rap and breakdancing number—to "Oh What a Night"—"Ces Soirées-La". Just to show the music's durability. It ends with "Who Loves You?"
Torch songs all, an eternal flame. The whole company pulls it off again—I love the jazzy brass (and Suri's voice could be that of a jazz singer). Sergio Trujillo's choreography keeps them on their toes—the formation routines simple, repetitive, but effective. And the pace never slackens.
I could end on a cliché but I won't—tempting, but better not. Just check out their playlist, enough clichés there, and don't we fall for them. They say they put New Jersey on the map—along with Frank Sinatra and a few famous others.
Reviewer: Vera Liber