Jewels: Emeralds, Rubies, Diamonds
Choreography George Balanchine, music Fauré, Stravinsky, Tchaikovsky
Royal Ballet
Royal Opera House
–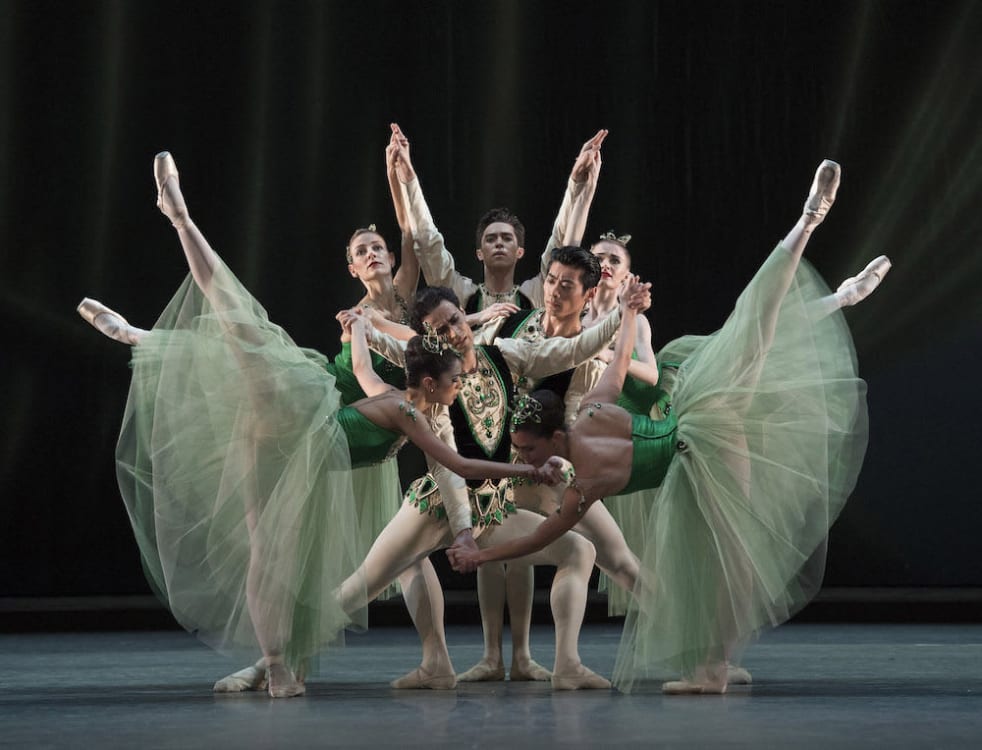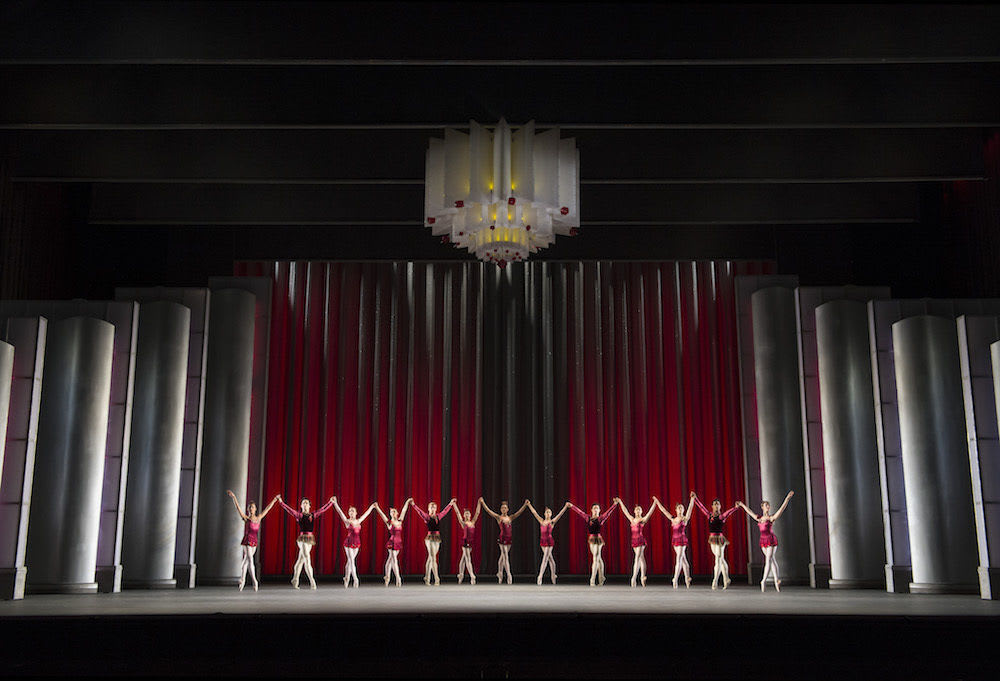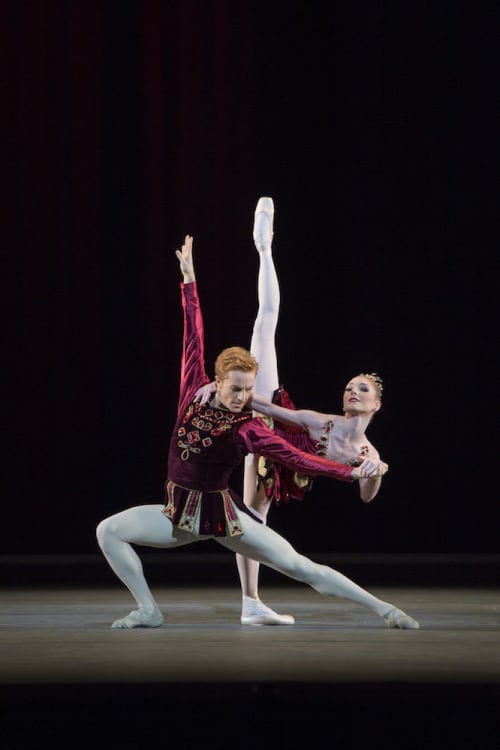 Coveted and unattainable: emeralds, rubies and diamonds. Was this abstract Jewels triptych Balanchine's wooing of his favourite ballerina and muse, Suzanne Farrell, a metaphor for a love that was, apparently, not reciprocated, and a gift to her, a summation of his life's influences laid at her, and our, feet?
More pragmatically, he needed a showy ballet to fill the New York State Theatre at the Lincoln Centre, and what was more dazzling than Van Cleef & Arpels jewellers on Fifth Avenue. There's a promotional image of Farrell in ballet tutu with Balanchine and Pierre Arpels in the Paris atelier in 1967.
Jewels turns fifty on 13 April this year; ten years in the Royal Ballet repertoire, it is my fourth viewing over the years, though one gets to see the glitzy Rubies more frequently as it often features in galas.
The second night Monday evening cast, lightly dusted with three principals, first soloists, soloists, and young artists, doesn't exactly dazzle—it simmers and shimmers—until principal Sarah Lamb takes the stage in Diamonds and with brilliant grace and eloquence saves the night for me. Fellow Americans, she and Farrell—Farrell the ultimate precious stone in Balanchine's pick and mix gem casket.
As with all Balanchine abstract ballets, the music provides the narrative, and where better to end the evening than where he started, in Imperial Russia with Tchaikovsky's Symphony no 3 in D op 29 (minus first movement), written in 1875?
At the centre of the pretty courtly patterns and sixteen couple promenades is a delicate pas de deux to music that presages Swan Lake and Sleeping Beauty, which a modern ballet audience will hear and immediately recognise. Petipa and Ivanov's signatures are assimilated and one sees the shy White Swan in Lamb's arched back, unfolding torso, and arms.
The slow, diagonal approach and meeting of the two principals is heart-stoppingly beautiful: Lamb is partnered with princely finesse by Ryoichi Hirano. This is Balanchine's source, and Lamb does him honour, commanding the stage with grand dignity and a technique that is pure gold. Ever chivalrous Hirano kisses her hand—as well he ought.
Claire Calvert, Tierney Heap, Yasmine Naghdi and Beatriz Stix-Brunell in their pas de quatre fill the stage with fairy light and Russian motif, and out-dance their four noble cavaliers James Hay, Valentino Zucchetti, Fernando Montaño and Nicol Edmonds.
First soloist Yuhui Choe out-performs her companions in the dreamy opening Emeralds. Why she is not principal I have wondered for many a year. Partnered by Royal Ballet stalwart Valeri Hristov (fifteen years with the company), she has a presence that comes of quiet but immersive study, expressive hands and arms as if made of gossamer air, lovely neck and shoulders.
Gabriel Fauré's evocative music from Pélleas and Mélisande (op 80) and Shylock (op 57) takes us to a fin de siècle setting. Hunting horns suggest - if not for the art nouveau light pendant - a woodland glade perhaps, where couples walk in undisturbed Romantic privacy. The outdoors indoors, pictures from a tapestry come to life.
Emeralds reflects Balanchine's years in Paris with Ballets Russes, and a memory of a 1965 visit to the Musée de Cluny with Farrell. There they saw six medieval wall hangings, known as The Lady and the Unicorn, five alluding to the five senses, and the sixth entitled A mon seul désir (To my sole desire).
Repressed desire is the breath that lifts the dancers: Choe in contained stately emotion—her balances superb; the second couple, principal Francesca Hayward and first soloist Valentino Zucchetti, is on more ebullient form.
A witty pas de trois from Calvin Richardson, Leticia Stock and Anna Rose O'Sullivan injects youthful vigour. Artists of The Royal Ballet provide an ever-changing decorative framework of garlands, daisy chains, necklaces, and other fine jewellery design.
From the elegance of France to the can-do candour of New York: art deco Rubies is brash and sassy, all hips and legs, but I miss the benchmark Steven McRae and Lamb party piece partnership.
Charisma you can't teach and charisma is in short supply here. Mayara Magri and cheeky little bombshell Marcelino Sambé, try as they might, do not have the necessary outrageous pizzazz and speakeasy speed.
Gina Storm-Jensen does her best in the statuesque burlesque queen solo, but she has some way to go before she attains that saucy devil-may-care cynical been-there-done-that high-kicking expertise. Good to see AD Kevin O'Hare bringing out young dancers from the corps de ballet, though.
Thirteen dancers—only four men amongst them—a coronet of red gems trim the jazz club scene. And Stravinsky's Capriccio for Piano and Orchestra (Robert Clark on piano) speaks for itself. If the dancing is not up to par one can trip out on the effervescent spiky music.
A three-week run fielding several casts, and a live broadcast worldwide on 11 April with a star cast, there's no excuse to miss it.
Reviewer: Vera Liber