King Tut - A Pyramid Panto
Script by John Savournin, lyrics and musical arrangements by David Eaton
Charles Court Opera
King's Head Theatre
–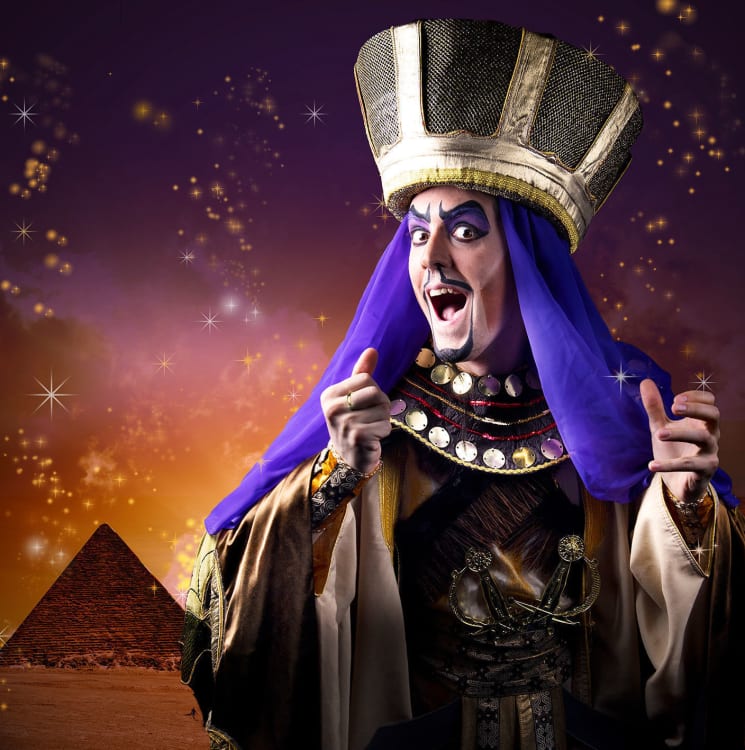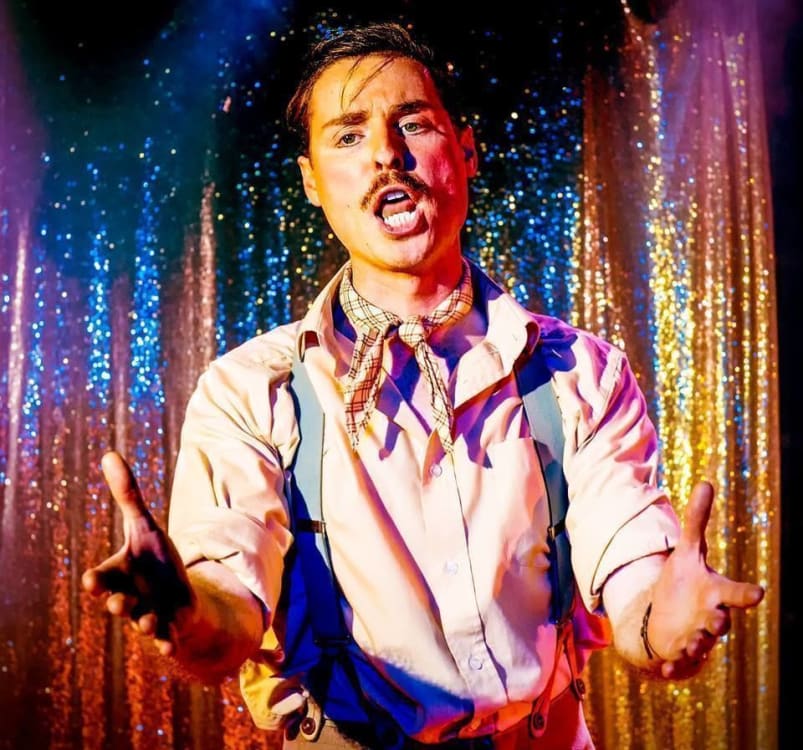 Charles Court Opera have come up with some very original mixture of the traditional and the surprising in their now eagerly awaited boutique pantomimes. From familiar fairy tales, they have extended the repertoire by applying the techniques and tropes of our Christmas indulgence to Beowulf, The Three Musketeers and Billy the Kid.
This year, to create their eleventh panto, they take us back to Egypt in 1922 when a totally fictional archaeologist with the same name as Howard Carter and his patron the evil Lord Conniving are about to open the tomb of Boy Pharaoh Tutankhamun.
With them is Conniving's daughter Emily (who's keen on Carter) and they not only enter the tomb but are transported back to King Tut's time to meet him and his favourite camel. It's not a complex plot as avaricious Conniving ruthlessly sets out to grab Egypt's gold, quite ready to kill the innocent others, but in these accomplished hands it's hilarious.
Charles Court Opera can be guaranteed to give you a good time, not just packed with laughs but splendid voices. David Eaton's eclectic score draws on numbers from favourite musicals and pop tunes to Beethoven and they are sung by splendid opera-trained voices that know just how to point a number to exploit its vivid humour.
Writer and director John Savournin, so often a great Dame in past years, is the Villain this time so we miss out on his audience-involving baking routine (though his conniving includes a brief drag act). Instead, there's a wild satire of television game shows to bring in audience action—and of course the traditional song-sheet, this year particularly rumbustious, and plenty of other opportunity for audience involvement whether boosting the confidence of Philip Lee's Camel (who has got the hump and is missing two legs).
Matt R J Ward plays Carter, a hero with a serious problem that's affecting his love life: he's (literally) windy. There is farting with a frequency that will keep ten-year-olds giggling (and turn the whole audience juvenile), but this archaeologist is a likeable fellow, you can see why Francesca Fenech's Evelyn fancies him. She fancies him rotten, that's why she paints on moustaches and makes herself this year's nearest to a principal boy, which adds to Carter's complications.
Young King Tut is a kid who shows off his moves, not one to stick with pharaonic protocol. He's a perky Welsh Boyo; the Valley of the Dead this tomb is in must be one of those Valleys, and the lad sings perfect soprano to prove it!
The depth of the King's Head stage doesn't allow for the scenic invention Charles Court Opera's productions had at the Rosemary Branch but Sean Turner's sets and Mia Walldén's costumes still provide plenty of dazzle for Nicholas Holdridge's lighting to set sparkling and David Eaton as musical director with David Jennings on percussion make a great sound.
It's a very verbal piece packed with puns so perhaps isn't one for the very young but fine for the rest of the family with some performances marked as more risqué (to put it too politely) and definitely adults only. There are also specific family matinées and matinées for younger children.
If you are already a Charles Court Opera pantomime fan you won't want to miss this one and if you try it for the first time, if it doesn't leave you looking forward to next year then you don't understand panto. For me, they have done it again even though one of their regular stalwarts, Matthew Kellett, was noticeably missing on press night. If he's one of your favourites check the date listings. He is playing Conniving at half the performances instead of John Savournin, starting on 5 November. It's not fair to have to choose between them but if past performance is anything to go by you'll have a good time with either.
Reviewer: Howard Loxton