King of Hearts
Alistair Beaton
Out of Joint and Hampstead Theatre co-production
Hampstead Theatre
(2007)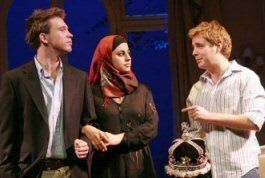 Like cricket, satire is a funny game. When you have your eye in, as Alistair Beaton did when he wrote the hilarious Feelgood, the world feels perfect and nothing can go wrong. On another day, as he discovered with Follow My Leader, you can hardly find a good joke however hard you try.
This time around, he has taken a plot that is pretty much the same as the disastrous A Right Royal Farce, a comedy judging by the title but no other measure; and has created a play that is extremely funny for most of its two-and-a-half-hour duration.
King of Hearts takes place in a parallel England, where the recently-crowned King lies in a coma at Sandringham, lavishly designed by Tim Shortall, as constitutional crises pile up.
The early problems that face the Prime Minister are the heir to the throne and his brother. Prince William (Ben Righton) has secretly become engaged to a Muslim, complete with hijab, threatening a repeat of events in 1936. Worse, he wants to convert to that religion, while his brother Harry (Christian Brassington) is so besotted with sex, booze and drugs daily has time for little else.
In fact, to prevent the playwright from losing his head, we have to call our princes Richard and Arthur respectively and respectfully, but the actors' looks belie the name changes.
Justin Salinger, who has spent so long as a really talented supporting actor at the National, finally steps centre-stage playing Prime Minister not-Tony Blair, although he has many of the mannerisms of our own dear leader. He acquits himself superbly and is well supported by his foil and seemingly political twin, the leader of the opposition played by Jeff Rawle.
This double act decides that the impending King of England cannot marry somebody whom they agree is less acceptable than a transvestite, a transsexual or even Jade Goody. Their problem is that even the 1701 Act of Settlement will not help since, while it will keep out a Roman Catholic consort to the monarch, it is silent on the Musselman (or woman).
Their politics more generally are nigh-on identical, with treachery and Machiavellian plotting the common policy threads. The difference is that Prime Minister has the unethical support of gay Toby (Toby Dantzic) and literally awful Annie (Caroline Loncq), who between them keep almost everyone in their place.
During the first half, the laughs come thick and fast and many are exceptionally funny, both one-liners and comic situations, as the full impact of the defection of a king from the Anglican Church is analysed.
After the interval, Beaton struggles to maintain the pace that he had set himself and, if the intention is for this play to transfer to the West End, then some attention is required. Eventually, as blackmail piles on blackmail, one King dies, another abdicates and a third drunkenly adopts the Crown.
King of Hearts is generally played for laughs but also makes some possibly controversial political and constitutional points along the way. For the most part it is very funny, if you can pardon a ridiculous excess of expletives and a sub-Shakespearian epilogue that contains blank verse, no verse and rhyming couplets but badly needed to be finished off before the opening night.
In addition, a gun-toting, slapstick security guard, who seems to have strolled in from a different play and a disestablishmentarian Archbishop of Canterbury so benign as to be in danger of sending not only himself but some audience members to sleep add little.
However, this pair is more than offset by a memorable performance from Alister Cameron as a suitably lugubrious manservant to the dying king. His every appearance is enough to raise laughs and his manner could not be more perfect.
Directors Max Stafford-Clark and Ramin Gray for Out of Joint do a good job with a sporadically extremely funny comedy that with a little but a sharpening up will richly deserve an afterlife. There is every chance that it will get one in the West End, on the back of its writer's current high profile following the success of his much-hyped TV drama, The Trial of Tony Blair.
Kevin Catchpole reviewed this production at Salisbury on its pre-London tour
Reviewer: Philip Fisher