Labour of Love
James Graham
Michael Grandage Company and Headlong
Noël Coward Theatre
–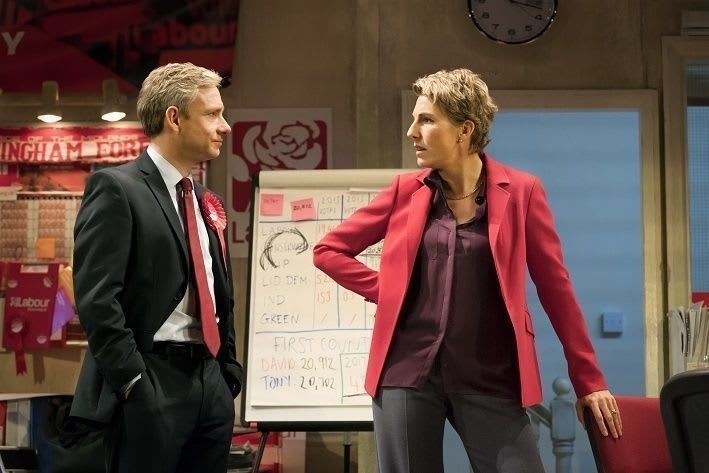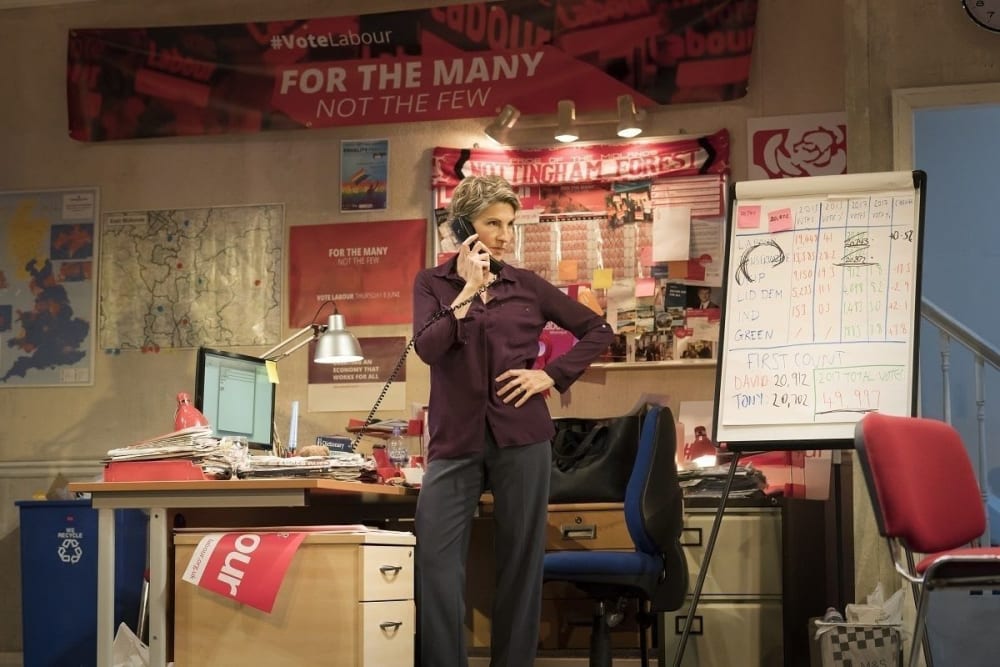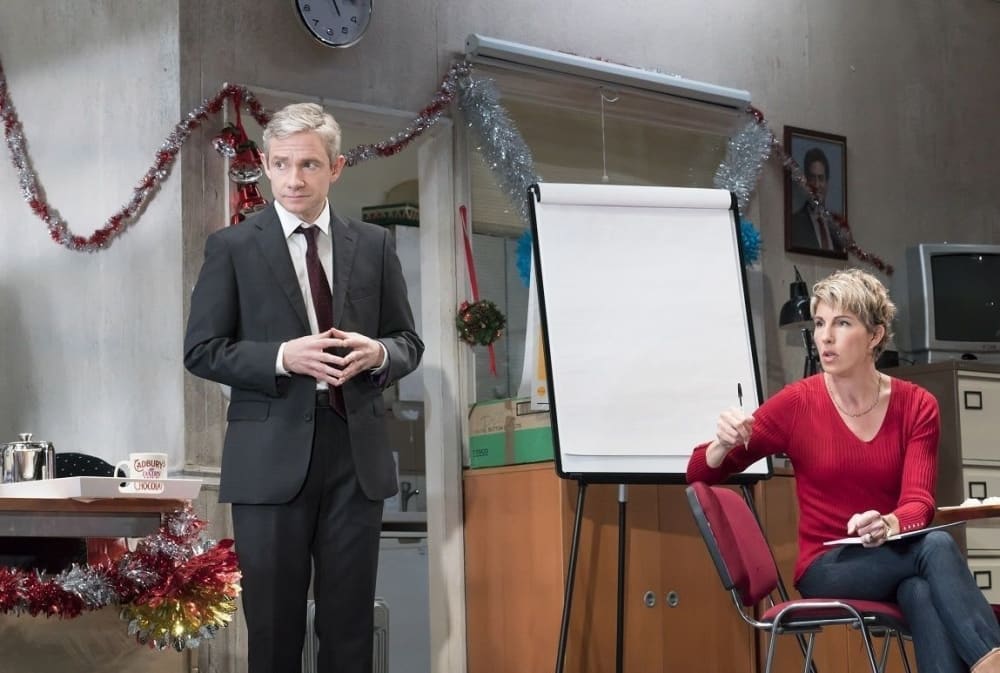 James Graham's remarkable run of success seems to be unstoppable. Following the opening of Ink a couple of weeks before, his takeover of St Martin's Lane is now complete with the arrival of this new play about the Labour Party's fortunes from Kinnock to Corbyn. The only question is which of his two plays in adjacent theatres is the better?
Supported by the heady combination of Michael Grandage behind the scenes and Headlong's Jeremy Herrin, deftly directing a cast led by Martin Freeman and the remarkable Tamsin Greig, who only came into the project less than a month before opening, Labour of Love is a hugely enjoyable but also politically astute anatomisation of the party of the Red Flag and more recently the Red Rose in all of its self-destructive glory.
For 2¾ hours, viewers follow the fortunes of Freeman's David Lyons, the fictional MP for Ashfield, Graham's home constituency. The drama starts on election night in 2017, tracking back in five steps to his original by-election victory 27 years before and then, after the interval, makes an identical journey in reverse, cleverly filling in the gaps both politically and dramatically.
Historical accuracy and perspective are assured, as seen changes are filled with numerous clips of senior Labour (primarily) figures speaking at times of crisis but also glory across a period from around the mid-20th century onwards.
On arrival and ever after, Lyons is a New Labour Blairite, who endures a love-hate relationship on several levels with the parliamentary agent that he inherited from his traditional, left wing predecessor, Miss Greig as Jean Whitaker.
At times in the first half, the play can drift a little too close to political sitcom for comfort, especially when Rachael Stirling, who gives a delicious performance in the role of snobbish lawyer Mrs Lyons, sticks her posh oar in, but the jokes are always very funny and there is method underlying the madness.
She is counterbalanced by Jean's second husband, council leader Len Prior played by Dickon Tyrrell. This denizen of the hard left does not like compromise—or what he regards as a soft, London-imposed right-winger representing the constituency. Nor is he above a little sabotage when polite politicking is not enough.
Labour of Love provides rich comedy but also an insightful look at the dirty world of local politics seen through the eyes of a well-matched political duo who can appreciate each other's viewpoints while violently disagreeing with them at the same time.
As in Graham's greatest triumph to date This House, the serious politics underlying the Labour Party are viewed at one remove, which can occasionally muddy the waters but, thanks to those video clips, eventually tells a pretty full story.
For the second time in less than a month, James Graham, who is fast establishing himself as our most prolific and highest rated playwright, has conquered the West End with highly intelligent but very entertaining play, graced by excellent performances from both Martin Freeman and Tamsin Greig.
Reviewer: Philip Fisher