Laurencia
Choreography by Vakhtang Chabukiani, music by Alexander Krein
The Mikhailovsky Ballet St Petersburg
London Coliseum
–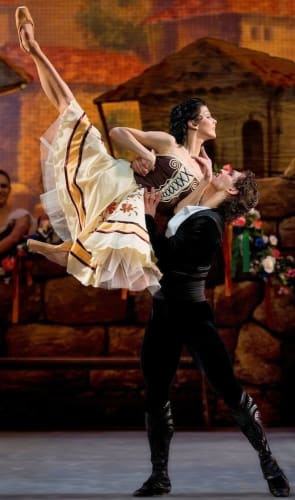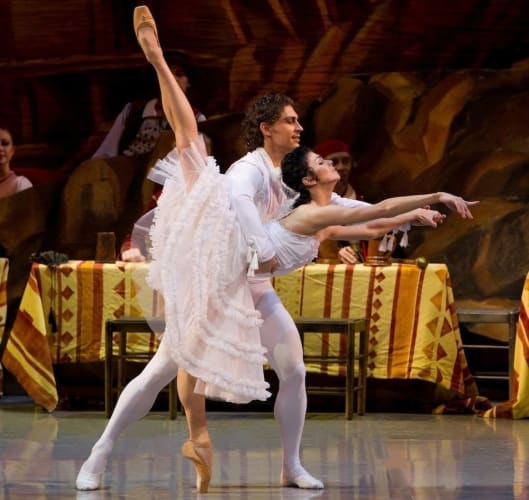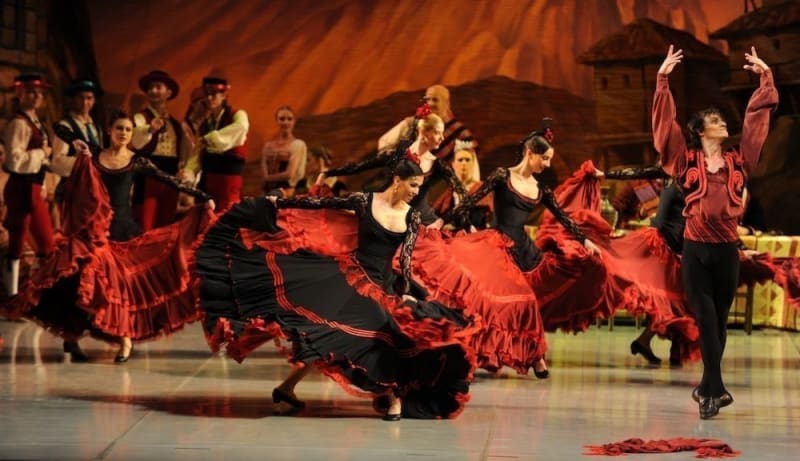 The phenomenon that is Natalia Osipova and Ivan Vasiliev again leads the Mikhailovsky Ballet in Laurencia, a production that again highlights the whole company, combining the look of Don Quixote and the issue of the droit du seigneur, Giselle's underlying subtext.
Based on Lope de Vega's early seventeenth century Fuente Ovejuna, the killing of tyrant Don Fernán by the people of Fuente Ovejuna led by peasant girl Laurencia, the picture of Delacroix's Liberty Leading the People, Laurencia is 1939 Soviet agitprop dance drama, its gestures taken from silent film and melodrama.
Don Fernán and his men terrorise the village, violate its women, intrude on its simple life, at the mountain stream laundry scene, its celebrations, on Laurencia and Frondoso's wedding, imprisoning him and raping her. Unlike the other girls, unlike traumatised Jacinta (Oksana Bondareva), Laurencia takes action.
Revived and revised by Mikhail Messerer in 2010 to celebrate the centenary of the birth of the great fiery Georgian dancer and choreographer Vakhtang Chabukiani (1910-1992), Laurencia comes with a rich 'cultural heritage'. If you've never heard of Chabukiani, do watch this ten-minute film on YouTube.
Film features in the ballet, too, which opens with a projection of the man himself, a flickering image of the original ballet bill on the stage curtain, and again in the storming of the Don's castle.
Laurencia premiered on 22 March 1939 at the Kirov, now Mariinsky, Theatre with Natalia Dudinskaya as Laurencia and Chabukiani himself as Frondoso. Maya Plisetskaya danced Laurencia in the fifties. A force of nature he may have been, but Chabukiani was no Petipa, and composer Alexander Krein no Minkus or Adam.
But look at the date, just after the Spanish Civil War, and the beginning of World War Two. A call to arms, it was an immediate success, touring the Soviet Union, staged in Perm during the evacuation in 1941, back to Leningrad, Moscow and Tbilisi after the war.
A great actor dancer, his dark looks in the Douglas Fairbanks / Errol Flynn mould, Chabukiani injected popular Georgian folk dance into Laurencia, and Vadim Ryndin's sets (revived by Oleg Molchanov) look a cross between Spain and mountainous Georgia.
Osipova and Vasiliev make it all look easy, his astonishing suspension in mid-air, her effervescence, and the company put on a terrific show. Sabina Yapporova again dances beautifully—her Pascuala a role equal to Laurencia's, with Mariam Ugrekhelidze in the Castanet Dance reprising her gypsy in Don Quixote, and there's lots of faux flamenco.
The Mikhailovsky Ballet Company zip through two hours of colourful dance, overcoming Krein's cinematic kasha music in a tale of love, passion, lust, and justice, ripped tights, ripped skirts and bodices, heroic character acting style very much of its time. A marvellously coiffed Mikhail Venshchikov, the villain of the piece, stays in character for the curtain call and is dutifully booed.
Inevitably it is the bright young things that receive the rapturous response: Osipova a feisty Soviet heroine leading the storming of the barricades in a whirlwind of dance; Vasiliev, black moustache and flashing eyes, a bundle of dynamite, ripping through his party tricks solo with astonishing nonchalance, turning and twisting in kamikaze flight. No crash landing for him, though. Elegantly, noiselessly, in perfect control, he hits the spot every time, coming to earth on a cushion of air. Astounding.
Reviewer: Vera Liber