Le Corsaire
Choreography Anna-Marie Holmes (after Marius Petipa and Konstantin Sergeyev), music Adolphe Adam, Cesare Pugni, Léo Delibes, Riccardo Drigo, Prince Pyotr van Oldenburg, Ludwig Minkus, Yuly Gerber, Baron Boris Fitinhof-Schnell, Albert Zabel and J Zibin
English National Ballet
London Coliseum
–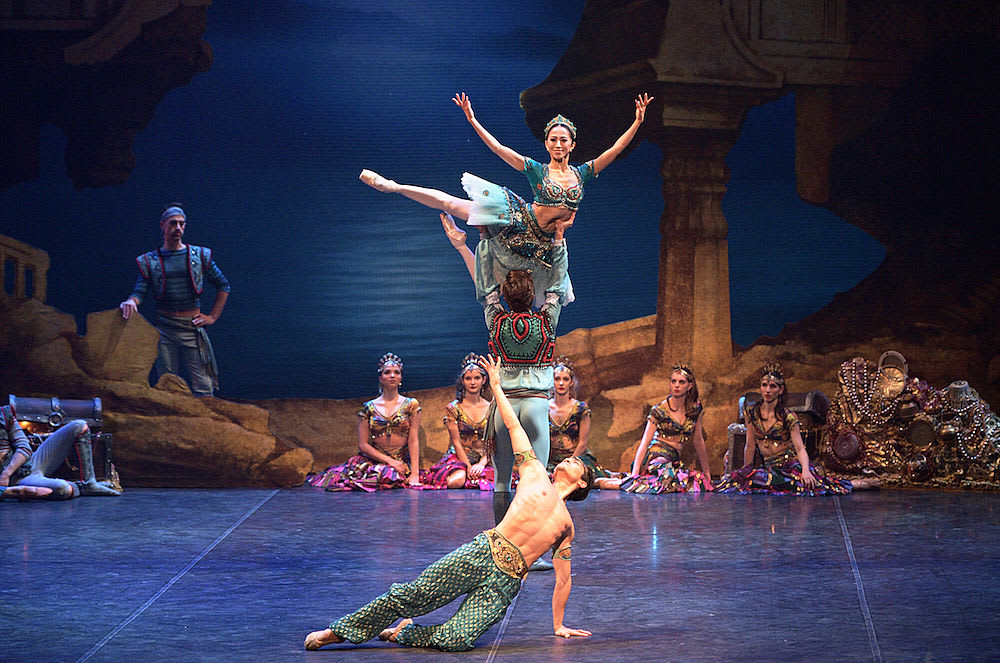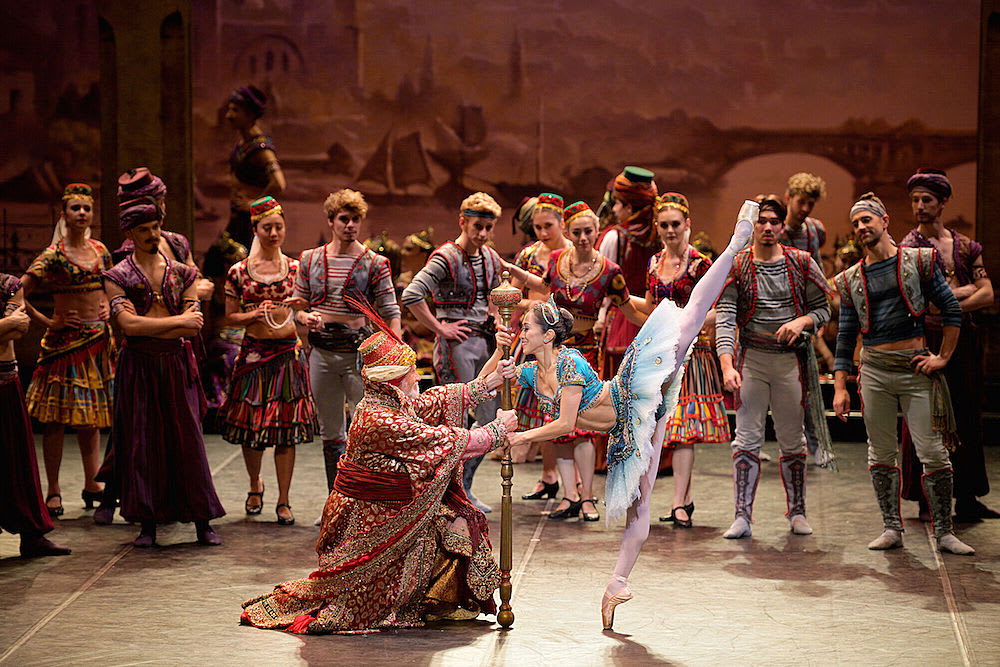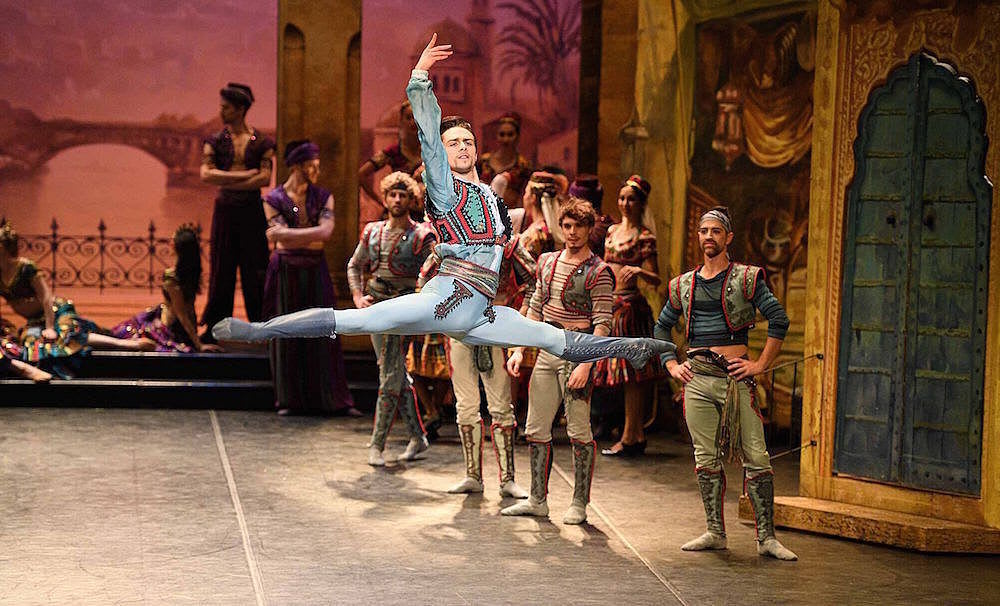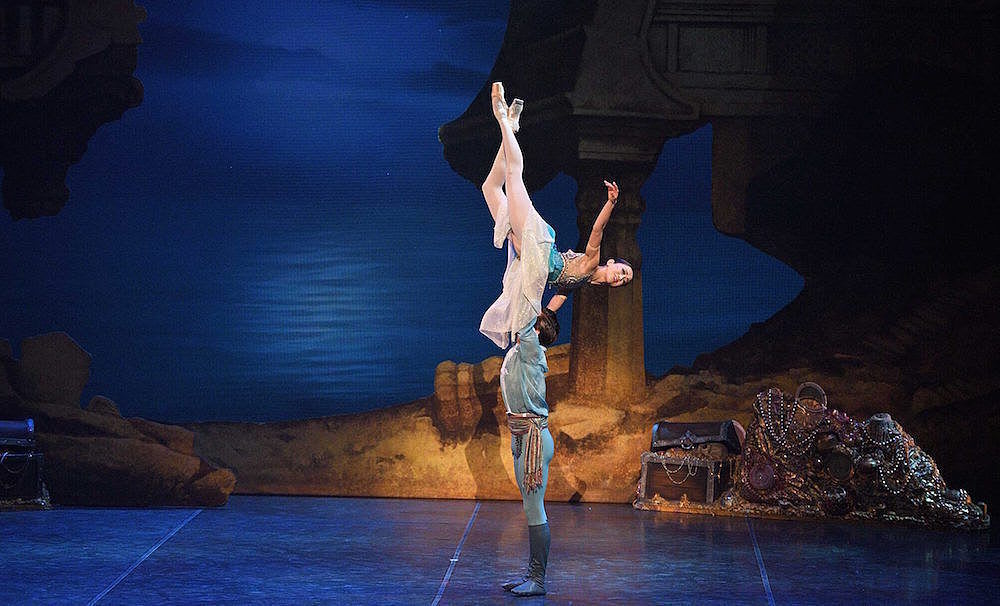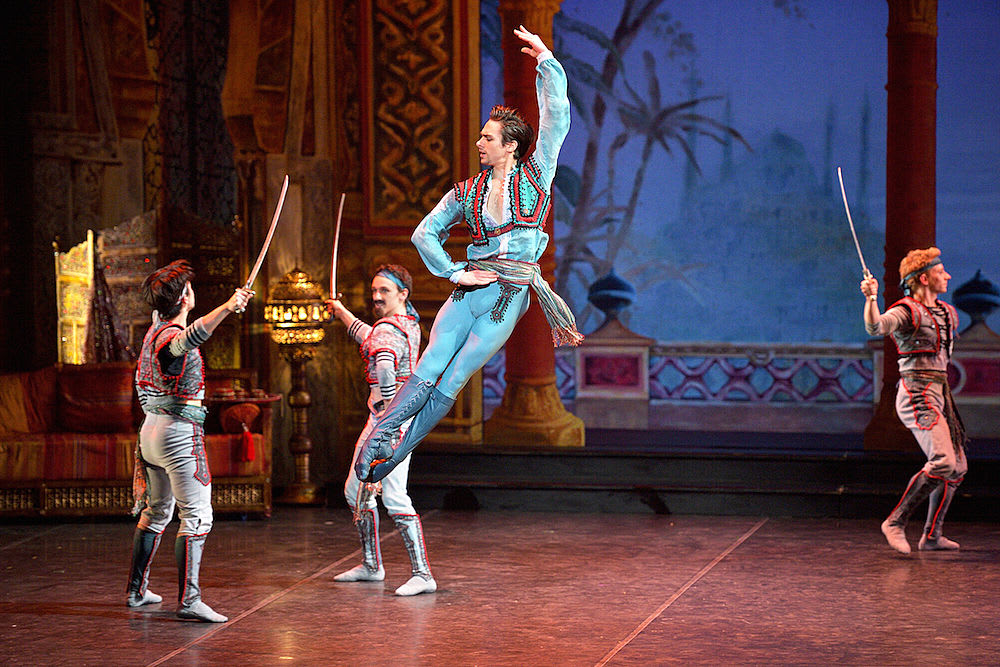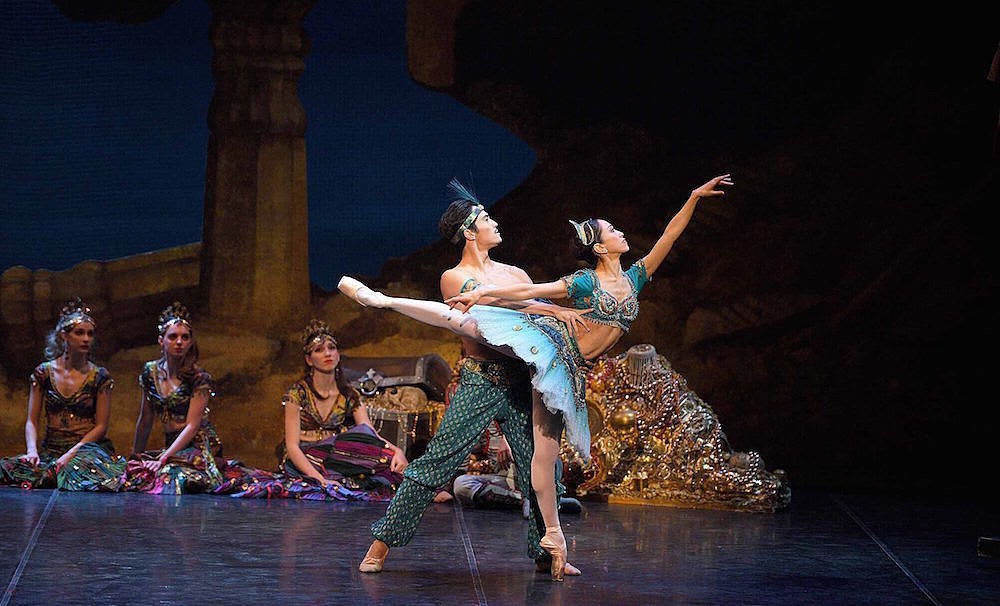 A slave girl's lot is not a happy one in Le Corsaire however one slices the melodrama. Or sugars the pill with 'Gilbert and Sullivan' pantomimic comedy from Michael Coleman's Pasha and his Assistant (Shevelle Dynott a 'Carry On' camp, fussy 'Osric' type). In the nineteenth century, orientalism was a big deal in the arts—where would ballet be without its exoticism? Not quite PC now, but we turn a blind eye; it's a tale of old, a storybook fantasy.
Slave girls, slave traders, pirates, brigands, sabre fights, betrayal, escape on stormy seas, death… and a rich old Pasha, dripping in jewels and embroidered silk, salivating over young girls in flimsy outfits, picking and buying them like bonbons in a sweetie shop, all glammed up by Bob Ringwood's fabulous designs. There's something a bit creepy in the Pasha wiggling his fat tummy in 'pampered child' ecstatic anticipation – I'll have her and her, but not that one…
Yet Petipa's Imperial Ballet Le Corsaire is irresistible as a piece of classical ballet, beautifully showcasing the entire English National Ballet company with standout roles for six leads, four men and two women and their dazzling skills. Grands jetés, thirty-two unfaltering fouettés from Erina Takahashi's Medora come as standard. And I really fall for Shiori Kase's Gulnare, Medora's friend in the harem: soft arms, cool poise, and precise feet in a virtuosic chain of fouettés, pirouettes, bourrées en couru.
But it's hard to choose between the four men: Francesco Gabriele Frola's airborne Conrad saving his lover Medora from the grip of Brooklyn Mack's gravity-defying slave trader Lankendem, Conrad's slave Ali (Jeffrey Cirio) with his scissor jumps, leaps and corkscrew turns—Conrad, Medora and Ali's Act Two pas d'action with its incredible lifts and swallow dives has the celebrity audience cheering and applauding and bows are taken—and Erik Woolhouse's dancing as greedy villain Birbanto (slave girls are property, cash cows and he wants his share) takes me by surprise, such 'Bolshoi bravura' attack, a personality that crosses the footlights, and assured aplomb in the air.
The three odalisques, Precious Adams, Alison McWhinney and Julia Conway, different body types yet so perfect in their execution of Anna-Marie Holmes's adaptation of Petipa's choreography, charm in their variations. And artists of the company with pupils from Tring Park School for Performing Arts ham up the acting to the hilt. But it's that central second act that lifts the tempo and tension in the auditorium.
The rumpty-tumpty music, which has accrued over the years like barnacles on a corsair's boat, lists ten composers (edited by Lars Payne and conductor Gavin Sutherland), though it is mostly Adolphe Adam's (not in the same league as his Giselle), and is all over the place, a Hollywood big score before its time, which adds to the sense of an entertaining night out. Leave your intellect behind, relax, and let your senses be pleasured. Give in and be seduced like the Pasha with his le jardin animé opium dream in act three—two dozen 'Degas pretty' dancing girls.
As always, the hokum story (loosely based on Byron's 1814 Romantic poem The Corsair—librettists Jules-Henri de Saint-Georges and Joseph Mazilier) is a convenient framework for bravura techniques, star performances by the tsar's favourite ballerinas in the day, showy tricks of the trade, daring gymnastics, and a bit of love thwarted and saved (twice) but not without loss. Birbanto gets his comeuppance, but why are Gulnare and Ali expendable in the scheme of things? A sad ending after all that kitsch—love comes at a price…
A tale seen over the years in a variety of versions, revisions, and party-piece gala extracts (check out Baryshnikov and / or Nureyev in their slave Ali variations on YouTube), Le Corsaire is an audience pleaser. Strictly's Bruno Tonioli (one of many 'slebs' packing the stalls—I hope they're all tweeting), sitting alongside me, seems very taken with it—Le Corsaire surely outdoes Strictly for glitter and costumes and panache. This is my fourth time of reviewing it in ten years and ENB has come up with the goods again. Bravi tutti!
Reviewer: Vera Liber