Love From A Stranger
Agatha Christie and Frank Vosper
Fiery Angel and Royal & Derngate Northampton
The Lyric, Theatre Royal Plymouth
–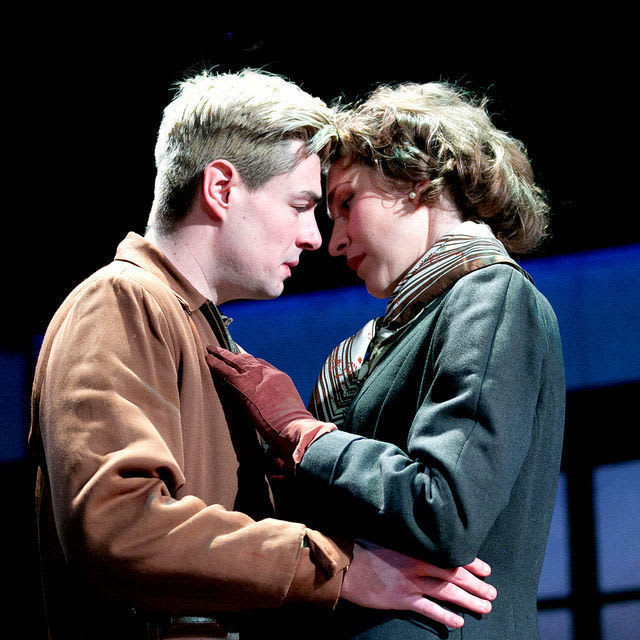 Attracted intially by the dark undercurrents and intense claustrophobic atmosphere, acclaimed Globe and RSC director Lucy Bailey extracts much menace—and humour—from Frank Vosper's 1936 stage adaptation of Agatha Christie's lesser known work Philomel Cottage.
Bailey has thriller / murder mystery form: her version of Witness For The Prosecution has been nominated for an Olivier Award, while her Dial M for Murder and Gaslight were acclaimed. And with Christie back in vogue with new TV and film productions, the Love From A Stranger tour is timely and selling well.
Cecily Harrington (a measured performance from Helen Bradbury) is at the centre of the perfect storm.
Sweepstake winnings offer the prospect of a world beyond secretarial routine, impending marriage to nice-but-dull Michael (Justin Avoth)—who has spent the past three years bored in Sudan—and the looming deadly monotony of Wimbledon domesticity. Perhaps sipping crème de menthe in a Parisian underground café, on a Greek beach or in exotic climes—she hardly cares but new horizons are definitely on the agenda.
Enter a well-travelled stranger offering an escape from her tepid romance and humdrum future. But photographer Bruce (a boyish Sam Frenchum) is not quite what he seems. A charming spontaneous adventurer secretly snapping shawl-clad women, sniffing lingerie, lurking on stairs to eavesdrop and making a fortnightly date to keep his hair just so, he is ready to offer a ticket to a life less mundane. Or a remote country cottage.
Bailey builds tension only to break the spell with hammy comedic moments from pontificating Lady Bracknellesque Aunt Lulu (Nicola Sanderson)—who can be won over by a Fortnums high tea—or galumphing maid Ethel (Molly Logan) while friend Mavis (Alice Haig), gardener Hodgson (Gareth Williams) and Dr Kill or Cure (Crispin Redman) are on hand to flag anomalies, signpost stranger danger and collate clues.
With sex, sadism and a compelling twist rendering the auditorium so quiet one could hear a rose drop, this is no routine Christie whodunnit but unfortunately an inexplicable shift from the '30s to '50s, too many unanswered questions, amdram moments, soundtrack music and Mike Britton's unnecessarily shifting scenery frustrate.
Reviewer: Karen Bussell