Message in a Bottle
Kate Prince
ZooNation: The Kate Prince Company
Peacock Theatre
–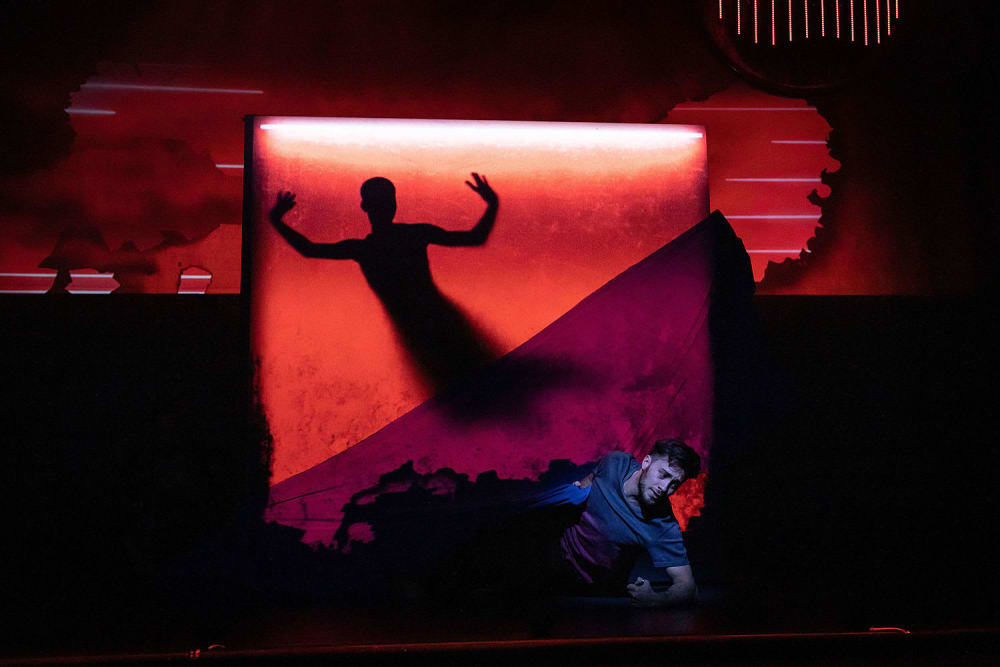 Hip-hop-meets West End sheen in Kate Prince's latest creation, Message in a Bottle, a tale of human strength, loss and love set to the music of Sting, merging hip hop with contemporary lyrical, proving yet again that no topic is off limits for Prince in her mission to make commercial dance meaningful.
It's no easy feat to convey deep-felt emotion for the plight of the oppressed through physical theatre and there have been lots of recent productions featuring the refugee crisis from Akesh Odedra's moving piece #JeSuis to Crystal Pite's Flight Pattern over at the Royal Opera House, but Message in a Bottle, for all its commercial pop songs and snazzy head-spins, cuts into new territory, blasting out powerful narrative through fiery dance and heartfelt pizazz. It's hard not to be swept into the spirit of the tale.
The desire to distil the human experience into meaningful theatre is no new feat for Prince, the creator behind Into The Hoods, based on a Sondheim musical, set on a housing estate and Some Like It Hip Hop, a comical version of Billy Wilder and Shakespeare's Twelfth Night. Tonight is no exception.
A huge Sting fan, Prince first fell upon the idea of setting her latest work to his music on honeymoon. Then the pop icon agreed for his songs to be rerecorded for her passion project. With the help of dramaturg Lolita Chakrabarti and associate choreographer Lukas McFarlane (also an exceptional performer in the show), the show was created, telling the story of a family torn apart during their journey from home to alien territory as they are forced to flee war.
As the family leave behind their "fields of gold" for dangerous climes, the scenes are mapped out around Sting's music in a mix of original recorded tracks from "Don't Stand So Close to Me" to the title number, "Message in a Bottle", as well as special rearrangements including Beverley Knight songs, mostly sung by Sting especially for the show (rearranged by Hamilton's Alex Lacamoire). Sounds like an odd fit, but it drives the story forward and movement mirrors music perfectly.
The dancing is mind-blowingly good. The energy and diversity of skills and flow of dance from hip hop, locking, popping, bleeding into lyrical contemporary is breathtaking to watch, but the choreography always allows space for deeply invested, intimate moments from casual hand gestures to powerful embraces between characters. There are sixteen dancers and they are mostly onstage for the entirety of the show, creating a movement powerhouse.
Then there's the dance of frustration: the jerking, aggressive triggers of Krump to represent the palpable anger of people made to feel like criminals when all they are seeking is a safe haven from violence. Especially powerful are the prison scenes in the second act where genius dancer and choreographer Tommy Franzen literally elevates, twists and glides around the prison guards like a grey angel skimming up poles that mark out the prison cell as if flying for freedom away from the black-clad corrupt officers.
Franzen is a mesmerising performer, always at the centre of the action, as is Nafisah Baba, who balletically jetés across the stage melting into ethereal spins and arabesques dressed in buttercup yellow in the first half then red in the second to signify her falling into desperate hands during the scene "Roxanne".
Other notable scenes include the treacherous stormy sea crossing as the vulnerable family huddle together centre-stage to create the impression of a boat knocked about in the waves, surrounded by graphics of orange life jackets. We see colours projected from bright and golden to grey, monotone for detention centre scenes where prison boxes light up green when illegal immigrants get passports stamped through bribes.
Such vibrant lighting and graphic projections expand the storytelling and are especially effective in the scene "The Bed's Too Big Without You", a sequence involving a projection of a double bed for the dancer with surreal shadows floating about behind him.
Prince makes the point that as an international company, the dancers' own stories and heritage are sewn into the text. Such physical investment is easy to spot in the immediacy and directness of execution where dancers are encouraged to respond to the material in the moment onstage, lending an improvisatory feel to performance, so it's easy to forget that movement has most likely been choreographed to the nanosecond.
A surprisingly moving evening that will no doubt hold massive commercial appeal by accessing such beloved pop songs and turning them into a dance night with deep pools of soul. Commercial it may be, but who cares when human stories are shared with such heartfelt physical expression of angst, bravery and ultimately hope of a new and better life to come.
Following its London run, the show will move to The Lowry, Salford (1–4 April) then on to Birmingham Hippodrome (8–9 April).
Reviewer: Rachel Nouchi