Message in a Bottle
Directed and choreographed by Kate Prince based on songs of Sting
ZooNation
Peacock Theatre
–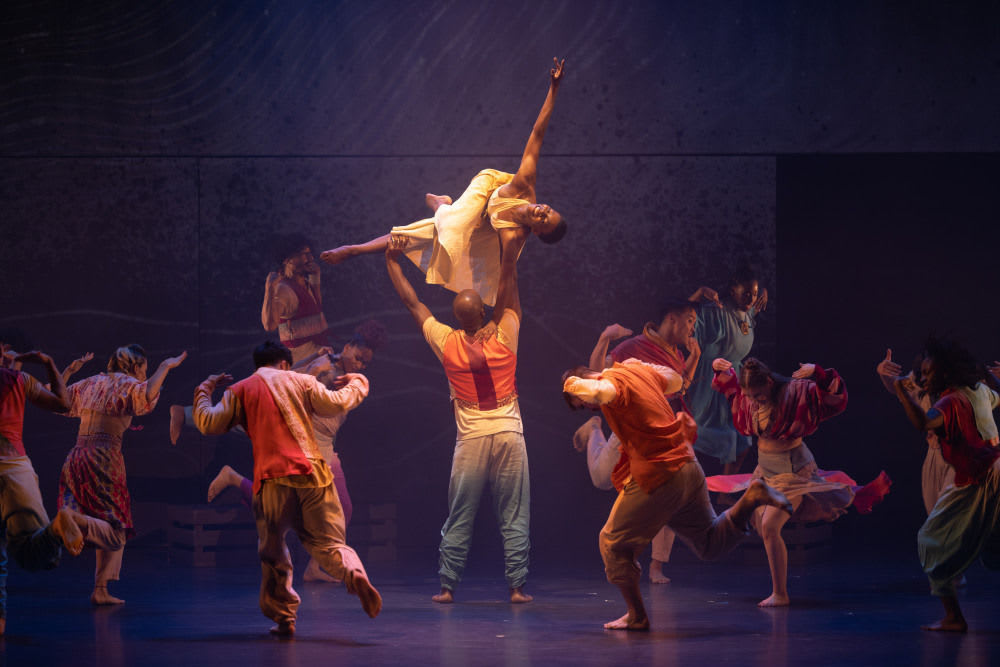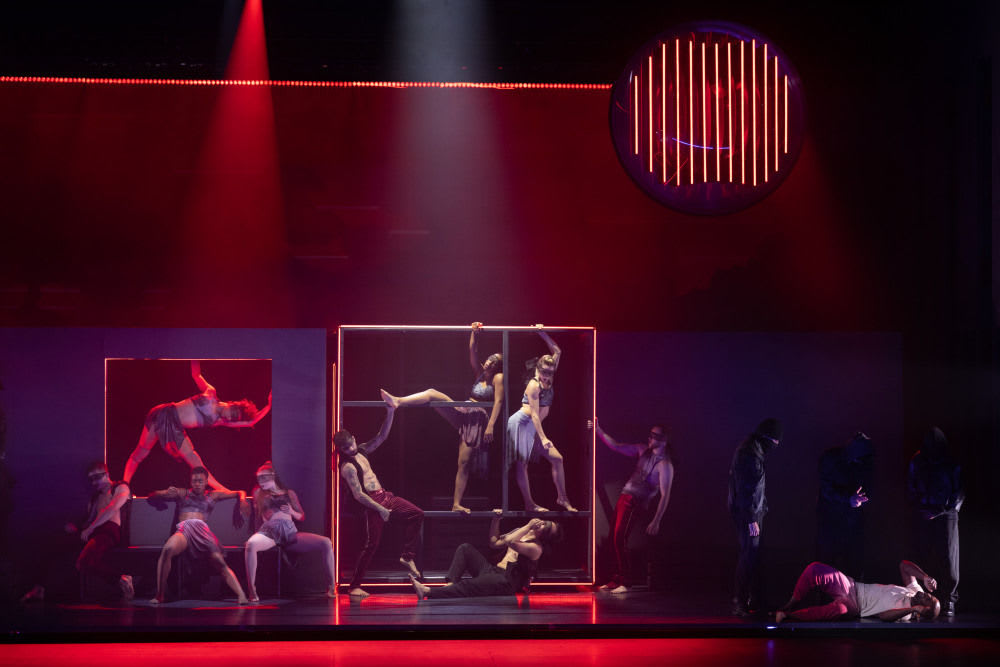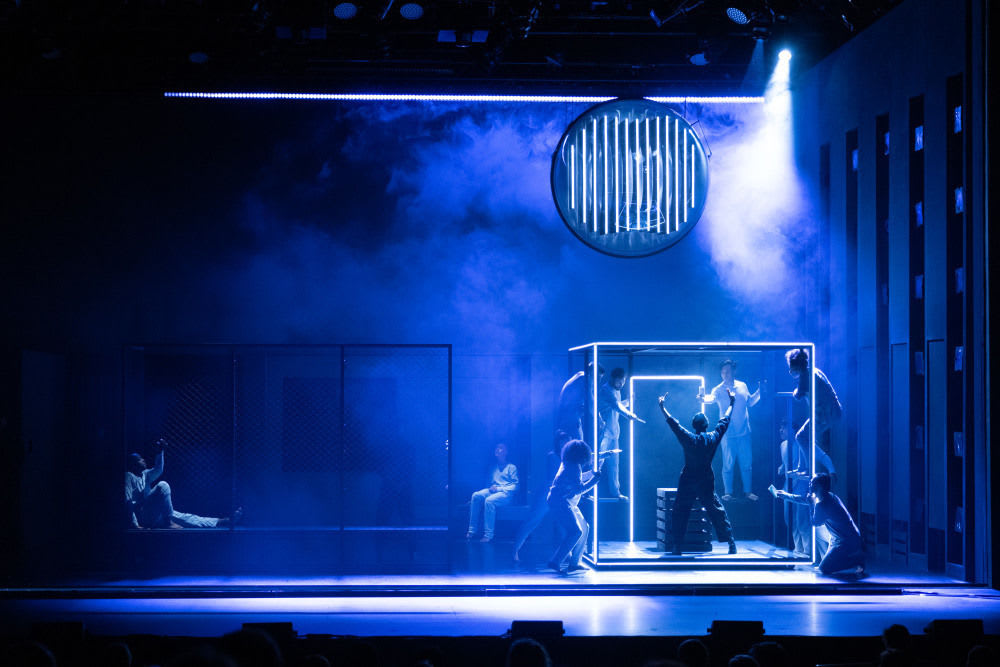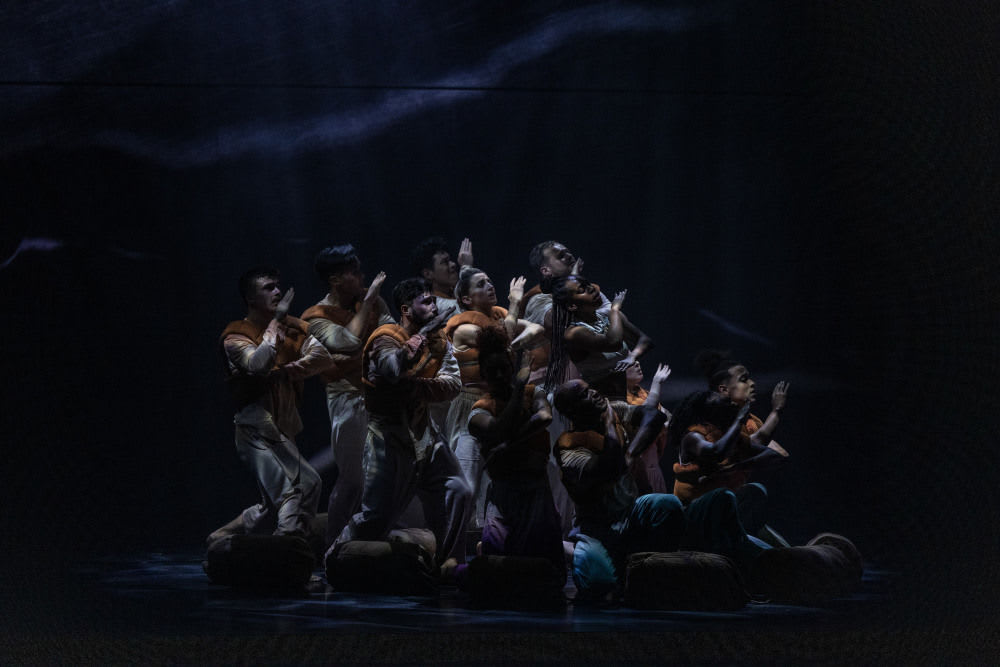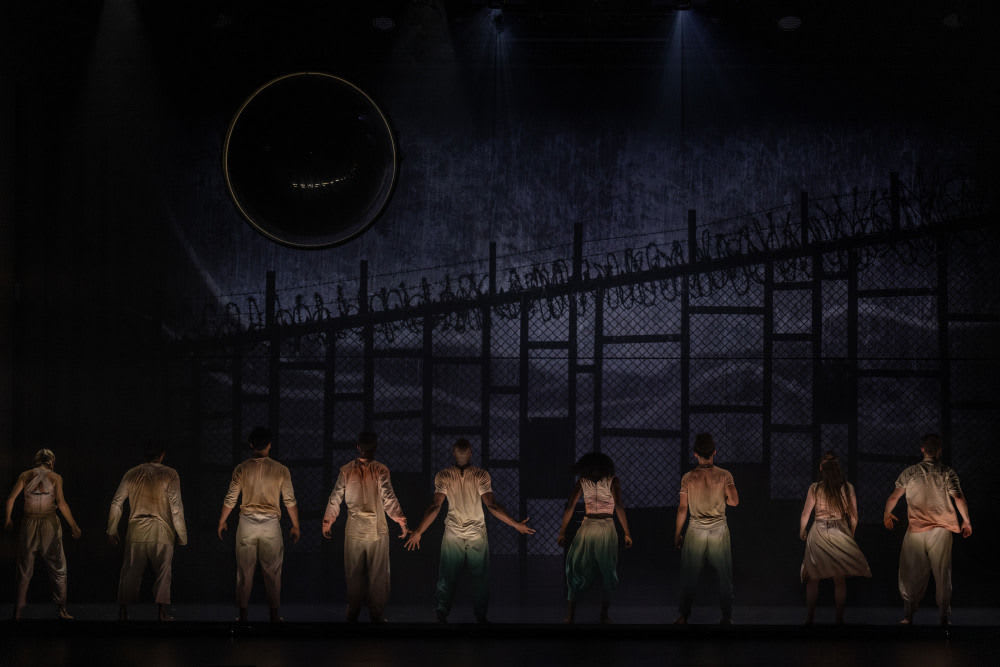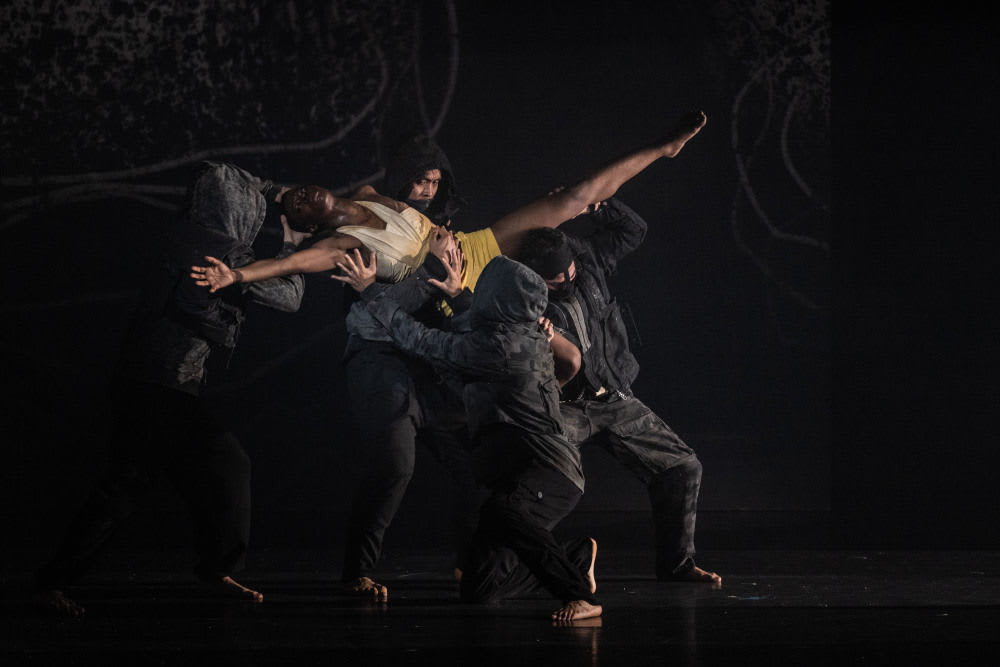 Sadness, shock, and sweet joy, Message in a Bottle celebrates the human life force in a tale of survival against all the odds. And we know about those. It opened in February 2020 and ran till March 2020, when the first lockdown happened. Now it is back and is not to be missed. It won me over completely.
It's a tale of today, and an eternal one of loss, but with hope and love winning through. According to the programme statistics, "one person is forcibly displaced every two seconds because of conflict"; "in 2019… over seventy million people have been forced from their homes… Twenty-five million are refugees…"
A civil war breaks up a family in a small village—a couple have just exchanged wedding rings—they have to flee, and we've seen enough images on screen and in print to know about perilous sea crossings and detention centres, endemic corruption and the selling of female bodies. "One family, three stories": rich material for dramatic dance and visuals: poignant, harsh yet balanced and sensitively told, there are no unnecessary dramatics. All goes at an energetic pace: happiness, horror, and jubilant resolution.
Orange-red life jackets given out by indifferent black-hooded traffickers—oh, there's one jacket missing—the terrible risks shown in one brief instant—but she doesn't turn back. A swaying lifeboat of bodies; barbed wire, high mesh fences; a red light district where girls hang off poles—one such is supple Nafisah Baba (BBC Young Dancer of 2017). Her husband's search and his nightmares, frustrations, and fortuitous meetings.
And the feel-good ending—he (Onyemachi Ejimofor) finds his wife and gives her the gold ring he did not trade in for a passport. The noble human spirit prevails: their reconciliatory duet touches the heartstrings. Deavion Brown is another dancer to remember—as one of three siblings divided by war, finding his way alone in an alien world, using every fibre in his agile body to express emotion. I wish I could name them all, a splendid cohesive troupe.
Many of the dancers (acrobatic dynamos) have trained in contemporary and musical theatre, a few in breakdancing—Gavin Vincent's head-spins and twists, Nestor Garcia Gonzalez's b-boying raise cheers from the energised audience. And they all do individual encores at the end, which have the auditorium on its feet. The music gets you right in the solar plexus, the body responds instinctively.
This is not Prince's most hip-hop show (Some Like It Hip Hop, Into the Hoods)—but it is a show from her heart, her passion for Sting's music. Message in a Bottle is structured around twenty-seven of his past glories into a narrative by Prince (dramaturg Lolita Chakrabarti) for her company ZooNation. And I never noticed before how much of a cool jazz voice Sting has. Or has it taken on a richer smokier texture with age?
Apparently, when Prince approached him with her concept, he not only gave his wholehearted consent but also re-recorded some of the songs for the show, with a stunning new remix from Alex Lacamoire (music supervisor and new arrangements), Martin Terefe (music producer and arranger), Oskar Winberg (music co-producer and mixer) and sound designer David McEwan. Do I hear reggae, soulful spiritual, Eastern and classical music vibes?
Production values are stratospherically high. Ben Stones's set design simple but clear (the sands of time running out from a globe in the sky), Andrzej Goulding's ingenious video projections, Anna Fleischle's costumes, Natasha Chivers's just so lighting, colouring the stage, the moods and fears.
The music's heavy beat drives the drama of the dance—each song has a narrative, which when knit together provide the through story, thirteen songs in act one, fifteen in act two ("Fields of Gold" is a repeat). Beverley Knight sings on some of the tracks—yes, we need women's voices for the context—and there are four more female vocalists on others. There's a choir, a string quartet and horns, as well as "additional musicians".
But really it is Prince's vision and the acclaim should be hers (she's sitting in front of me with her hands to her face but proud I hope). She'd probably say it's teamwork, and of course it is. As always her dancers are vital, vibrant and totally involved, the high energy of street mixed with contemporary and commercial, a mix that echoes the music. "Be yourself, no matter what they say."
Reviewer: Vera Liber