Mixed Bill: A Brief Nostalgia; The Suit; Nine Sinatra Songs
Choreography Jack Lister, Cathy Marston, Twyla Tharp
Birmingham Royal Ballet and Ballet Black
Sadler's Wells
–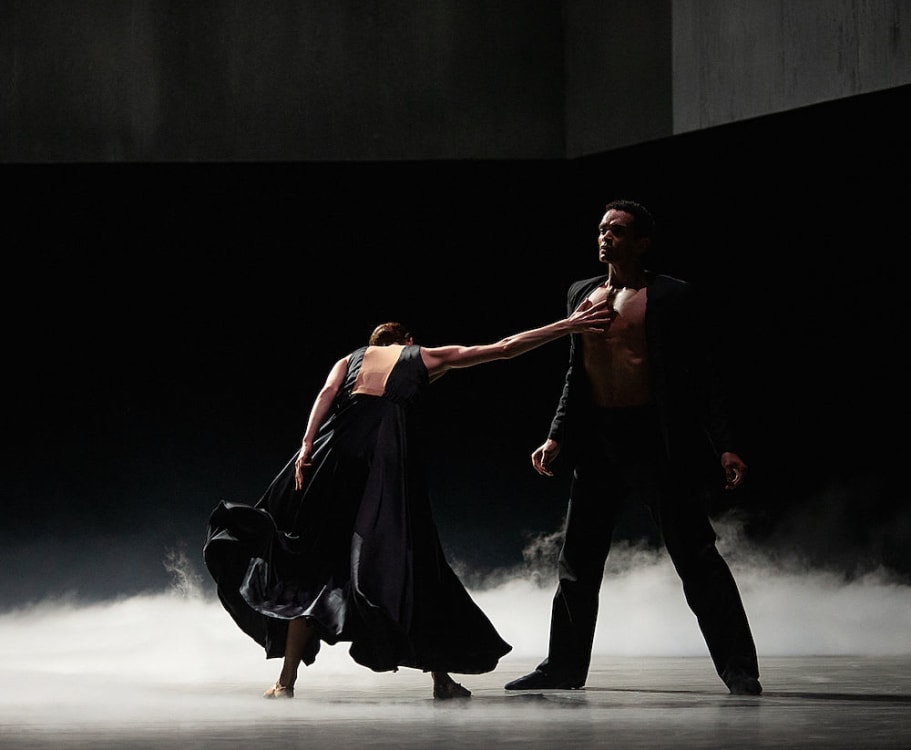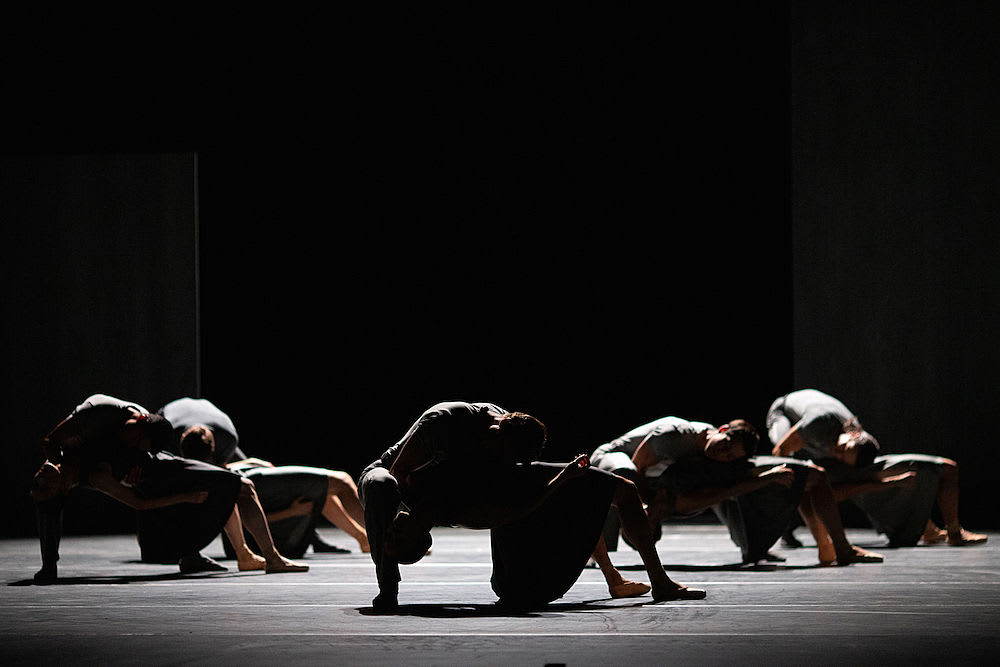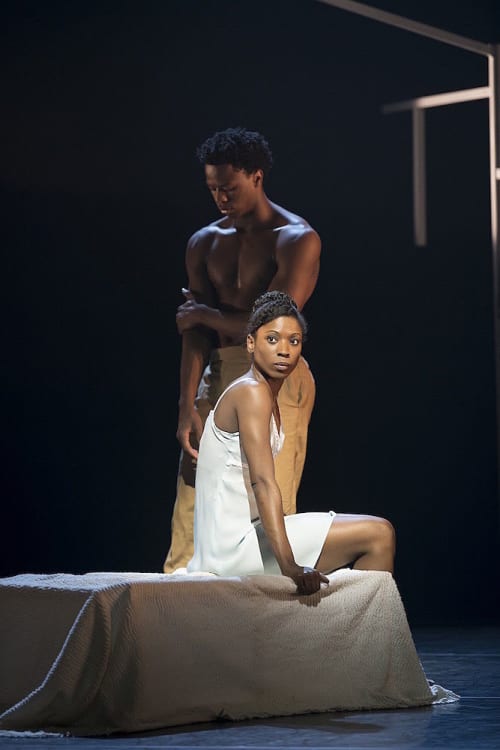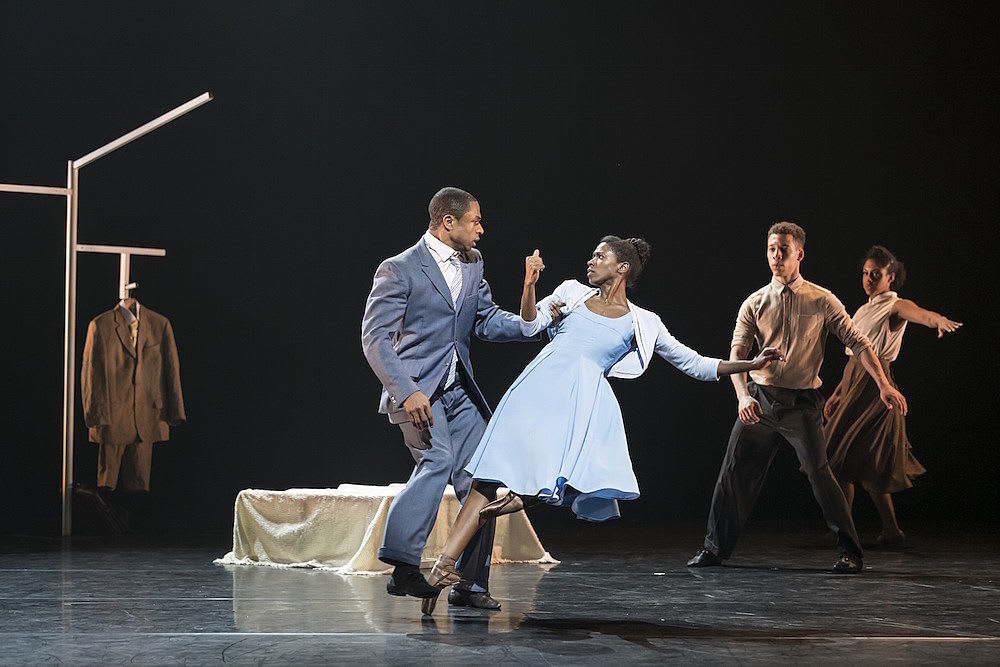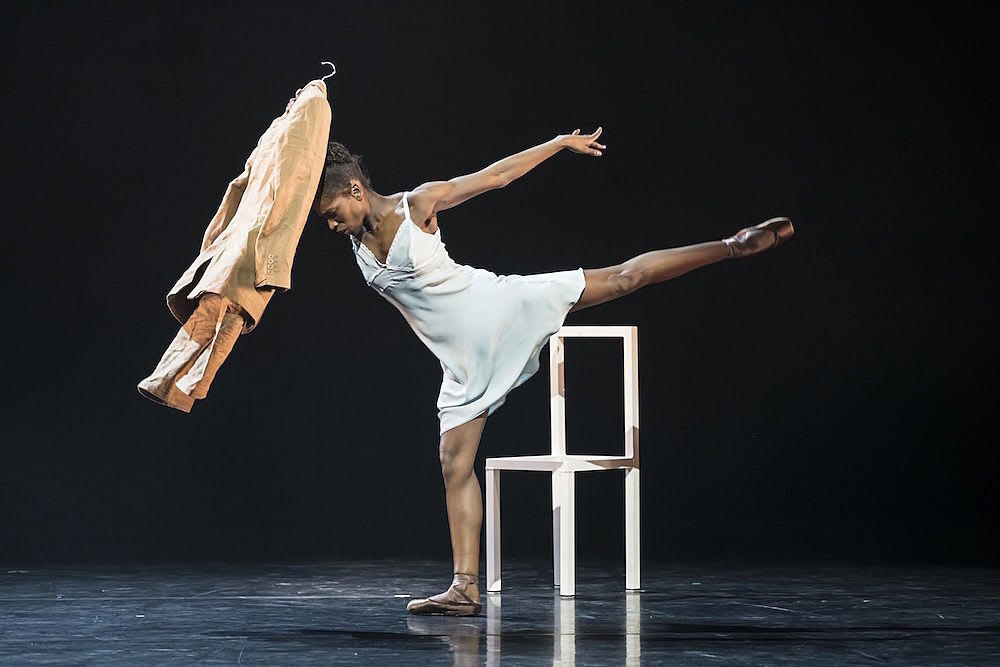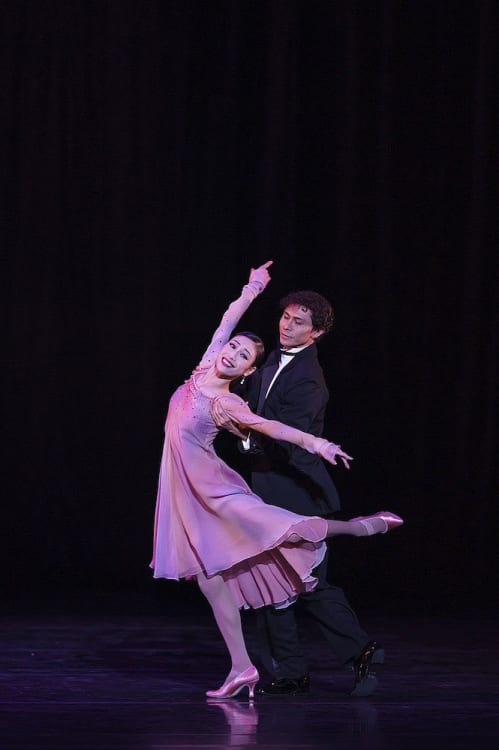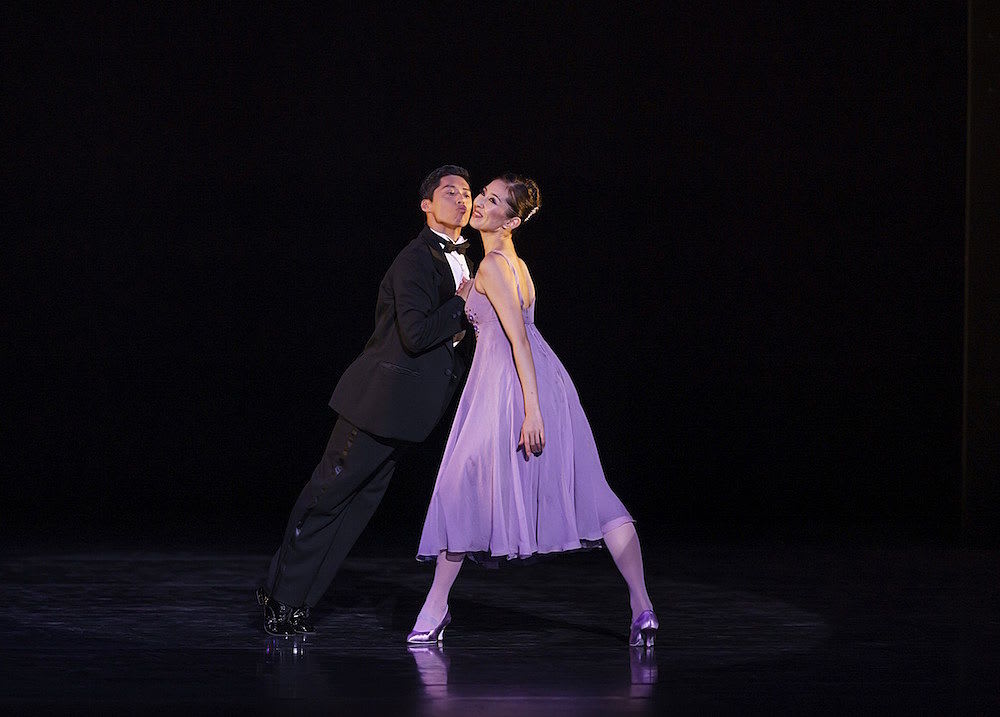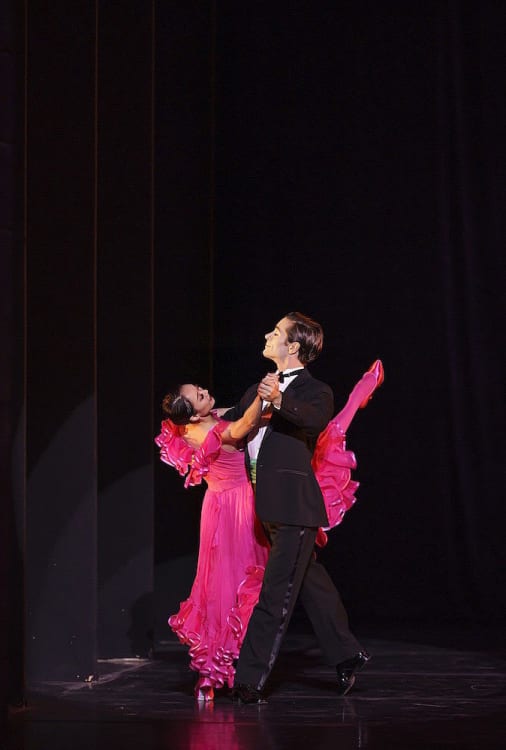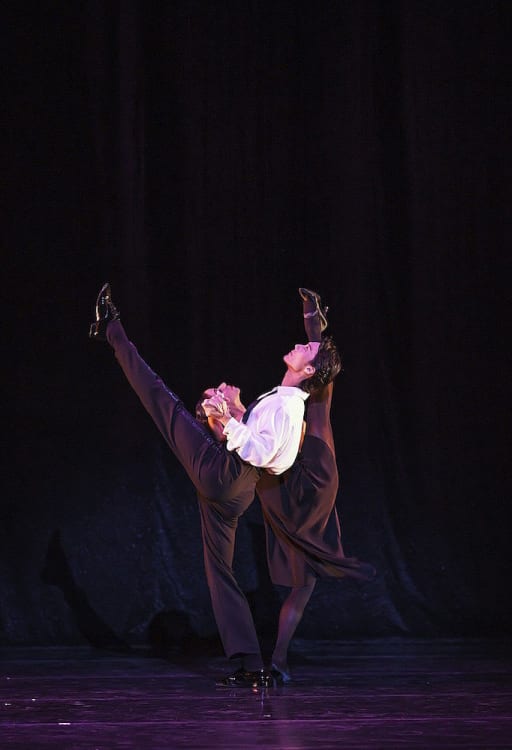 Nostalgia, what does it mean to you? An emotional looking back, a wistful longing, painful recollections, and / or homesickness? The Portuguese melancholy, sad saudade triggered Jack Lister's A Brief Nostalgia. Or is it Frank Sinatra songs that prompt memories of past loves and losses? Both frame Cathy Marston's tale of adultery and woe danced by Ballet Black, appearing for the first time with a major dance company, at the centre of Birmingham Royal Ballet's triple bill. The cruel husband will look back with nostalgia on what he has lost, or rather thrown away.
But, the trouble is, nostalgia means different things to different people, age perhaps increasing its potency. Queensland Ballet dancer Lister, still only twenty-five, brings an academic intensity to his film noir production, a youthful Dostoyevskian despair. Thomas Mika's set design, huge concrete grey walls, gives it a dystopian look, augmented by Alexander Berlarge's crepuscular lighting, all shadows, the grey-clad dancers flitting ethereal shades in the purgatorial night, and lots of dry ice.
Tom Harrold's specially written sinister score (his first ballet score) thunders and crashes with percussive portentousness. Supported by Birmingham Royal Ballet's Ballet Now programme, encouraging young creatives (this its fourth commission), Lister and his team make a good fist of it, but A Brief Nostalgia leaves me unmoved. Thirty minutes of doom and gloom that go nowhere. Why are the women facing the walls, hiding in corners—are they refugees from Akram Khan's Giselle? Who are the men that manhandle them? The lifts are strong, women swimming (or struggling?) in the men's arms.
What are the six couple strong cast, racing on and off in various confrontational groupings (the male duet stands out), fleeing? Jerome Robbins and West Side Story briefly flit across my brain. Who are they hiding from? Who is the mysterious couple (Brandon Lawrence and Delia Mathews), she in long black gown, he in shirtless black suit? Are they grieving? Were the others their grey brain matter? The walls rise, smoke (the mists of time?) seeps in from underneath, hangs in the air, and it's over. A mood, a feeling, an existential crisis...
The crisis in The Suit is very real: Mathilda (Cira Robinson) cuckolds her husband (José Alves), who takes revenge by anthropomorphizing the suit the lover (Mthuthuzeli November) left behind in his haste. The social shame, psychological stress, and his cold anger take their toll. He is left bereft—what foolish creatures we are, killing the thing we love best.
Ballet Black's terrific tightly knit seven-strong ensemble ("fresh from their staggering performance with Stormzy at Glastonbury") could do this in their sleep, so easily do they fill the roles of the lead characters, the locals, the chorus, the furniture, the fixtures and fittings as it were. Morning ablutions are funny in a cartoonish way, but there's nothing funny about the penance Mathilda has to undergo—the dramatic tension is real enough. The duets are moving.
I love Can Themba's 1963 short story (Peter Brook did too, adapting it for the stage, and John Kani starred in a 2016 film version), a parable of misguided justice, and Marston's version is captivating, but, having previously seen it in close-up in two very different venues, I find I'm not as engaged as before, the First Circle perspective too distancing perhaps.
The music, Philip Feeney's arrangement of a recording by the Kronos Quartet which involves a mix of Keith Volans, Charles Ives, Ariel Guzik, Carlos Paredes, Juan García Esquivel, Margarita Lecuona, Jon Hassell and Thomas Oboe Lee, is a perfect fit. In fact, it's the music throughout the mixed bill that resonates the most.
And of course, Frank Sinatra covers all the above territory. A dreamy, some might say corny, thirty minutes, nine sentimental numbers ("My Way" repeated, so eight Sinatra songs), female dancers in Oscar de la Renta gowns and satin heels, men in tuxedos, except for Tyrone Singleton in waistcoat, but one can't but be amazed by Ol' Blue Eyes's talent whether it's your thing or not. My young music producer companion is blown away by his phrasing.
But, somehow, to me Twyla Tharp's 1982 choreography does not feel BRB's natural idiom—it needs more American pizzazz. There's awkwardness in the acrobatic lifts, and I wonder if the shorter man, taller woman comic piece (Something Stupid) references Kenneth MacMillan's similar 1974 sketch in Elite Syncopations. Tzu-Chao Chou and Yijing Zhang are charming in it, but the spare set—glitter ball and background curtains—does not draw one in.
Brandon Lawrence and Eilis Small are delightfully romantic in All the Way and almost make me weep, but the best is saved for last—Mathews and Singleton in the almost throwaway That's Life. More cocktail dress than classy evening gown—a red off the shoulder number—Mathews comes the closest to the Cyd Charisse or Juliet Prowse that might have inhabited the role in Sinatra's day. Singleton does a mean man smoulder very well.
Reviewer: Vera Liber