Monotones I and II / The Two Pigeons
Choreography Frederick Ashton
Royal Ballet
Royal Opera House
–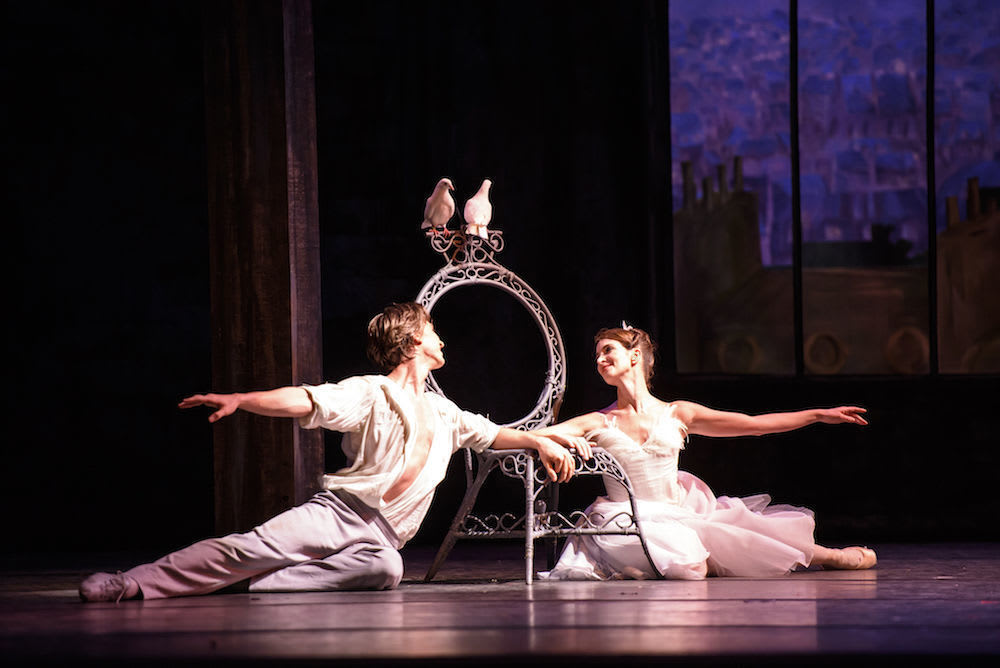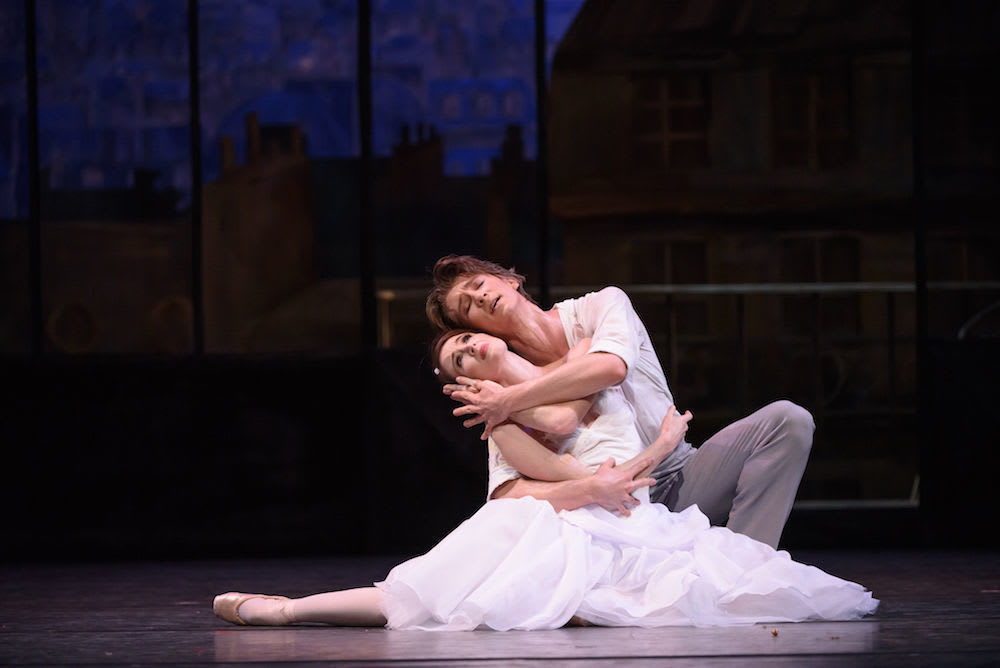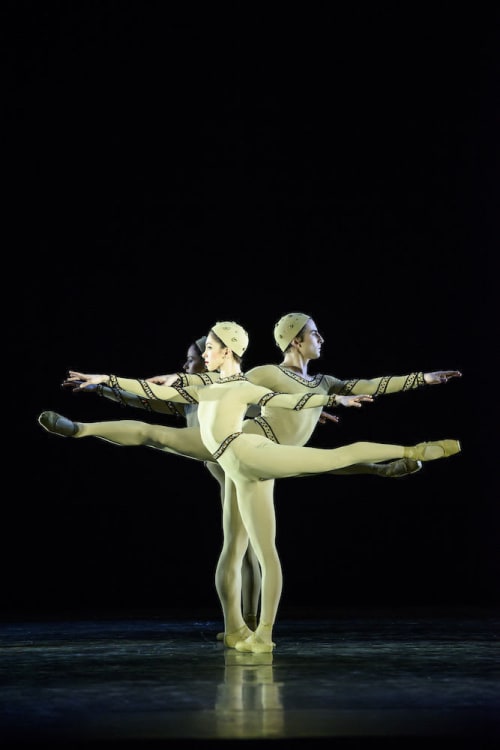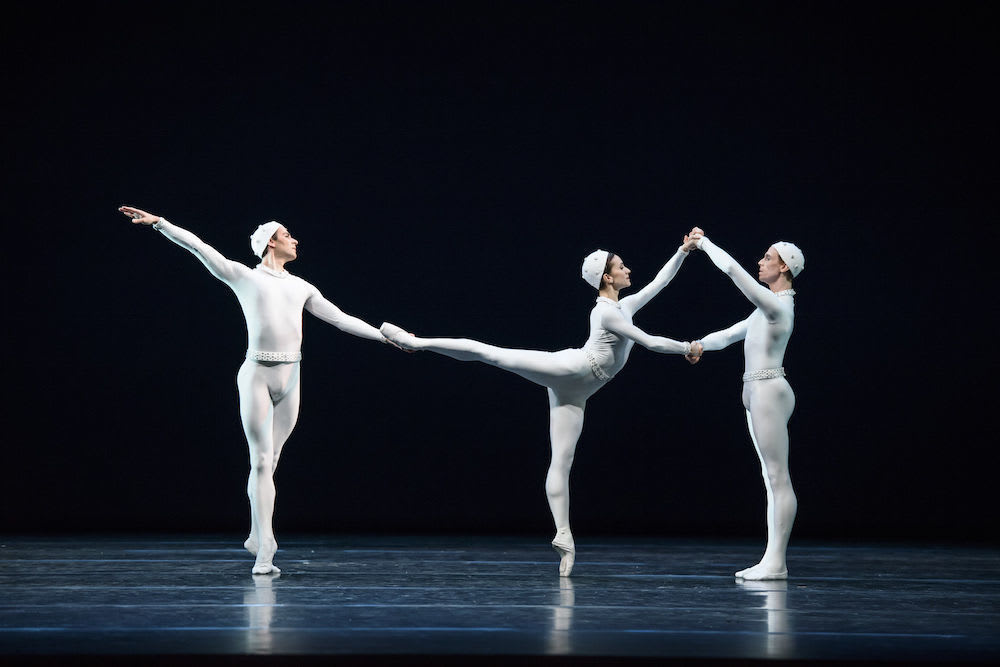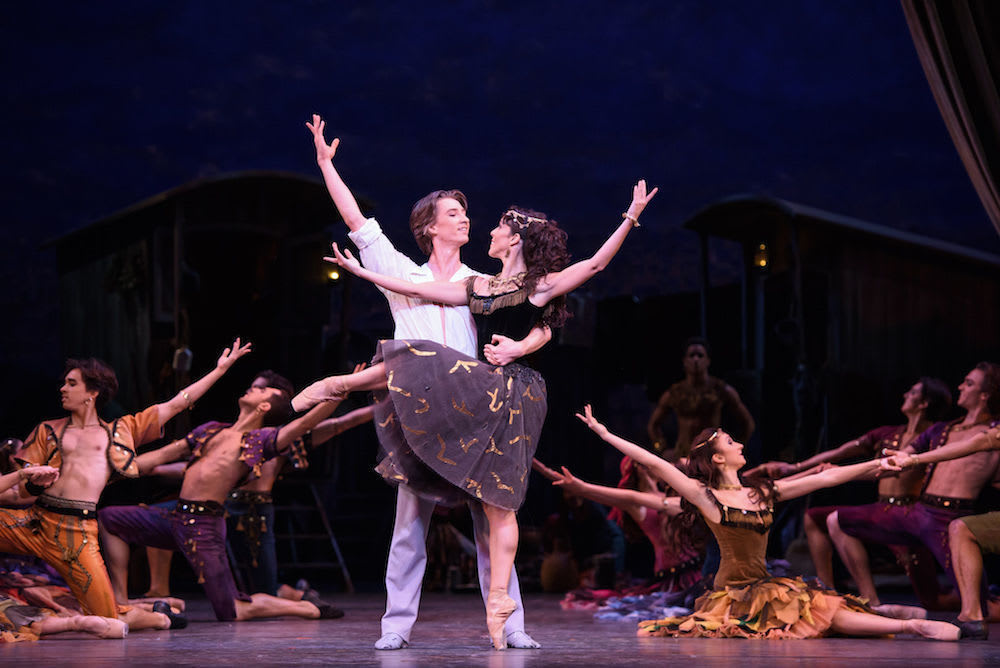 Abstract minimalism, sweet wit and romanticism seduce with simple charm in a pleasant evening of pure delight—why there are still seats available I can't imagine.
Monotones I and II and The Two Pigeons, both created in the 1960s, celebrate founder choreographer of The Royal Ballet Frederick Ashton's choreographic range and impeccable musicality. I, for one, can't get enough of him, his elegance, his complexity, the heritage he appears to wear so lightly.
Monotones the Royal Ballet aired as recently as 2013, but The Two Pigeons return to their repertory for the first time in thirty years (Christopher Carr taking a bow—and Lesley Collier who danced the Young Girl in the 1960s and '70s—must be acknowledged for its faithful revival and staging), though ballet fans may remember that Birmingham Royal Ballet brought it to the Coliseum in 2012.
Monotones, a ten-minute pas de trois originally created for a gala to Erik Satie's Trois Gymnopédies, was joined a year later by another pas de trois of similar length to Satie's Trois Gnossiennes, the latter becoming Monotones I, an earthly prelude to the more otherworldly former, now Monotones II.
Tristan Dyer, Emma Maguire and Yasmine Naghdi in bejewelled lime green unitards and skullcaps, step out to Gnossiennes' opening oriental snake charmer melody and one immediately thinks of the Ballets Russes. Harnessed troika imagery cites Apollo and his muses, whilst Ashton's Ondine swims into mind on its watery ebb and flow.
Music's every nuance reflected in its cool slow movements, Monotones II opens with Marianela Nuñez in vertical splits rotating between Edward Watson and Valeri Hristov—three white marble graces joined in kinetic sculptural form, mirroring moves, tracing the mysterious Cocteau-esque poetic air, taking a line for a walk. It's all about line, and space to dream in.
Modernism gives way to fin de siècle romanticism in The Two Pigeons, taken from a Jean de la Fontaine fable, so there's a moral here. Not le jeune homme et la mort in his cramped Parisian attic but le jeune homme et l'ennui in his light and airy Montparnassian studio up in the sky. And we all know where boredom can lead you.
A painter (Vadim Muntagirov) is frustrated with his pretty little petulant muse, a vision in white (Lauren Cuthbertson), but a fidgety one. Sitting for a portrait is not easy: she can't keep still, her leg goes dead, she bashes it on the floor to illustrate its woodenness—lovely little characteristic touches of humour abound. He shifts her around as if she were the floppy doll in Coppélia.
Her girlfriends, Degas ballerinas in varying pastel shades, and a neighbour, straight from a Manet painting, visit and disrupt his light concentration. Jacques Dupont's designs are genre paintings come to life, and the girls' bird-like moves quote Ashton's coop of hens in his La Fille mal gardée.
The whole thing has an operetta feel about it: composer André Messager who wrote the music for the original Les Deux Pigeons in 1886 worked for a while at the Folies-Bergère.
Anyway, what comes next puts the cat amongst the pigeons: Romany gypsies. The Young Man falls under their spell. A Gypsy Girl (vivacious Laura Morera in her element) is just the exotic bit of colour his life needs, and off he goes with them, burgundy scarf thrown artistically round his neck. Cuthbertson can't stay him with her entwining arms or in a dance-off with the Gypsy Girl.
Colourful Slavonic folk dances (echoes from Petipa), all clicking heels and high jumps, but this effete Young Man in a spin (Muntagirov's tours en l'air are perfect) is not made for a Carmenesque (you can hear it in the music, adapted and arranged by John Lanchbery) gypsy life.
Thrown out of their Corsaire encampment, where Marcelino Sambé's Gypsy Boy taunts him in a fiery solo, and Ryoichi Hirano's Gypsy Lover beats him, he returns contrite to the pigeon blessé he left behind. The single pigeon that flew away—yes a real pigeon does fly across the picture window—comes back to his mate.
She welcomes him with open arms and trembling feet. The round-backed chair she sat on as she modelled for him is now a frame for their love. He carries a dove on his shoulder; a second flies in just as the curtain comes down. Muntagirov and Cuthbertson make a lovely couple.
The evening is dedicated to all those affected by the recent Paris atrocities.
Reviewer: Vera Liber