Mosquitoes
Lucy Kirkwood
Dorfman Theatre (National Theatre)
–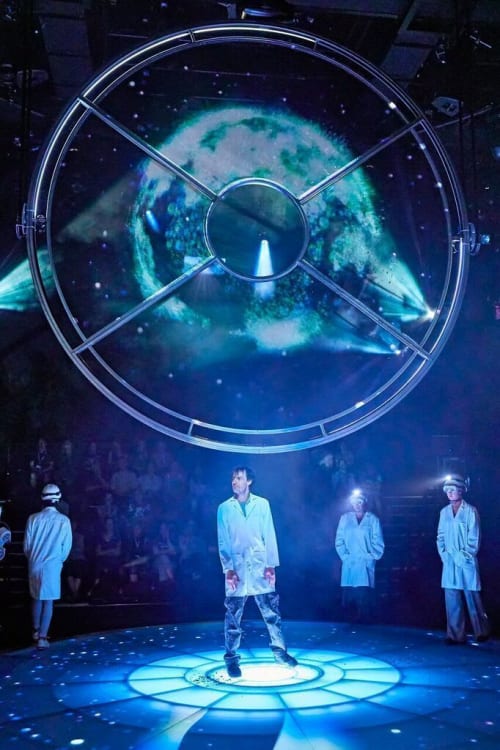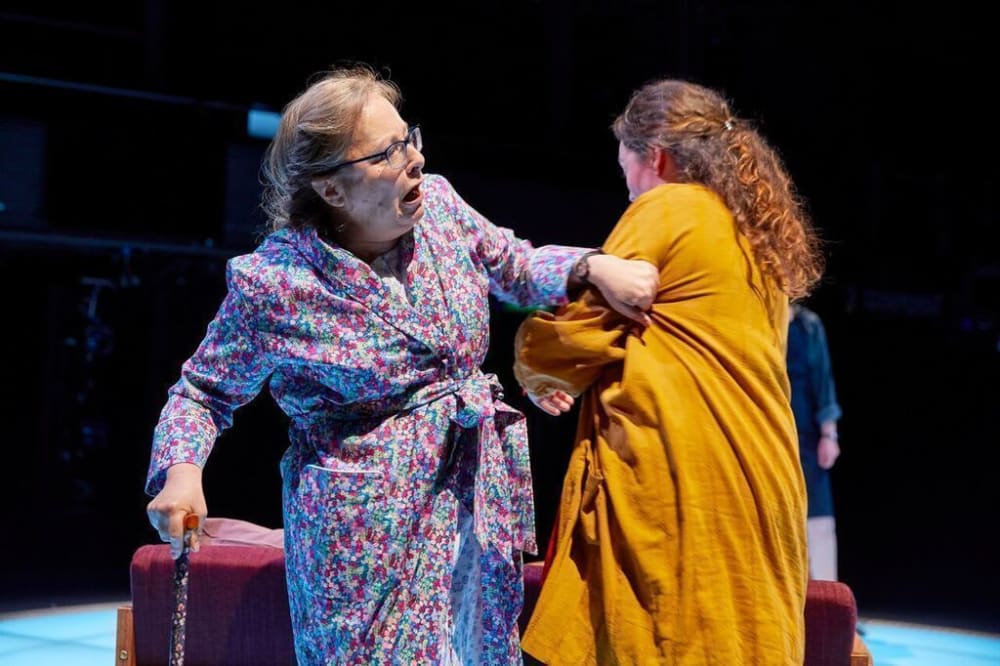 Trying to explain theoretical physics and allied subjects to the scientifically illiterate at the same time as creating a compelling play takes an exceptional playwright such as Michael Frayn in Copenhagen, Sir Tom Stoppard in The Hard Problem or Simon McBurney in A Disappearing Number.
Now, we can add Lucy Kirkwood to the list. On one level, Mosquitoes takes on the biggest questions of the universe, including when and how it will end. On another, it shines a light onto a dysfunctional family that suffers more than its fair share of loss and, dare one whisper it, melodrama.
Rufus Norris directs a cast led by a sorority of superb Olivias in-the-round on a Katrina Lindsay-designed circular stage that swiftly soaks up minimalist props and lively but frequently informative projections, created by Finn Ross and Ian Williams Galloway.
Olivia Colman is Alice, a perpetually stressed experimental physicist working in Geneva for CERN at the head of the Large Hadron Collider, the malfunctioning particle manipulator designed to prove something clever about the composition of the universe (I think).
A brief family tree is then needed to explain many of the 2¾-hour evening's intricate web of personal dramas packed with its own explosive collisions.
Alice's father won a Nobel prize but was a pompous serial adulterer. Her mother, played with great humour but also sensitivity by Amanda Boxer, claims to have been the moving force behind his most significant discoveries. A generation later, she is on the brink of dementia but can still rule her girls with a rod of iron.
Alice was once married to a theoretical physicist, where she is of the experimental variety. At some point, the character played by Paul Hilton went mad (an almost compulsory side-effect of success in this field) and subsequently disappeared, though the Boson is a ghostly presence throughout taking the role of an offbeat but impassioned narrator, intelligibly explaining complex concepts to the uninitiated.
Joseph Quinn is their nerdy son Luke, something of a wunderkind, although the unhappy 17-year-old can give the impression of a relic from one of this theatre space's greatest hits, The Curious Incident of the Dog in the Night-Time, apparently sharing Christopher's Asperger's albeit in a milder form and possibly inherited from his old man.
Last and in everyone's eyes least, Alice's sister, Jenny played by Olivia Williams, is pretty ordinary and thus is fated to spend her life being patronised by all and sundry. This intemperate but intermittently kindly forty-something is also unfortunate, paying a terrible price for an irrational and very unscientific fear of the MMR vaccine.
A combination of jealousy, sisterly competition that they should have grown out of 30 years before, teen angst and a great deal more fear, little of it well-founded, provides many thrills and spills plus some hilarious moments, while in the background, the scientific cadre underpins and eliminates a family drama in which chaos theory is a significant factor.
Laypeople may not get all of the clever stuff but those with a phobia about physics will still learn a great deal as they enjoy a beautifully acted, deep, complex drama of ideas that sparkles with life and exposes the rawness of humanity in today's complex world.
Reviewer: Philip Fisher