Nobody
Created and directed by Kevin Finnan
Motionhouse
Peacock Theatre
–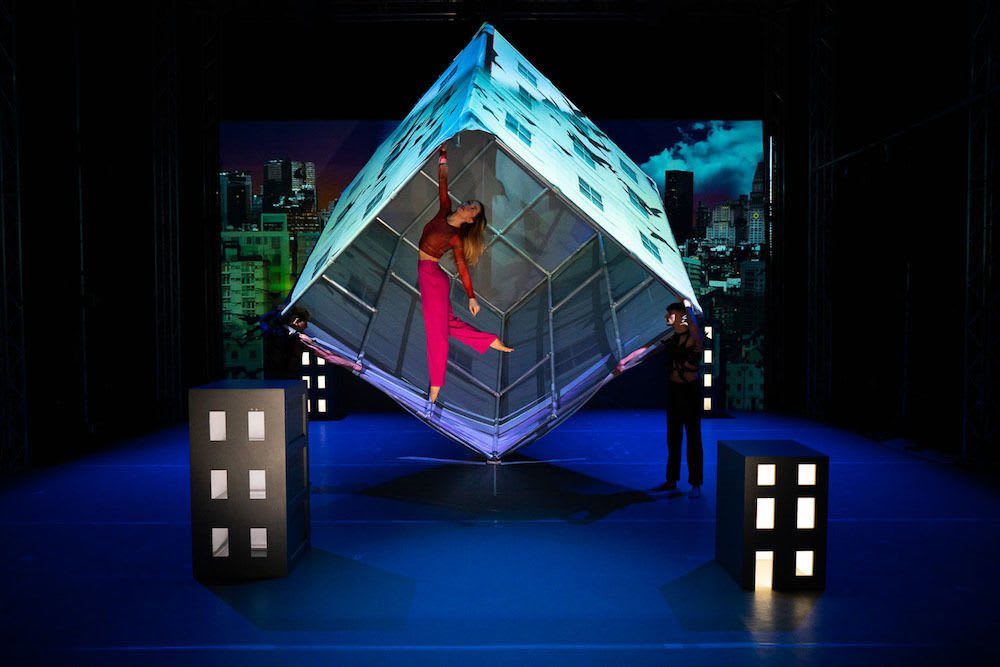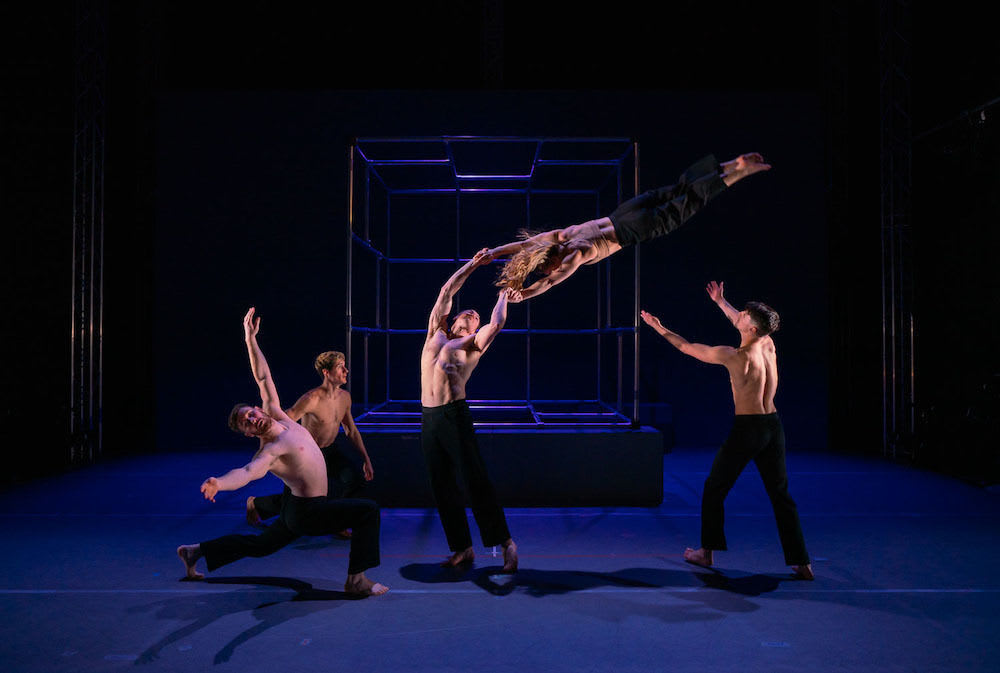 Crows, corvids (yes, I nearly wrote COVID…), how often have they been used to signify grief (Max Porter's Grief is The Thing With Feathers), unease (Edgar Allan Poe), frightening attack (Hitchcock's The Birds), and then there's Ted Hughes's Crow… And Wayne McGregor's Raven Girl… I also see Azsure Barton's Fantastic Beings and Crystal Pite's flocks of dancers in my mind's eye.
Kevin Finnan's concept for Motionhouse is that the corvids represent COVID anxiety, that constant noise in the head. His continuing "examination of the human condition and our place in the world" has perhaps been gifted with the exceptional circumstances of our lockdown trials.
And it's that constant noise that troubles me the most: Sophy Smith and Tim Dickinson's score, over-amplified to industrial levels, feels like a torture chamber I am desperate to leave before my eardrums take a direct hit. A metaphor?
But, masochistically, I weather it for the sake of the fabulous digital projections by Logela Multimedia and Barrett Hodgson's video designs—the animation is millisecond precise, and reminds me a little of Shaun Tan's The Lost Thing. Coupled with Simon Dormon's set design, especially in the first longer half, the visual picture is so stunning I almost forget to watch the seven dancers doubling as crows (Sophie Donaldson's costume design) and people trying not to succumb to their demons, or should I say daemons....
Olly Bell, Berta Contijoch, Chris Knight, Daniel Massarella, Beth Pattison, Shannon Kate Platt, Joel Pradas Reguill are tremendous contemporary dancers with daredevil circus skills, which also rely on precision timing and trust.
Acrobatic, supple, simian strong, they fly though the air, tumble, swing, and scale a tubular cube. One contortionist female, like Alice, gets confined inside a miniature cube, from which she is saved by a crow—is her inner voice on the turn, positive?
The central prop, that cube, a playground climbing frame, is multipurpose: clothed it is a canvas for the projections—house exterior and interior (Natasha Chivers's lighting guides the eye), uncovered in the second half it is a gymnasts' jungle gym.
Towers—plinths for crow dancers and part of the back-projection high-rise city landscape—of varying sizes have to be moved around as part of the choreography by the dancers. How they keep the counts in their heads I can't imagine, but everything depends on them. Quite remarkable. The contact work is superb, as is their balance.
City lights, empty restaurants, pizza delivery, taking a shower—but boxed in, noise, stress, the first half too long—will it ever end—a man puts his hand into a goldfish tank—all tricks of projection. And flocks of crows, so many the white house turns black—the black of despair…
The second half, supposedly the calm after the mental storm, is plainer. No crows, just black water. Heads bob above the water, hands reach—are they drowning—is the bare frame The Raft of the Medusa? All are rescued. Co-operation is the answer to all our woes. Finnan works collaboratively with his dancers and it shows. Hold and rescue whomsoever you can. We are Nobody and everybody.
After London, Motionhouse tours the production round the UK, to Germany and Denmark for the next year—making up for lost time no doubt.
Reviewer: Vera Liber