Old Times
Harold Pinter
Harold Pinter Theatre
–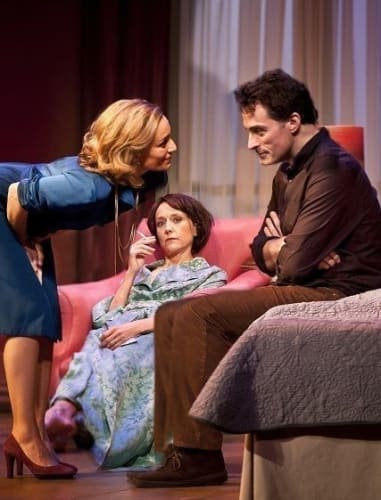 More even than other Pinter plays, Old Times is like a jumbo crossword puzzle that you never quite complete. Ostensibly, it should be simple enough to piece together as a married couple welcome an old friend for a quiet reunion.
With many writers, that would tell us almost all that was necessary to understand the dynamics. Pinter though is a master of the haunting three-hander, having relished the opportunities for alliances and oppositions in The Caretaker and Betrayal just as much as this more rarely viewed classic, first seen in 1971.
It is wonderful to enjoy Ian Rickson's immaculately cast revival in the theatre named for its playwright, the first time but not the last for Pinter at the Pinter, one would wager.
To add to the mystery of this threesome, the parts of Kate the wife and Anna the visitor are played at alternate performances by Kristin Scott Thomas and Lia Williams.
On press night, Miss Williams patiently waited a very long time for her moment to pounce as quiet mousy Kate, far more the object than subject of her fellows' joshing conversations. Before her moment of transformation, she was able to sit back on Hildegard Bechtler's deliberately understated set, easily transforming from bland living room to bland bedroom, and enjoy observing Miss Scott Thomas.
Anna is glamorous and extroverted, constantly posing in her electric blue dress as if for an invisible paparazzo and happily flirting with both husband and wife, fully playing up the sexual possibilities of her role.
Rufus Sewell is the calm, ironic Deeley, a film director husband who has no great qualms about belittling his shy wife.
Gradually, as he reminisces about minor events half a lifetime ago, Deeley gets considerably more excited and seems to be on the edge of violence.
At the same time, we begin to piece together various seemingly unconnected fragments of dialogue to create a whole story showing how close this trio was back in the day when the two women were flatmates.
This involves Deeley too, though it isn't always easy to divide fact from fabrication, nor to know how much information revealed on this single night, in a mere 80 minutes of stage time, was known to each member of the group.
By the end of what can be a sinister as well as comical evening, all three might well have been changed forever, with power switching possibly irrevocably by the final highly illuminated curtain. Even then, with its concentration on the weakness of memory, conclusions are hard to be certain about.
While her colleagues do everything necessary to create an intoxicating evening, Kristin Scott Thomas is absolutely exquisite in the role of Anna. This begs the question as to whether this is the actress or the role. Anyone eager to learn the answer will have to pay for two tickets, in which case they can see each of the actresses in both roles.
Ian Rickson already has one indelible association with Harold Pinter having directed him in his final, triumphant stage appearance in Krapp's Last Tape. This atmospheric production with its three tremendous actors working so well together is another evening involving that partnership for us all to relish.
Reviewer: Philip Fisher