Ophelia's Zimmer
Alice Birch
Royal Court and Schaubühne Berlin
Royal Court Theatre Downstairs
–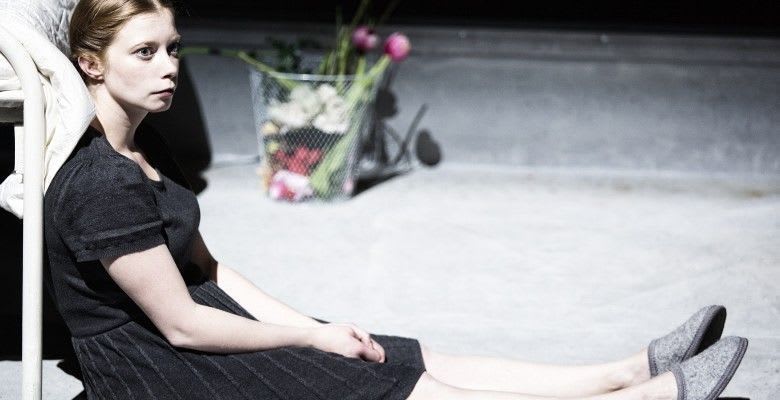 Poor old Shakespeare is not enjoying the greatest 400th birthday experience that he deserves. While the great playwright is being feted across the world and there are many more highlights on the horizon, not all is rosy.
First, there was the Globe's re-written version of A Midsummer Night's Dream and now Katie Mitchell's whimsical piece using a script written by Alice Birch, drawing inspiration from Hamlet and co-produced by the Royal Court with the Schaubühne Berlin.
Miss Mitchell is a genius who can sometimes be wayward or create work that conveys too little meaning to hold the attention of the average viewer.
For the avoidance of doubt, Ophelia's Zimmer does not refer to a supporting frame but a claustrophobic (German) bedroom occupied by the titular young woman.
The play follows Hamlet's old flame played by Jenny König through five stages of drowning. It is a fair bet that we are inside her feverish mind but that is not a certainty. In any event, during this process, very little happens through not far short of two hours without interval.
The old directorial shtick sees cast members in what initially appears to be a shower booth upstage creating sound effects and distant voices. What was once innovative and imaginative is now becoming rather old hat and getting hackneyed.
To say the very least, the action is limited and repetitive. A maid brings in flowers and a series of frequently obscene letters, in cassette form. Hamlet, Polonius and Claudius are somewhere in the wings, making very occasional appearances.
At the death, the Chloe Lamford-designed room sinks and fills to ankle depth with water, giving what had otherwise been a dull and grim scene its own strange beauty.
For those that are intimately acquainted with the Bard's masterpiece, allusions will help to pass the time. Some of the characters' names are familiar, along with odd bits of action and language (translated into German then back again using surtitles).
Anyone who is not familiar with the source work will be even more baffled, probably only getting excited by Hamlet bopping away to Joy Division's "Love will Tear Us Apart" and the fall not of a sparrow but the final curtain.
It is possible to mine Hamlet for an insightful alternative view as Sir Tom Stoppard proved with Rosencrantz and Guildenstern are Dead but this production appears to have missed its own point.
Reviewer: Philip Fisher