Orpheus
Written and devised by the company
Little Bulb Theatre
Battersea Arts Centre
–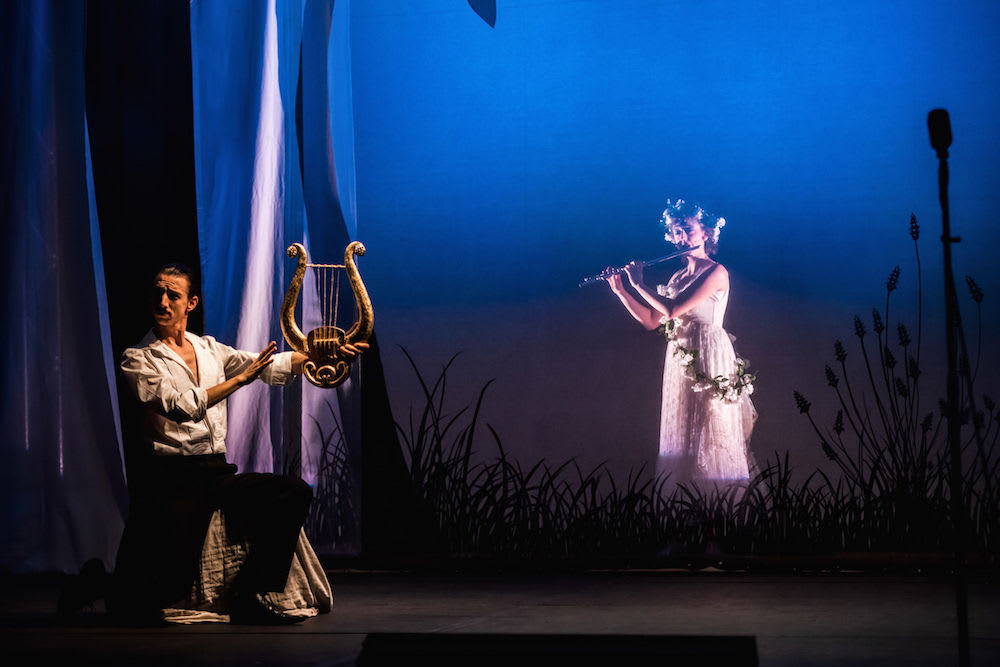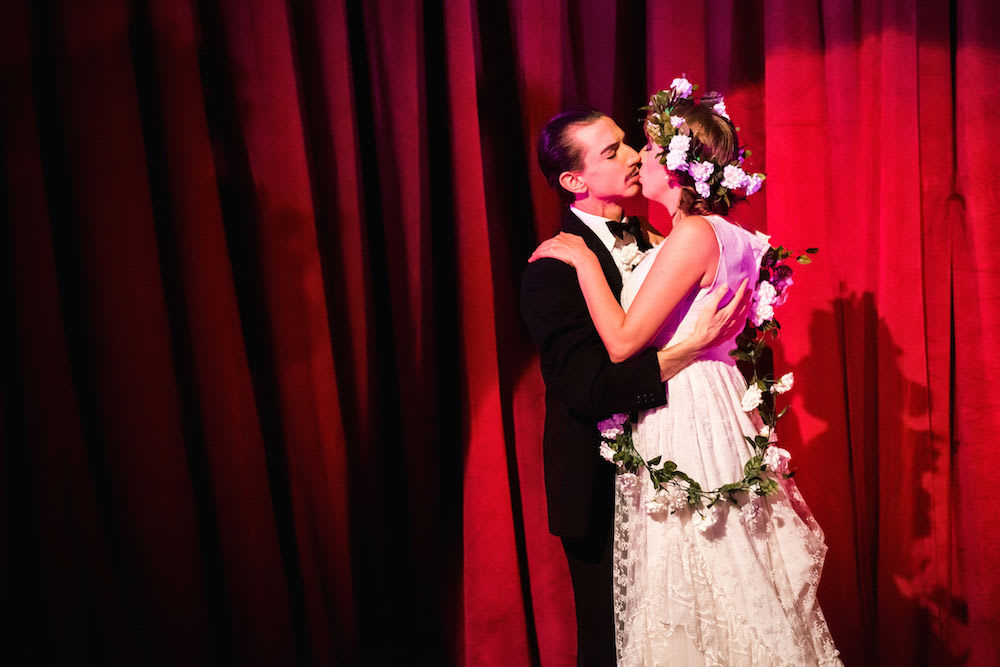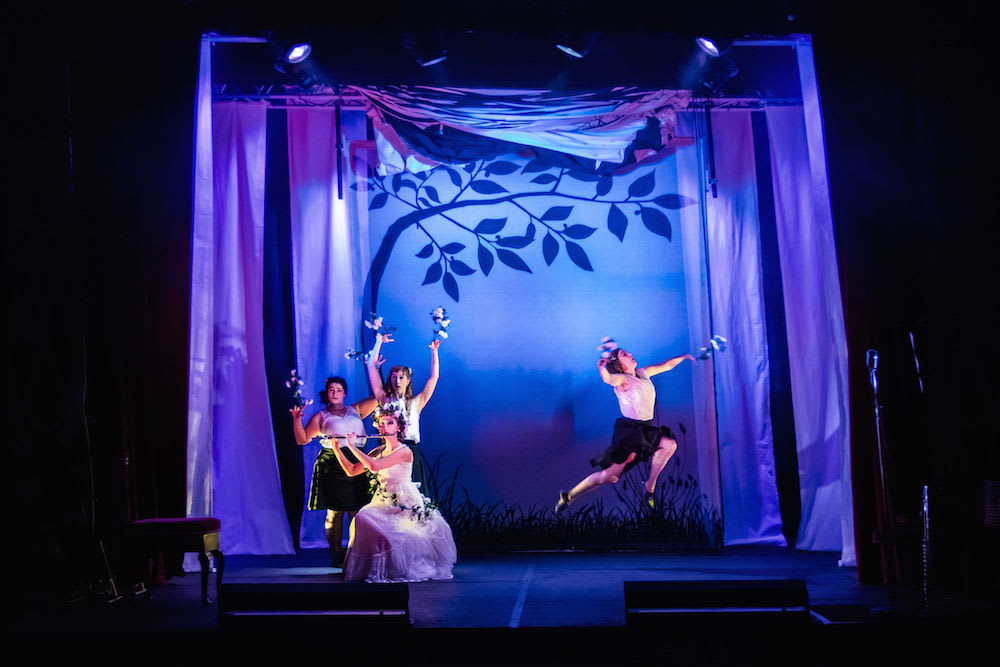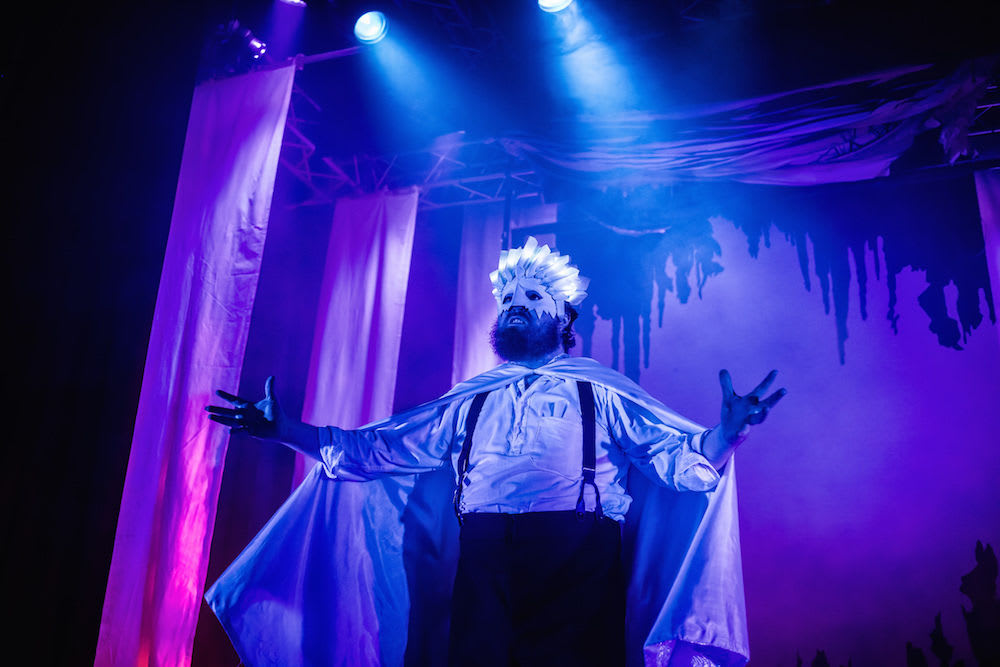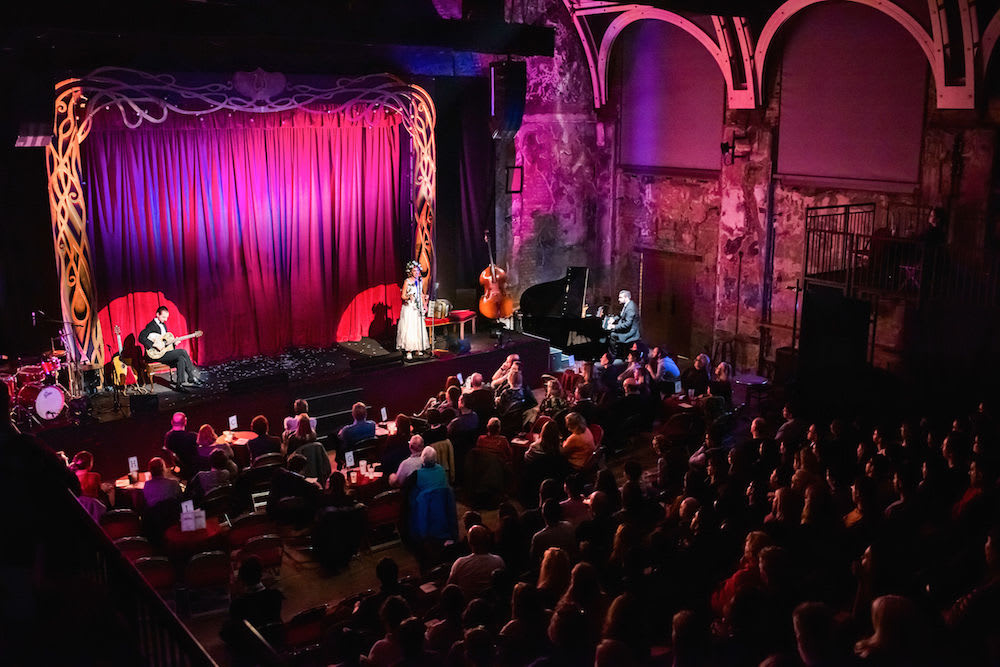 Hadestown may be playing in the National Theatre's largest auditorium, but here at the community-spirited Battersea Arts Theatre is the modest Little Bulb Theatre Company doing its own musical Orpheus treatment. Returning to the Grand Hall, reborn after the fire of 2015, where they premièred in 2013, the eight-strong multi-talented company is as charming as ever. They send themselves up with studied insouciance.
The concept is that the famous jazz / gypsy guitarist Django Reinhardt (Dominic Conway superlative) and the equally famous chanteuse and club hostess Yvette Pépin (think Édith Piaf) will present a musical version of the Orpheus and Eurydice myth (with a prologue and an epilogue—think rude mechanicals, choreography quite childlike in its artlessness) in this tiny intimate cabaret in 1930s Paris.
Orpheus's 'lyre' charms the wild beasts in the forest, but not the serpent (hand-held puppets by Max Humphries and Cheryl Brown) that bites poor Eurydice in the garden. And the journey begins across the river Styx (is that frog spawn I see floating behind ferryman Charon?).
Myth telling mixed with musical interludes and some of their own compositions: a delightful evening that is half musical theatre, half music concert, live music backed by a recorded soundtrack. Life is a scratchy record… that's for sure.
I am smitten once again, the music gets me every time: Reinhardt's jazzy swing, Monteverdi, Saint-Saëns, Bach, Brahms, Faurë, and French chansons, many from Piaf's backlist, "L'hymne à l'amour", "Padam, Padam", "Mon Dieu", and Jacques Prévert (I'm a sucker for Prévert) and Joseph Kosma's "Les Feuilles Mortes".
The Triplettes singers and backing band—Miriam Gould on violin, Shamira Turner on accordion, Clare Beresford on double bass—are roped in to play the Fates, and other animals. The lucky pianist (Charlie Penn) is spared any such indignities. Director Alexander Scott, who plays a mean clarinet, takes on the role of Hades, and drummer (Tom Penn who surprises us with his counter tenor voice) sings Persephone.
On top of all that, clarinettist and drummer perform all the 'Tweedledum and Tweedledee' stagehand roles and special effects. The company's faux am-dram shtick is unchanged, but there is nothing amateurish about their versatile musicianship.
The acting is captioned silent movie style or comic strip—Django's guitar speaks for him—only Pépin (Eugénie Pastor), her surname playing on the 'little' of the little sparrow Piaf, talks—in a cartoonish cod French accent. Sadly, over-amplification, though great for her speaking voice, is, if I may say, a bit too harsh for her Piaf take-off. She also plays the flute and blatantly milks the applause with her funny walk and direct appeal.
The audience, softened up over two hours, enters blithely into the spirit of the impersonations. Pépin in her little red dress comes down from the red-curtain-draped proscenium arch to the cabaret club tables at the front and engages with the diners and drinkers. After the show there is food and drinks and a band playing in the bar.
What's not to like… Love conquers all. And Little Bulb has conquered, at the Salzburg Festival in 2014, the Royal Opera House Linbury Studio in 2015, and Brisbane Festival in 2017. Not bad for a small outfit.
Reviewer: Vera Liber