Our Ladies of Perpetual Succour
Based on the Novel by Alan Warner, adapted for the Stage by Lee Hall
National Theatre of Scotland
Dorfman Theatre (National)
–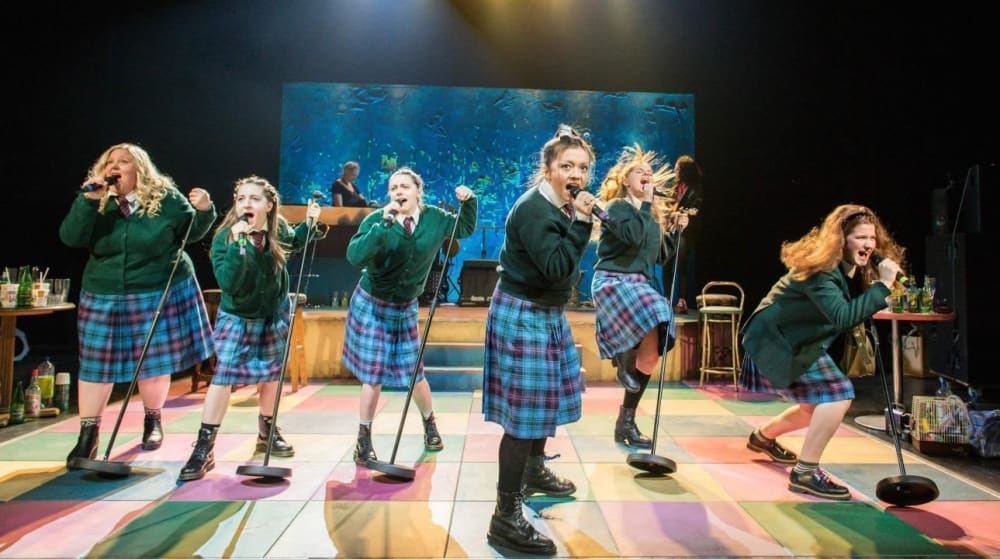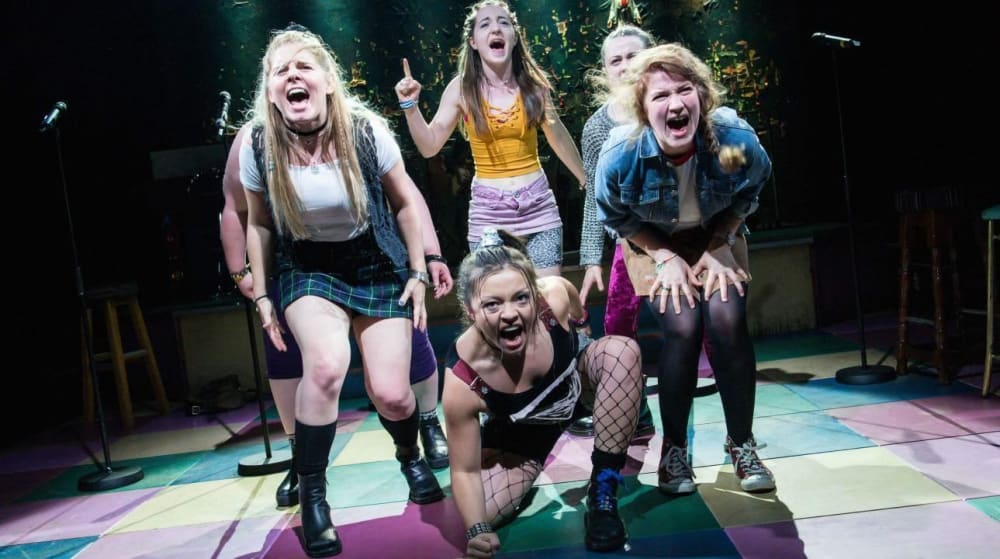 "Let's Go Mental" may not be the kind of mission statement that usually appeals to the relatively staid aficionados of the National Theatre. However, it sums up the spirit of this life-affirming instant classic, which originated with the National Theatre of Scotland at the Traverse during last year's Fringe and still boasts the original cast.
Indeed, this biting exploration of the sacred and profane was by far the best play of Edinburgh 2015 and, as long as you can take some fruity language and humour that can be brutally teenage-tasteless, seems just as appealing a year on.
In Alan Warner's novel, the sextet of convent girls were christened "The Sopranos" but by the time that Lee (Billy Elliot) Hall was commissioned to transfer them to the stage, that title had been taken.
Instead, Our Ladies of Perpetual Succour welcome their audience with an a capella hymn, which demonstrates both their vocal talents and apparent angelic natures.
Accompanied by Sister Condom (as they call her their least favourite nun), the girls form part of a choir from the sleepy West Coast town of Oban travelling to Edinburgh in order to represent the school in a choral competition.
In their eyes, though, like a souped-up 1980s version of the girls of St Trinian's, a trip to the capital is regarded as a chance to enjoy the illicit pleasures of sex and drugs and rock 'n' roll.
Once let loose, these little ladies do nothing by halves, making the average riot of football hooligans seem like Trappist monks.
By the end, not only have they caused collective chaos but every member of the sextet has established a personality that belies their 16 or so years.
Led by Dawn Sievewright's formidable Fionnula, who takes a fancy to Karen Fishwick as posh Kay, they express themselves in different ways. Kirsty McLaren as Manda is in thrall to her older sister, Caroline Deyga playing Chell is oversized in every sense of the word, while Francis Mayli McCann in the role of Kylah looks sweet but can still be close to satanic.
That leaves Orla, played at this production by Joanne McGuinness. In many ways, the slightest member of the group enjoys the experience more than any of her friends, since she is in remission from cancer, adding a dimension of pathos to what might otherwise be little more than a very funny comedy.
Best of all, in Vicky Featherstone's exhilarating production, the group provide their own soundtrack, accompanied by a three-piece band that seems as much at home with Judi Tzuke as ELO and Bob Marley, who gives the 110-minute performance its meaningful denouement with the hopeful coda "Everything's Gonna Be Alright".
Before then, the girls make hay in so many ways. A brief selection of the topics and antics includes drink, assorted sexual shenanigans, pregnancy, terminal illness, theft, transvestism and, perhaps unsurprisingly, expulsion. Even class rears its ugly head.
Quite why this production that has been touring for most of the last year following its success in Edinburgh should only be playing at the National for a limited run of under two months is something of a mystery. The answer might lie in a gig at the Melbourne Festival. With luck, in might return to both Scotland and London at some point in the future.
In any event, unless you are easily offended, book tickets immediately for what might be the most enjoyable 1¾ hours that you spend in a theatre all year.
Reviewer: Philip Fisher