Paradise Lost (lies unopened beside me)
Ben Duke
Lost Dog
Battersea Arts Centre
–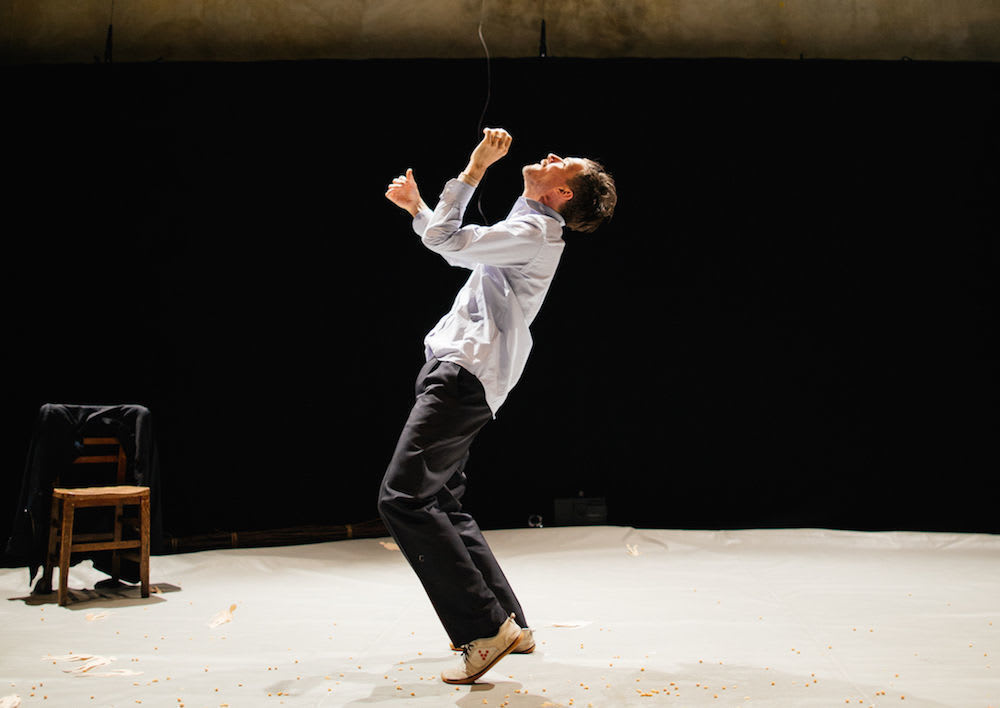 Pathos, bathos and stand-up comedy, not to mention a bit of dance, and there you have Milton's epic, Paradise Lost, in seventy-five minutes straight. A digested read so charming, so captivating, that reading or rereading might just be a let-down.
Ben Duke, first in English Literature, training in contemporary dance and acting, brings all his skills, natural charisma and chatty rapport to bear on a book you may have studied at school and forgotten. Duke relies on the fact that most haven't read it, which gives him carte blanche to digress and deconstruct.
Deconstruct he does beautifully, playing all the roles—God, Lucifer, Adam, Eve and the Serpent (sock on hand)—and the battle of the angels (chickpeas standing in for boulders), as well as himself, a harassed child-minding dad. Well, God's a father, too. Droll delivery, sharp intelligence, good secure t'ai chi balances and a terrific script—there's something of Complicite's Simon McBurney about him.
With an extemporising conceit, self-deprecating diffidence, and a touch of faux exhibitionism, Duke is quite the magical deviser. In simple suit, with minimal props, he reads us the last lines first, just in case he doesn't make it to the end in the time he has. From that human moment, hands shaking, scrambling for the page in his book, he has the audience eating out of his hand. Nothing fazes him/God, not a boisterous baby on the front row nor a clumsy solitary walkout—I thought they were plants at first.
His chosen musical backbone is perfect and perfectly timed: Strauss's "Also Sprach Zarathustra" (most will recognise it from 2001: A Space Odyssey), Handel's "Zadok the Priest", Bach, Arvo Pärt, Debussy, Philip Glass, Nick Cave & The Bad Seeds (because he wanted to impress his then girlfriend), Janis Joplin's "Summertime", and Odetta singing the "Battle Hymn of the Republic"—an eclectic but apposite and witty mix.
Anyway, God is not as sure of himself as you might think: "I'm working darling. No, it doesn't looks like it. Yes, mummy does it better." Oh, that's not God, that's himself as creator of this piece. Yes, he's God, too; we all are—in his image...
Lucifer—not good at music—is God's favourite, they go for a drink; he gets his number. God wants a baby, but partner is not ready. God gets her way, as s/he usually does. There's a christening, the baby is Jesus Christ, who will sit on the right hand and "if anything happens to me…". Lucifer rebels, goes back to the pub and stirs up the angels. There's an almighty battle, red light floods the white floor, but God says, "I need you to fall".
The world goes black, Duke sits on his chair, waves his arms and legs… and his shadow does look like a man falling. Simple means, but effective: if only we'd had him as a teacher at school. Eng Lit was never like this. "Oh hell", Lucifer exclaims…
God has to start all over again after the carnage, do something people will write stories and songs about. After some experimental mishaps (God the scientist?) he makes Adam, who appears out of a cloud of smoke: Duke stripped down to flesh-coloured unitard and fig leaf on Velcro.
Pretending to miss his musical cue, he recaps in brief what should have taken place, a bit of dance here, a bit there. His children laugh at his choreography—I'm not surprised—but who are they to laugh, he made them…
God/Duke contemplates the vulnerability of the flesh, and Adam needing a companion. There's the Nick Cave episode and Adam/Duke shacks up with Eve, but Eve gets restless, their patio is not enough for her. Eve/Duke has a therapy session with the serpent and goes for the apple. It's delicious, like Joplin's song. Eve dances a sexy number to it: looks a bit like dad's dancing to me.
God couldn't stop Adam eating the apple either, because Jesus distracted him—I won't tell you how, this being the clean version. Sins, death and the future are revealed, and there's a run through the Old Testament and the New. God's pain at the loss of his son—maybe the crucifixion wasn't such a good idea after all. Rain falls on his head, a bedraggled man dances around his chair, and so it goes.
All done on a shoestring but with great heart, it's no surprise Paradise Lost (lies unopened beside me) has been nominated for the South Bank Sky Arts Award, going up against Royal Ballet's Woolf Works and Northern Ballet's 1984. Not bad for a one-man show. I hope this 'short of perfection' (his words not mine) production gives them a run for their money.
It premièred exactly a year ago at BAC, was shortlisted at the Edinburgh Fringe Festival 2015 for a Total Theatre Award (Innovation, Experimentation and Playing with Form category) and is still touring. Derby's Déda Theatre, Salford's Lowry and London's Wilton's Music Hall have a treat in store.
Reviewer: Vera Liber