Woolf Works
Direction and choreography Wayne McGregor, music Max Richter
Royal Ballet
Royal Opera House
–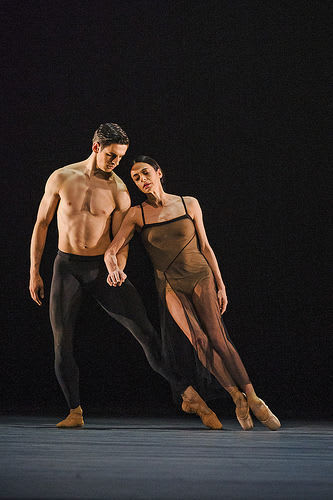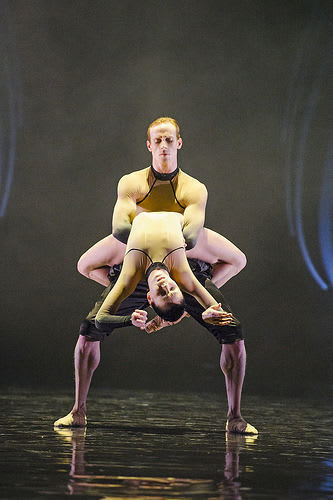 Ten collaborators, equal partners, share the stage with Woolf Works creator Wayne McGregor (direction, choreography, design) and his dancers: designers from international architectural companies Ciguë and We Not I, dramaturge Uzma Hameed, make-up artist Kabuki, regulars Ravi Deepres (film), Lucy Carter (lighting) and Moritz Junge (costumes), sound designer Chris Ekers, and composer Max Richter.
Former wunderkind McGregor is a commanding confident global player now, his hyperactive inquiring mind bringing a new audience to the Royal Opera House, an audience that gives Woolf Works a standing ovation.
Older regulars cheer Alessandra Ferri back to the stage of her early triumphs in Kenneth MacMillan's ballets. What a wonderful coup for McGregor to bring prima ballerina assoluta out of retirement, and equally for her to take on Virginia Woolf and Clarissa Dalloway.
The baton has truly been passed on: MacMillan's muse gives the stamp of neo-classical ballet authenticity to contemporary dance trained McGregor. The years slip away: fifty-two-year-old Ferri has lost none of her lyricism.
Years and chronology are at the heart of Virginia Woolf's works, as is concern with language, its rhythm and flow. One can almost see McGregor's mental cogs whirring with a plethora of ideas released by Woolf's equally inquiring mind.
More a triple bill than a three-act ballet, Woolf Works splits into half-hour-long reflections on three of her outstanding books: Mrs Dalloway (I Now, I Then), Orlando (Becomings) and The Waves (Tuesday).
I Now, I Then is elegiac, a newfound lyrical quality in McGregor, gone are his sci-fi hyperextensions and gawky sway backs, in are beautiful pas de deux and pas de trois. His vocabulary becalmed, strangely I think of Isadora Duncan, expressive movement rather than steps his forte.
Woolf speaks of words old and new, her clipped voice is heard almost as a benediction, and her manuscript scrolls in columns across the stage. London's cityscape plays on three large wooden architectural frames. Individuals stand, sit and watch from them. Church bells ring, street noises hum. Memories. Time. Flashbacks. Light turns red.
A tender homage—this is a new McGregor—danced with eloquence by Ferri and Federico Bonelli (a wonderful pairing), Gary Avis as concerned husband, Edward Watson as the war-damaged Septimus Smith, Tristan Dyer his brother-in-arms.
Roles slip and bleed into each other. Beatriz Stix-Brunell, a younger Clarissa doppelgänger, dallies with Francesca Hayward, Akane Takada with Dyer. Enigma variations to Max Richter's minimalism: his inspiration Philip Glass and Steve Reich.
Music crescendos to thunderous sound, voices besiege, and the self splinters: coltish high society is not immune to trauma. World War One shellshock and pity take us back to Gloria and Lest We Forget.
But the time-travelling and gender-bending Becomings is something else. MacMillan accessed raw emotions, McGregor applies cool layer on layer to create an expressionistic avant-garde textured whole.
In a cheeky take on Elizabethan style, in gold and black, ruffs worn round necks and waists like tiny tutus, in versions of doublet and hose, with laser lights playing across the stage and into the auditorium, the ages meet—the gilded past with the space age, modern technology, scientific discovery and electronica.
And back to McGregor's fast-paced hyper style: Natalia Osipova a contortionist, Watson an early acolyte likewise, Eric Underwood statuesque as the Virgin Queen, Steve McRae and Sarah Lamb swift and fleet.
Richter's tempo speeds up to Piazzolla-style tango rhythms. Concertina time and space. Marionettes pulled this way and that. Urgent exaggerated moves are repeated time and again. Intrigue, parry and combat, legs are rapiers, the pace frenetic.
A cast of twelve, bluebottles frantically beating against the glass, bodies pushed to extremes, robotic, wind-up toys out of control. Order and disorder, erotic and epic, amusing and witty, but the heart is obdurate.
Tuesday is the first word of Woolf's suicide note, read almost inaudibly by Gillian Anderson in voiceover. 'I can hear voices'… But what are they saying? The sound of the sea obliterates them.
Under a slow monochrome filmscape of cold grey waves above the stage Ferri swims in Bonelli's arms, twists and turns—longing to be free? Children rise from the depths, scamper and play with skipping ropes—their voices echo. They give way to creatures in futuristic costumes, silver black scaly leotards and tights, faces in strange external muzzle head braces. Maybe my eyes are deceiving me: it's difficult to see in this crepuscular light.
They fill the stage, twenty-four of them. Fill her mind. Overwhelm her. Prose poetry becomes surreal drama. Ferri / Woolf steps amongst them, is tossed on their currents, on and on it goes. Dying isn't easy. A surge of music, a final duet with Bonelli, and she is laid to rest. The music fades to a disquieting silence.
Breakdowns, mental confusion, a jumble of 'dissociated words', lucidity, new forms, stream of consciousness, dance and music can do them all.
"To combine new words with old words properly you would have to invent a whole new language…" (Virginia Woolf, On Craftmanship, BBC 1937 broadcast).
That McGregor has certainly done with the idiom of dance, but whether he speaks to you of how Woolf makes him 'feel'—his and his dramaturge's intention—is another matter. A distilled abstraction, an (un)hinged triptych, Woolf Works is McGregor's most ambitious and expensive work to date, but I have a notion it will divide opinion.
Reviewer: Vera Liber