Past Present: Lamentation / Sea of Troubles / Afternoon Conversation with Dancers / So It Is
Choreography Martha Graham, Kenneth MacMillan, Robert Cohan, Yolande Yorke-Edgell, music Zoltán Kodály, Anton Webern, Bohuslav Martinü, Nils Frahm, Ólafur Arnalds, Nathaniel Dett, Nicola Porpora
Yorke Dance Project
Linbury Theatre, Royal Opera House
–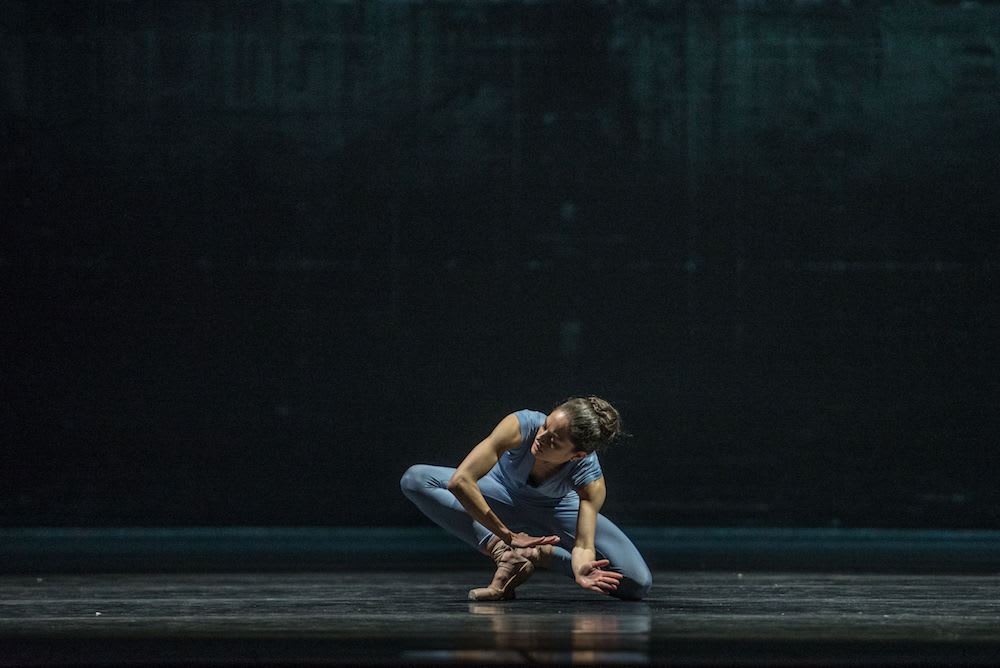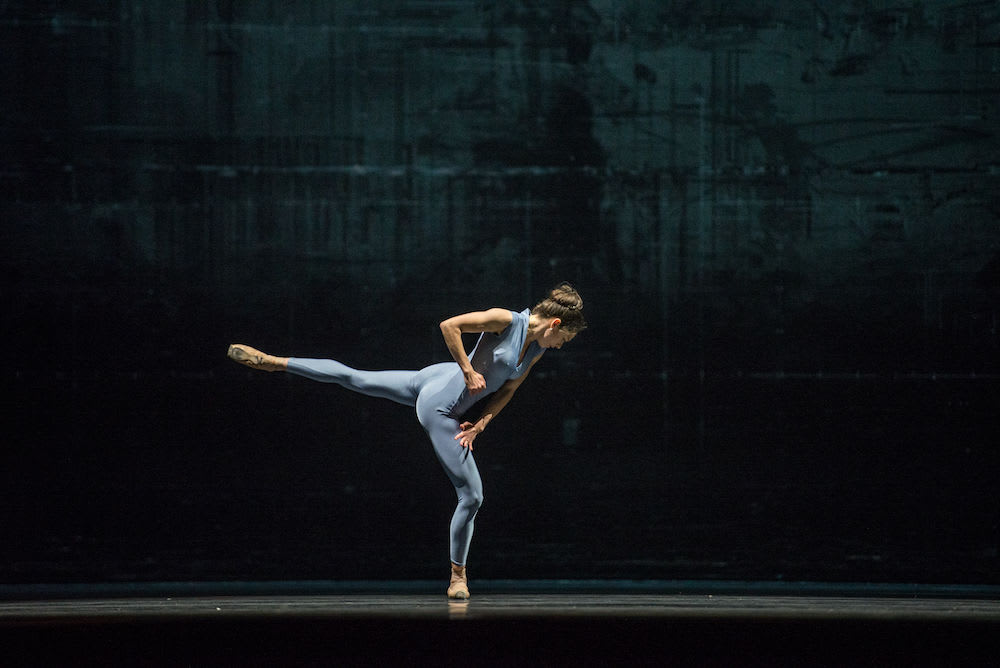 How the past impacts on the present and the present unpicks the past—heritage, legacy and tribute—Yorke Dance Project programme of two old and two new pieces illustrates just that.
Opening with Martha Graham's brief, intense, 1930 Lamentation—to mourn the loss of Robert Cohan in January this year at the age of 95. The programme is also dedicated to Hazel Yorke-Edgell, the artistic director's mother—this is inevitably a contemplative evening with music to match.
Lamentation, mid two world wars, to Zoltán Kodály's Neun Klavierstücke, Opus 3, Number 2, makes me think of Picasso's Rhapsody in Blue, from his blue period. A seated woman in purple-hooded jersey dress, in widow's weeds, moves in stylised expressionistic anguish, in sculptural shapes. Käthe Kollwitz, Henry Moore and the Vorticists also come to mind.
It is immediately followed by Kenneth MacMillan's 1988 play on Hamlet's guilt and loss, Sea of Troubles, seen at the Lilian Baylis Studio in 2016, and again in 2017 in the Clore Studio at the Royal Opera House. It's not a literal telling, rather snapshot scenes with camera shutter blackouts. We have to piece it together ourselves. Fine if you know your Hamlet. If not, no matter, one gets the picture, of steamy, seamy goings on in a nightmare world. Though I irreverently think of Eric Morecombe playing all the right notes but in the wrong order in his piano sketch with André Previn.
Simple set by Deborah MacMIllan, who is in the audience: to one side, a golden lattice curtain, which looks like a crown to me, behind which Polonius is killed several times. Music is by Anton Webern and Bohuslav Martinü. There are six dancers taking the parts of Hamlet, Gertrude, Claudius, the ghost of Hamlet's father, Ophelia and Polonius, but they keep changing roles, which makes it all the more intriguing: Ellie Ferguson, Freya Jeffs, Luke Ahmet, Nicholas Shikkis, Oxana Panchenko, and Edd Mitton. The crown gets passed around. And an army coat with a red lining must be Fortinbras—its arrival finds them all dead—a witty disembodiment.
After the interval come the two world premières, one from Cohan made during lockdown and the other an homage from Yorke-Edgell. His final work, what could be more poignant, Afternoon Conversations with Dancers finds five dancers doing their own thing, very different but similar, introspective except for Pierre Tappon rushing on and off, which makes me smile. It's very human, and very Cohan.
Edd Mitton's solo is simple, grounded, contemplative. I'm reminding myself it was made during lockdown, so no wonder. Freya Jeffs in long red gown and Yorke-Edgell crisscross the stage and then Jeffs performs another private solo, and I see Graham's lament. Then comes Tappon's hyperactivity to energising music (Nils Frahms and Ólafur Arnalds), with Zeynep Kepekli's lighting playing a major role.
Each dancer has their own signature: a composed inscrutable Yorke-Edgell, in black on a red strip of lighting that moves diagonal and then floods the floor, sinks in deep pliés (echoing Graham's pose). Exorcising emotions… Tappon rushes by and then we get Royal Ballet soloist Romany Pajdak in pale blue leotard—such a change into crystal clear water under a harsh light, with deep sonorous piano chords to match. There's nowhere to hide. Earnest, again Graham infiltrates with her 'contract and release' technique.
So It Is, the new piece ("created… in response to the loss of Cohan, her great friend and mentor, and as a tribute to his impact on her company") by Yorke-Edgell to an eclectic mix of music by Nathaniel Dett and Nicola Propora. Alone in burgundy dress, the matriarch perhaps, she is joined by seven dancers (Abigail Attard Montalto the extra one) in shorts and purple tops—in silhouette and then lights up and the music turns baroque. It is Propora's opera Meride e Selinute, which I don't know. It's wonderful what one learns at the ballet. Turns out he tutored the castrato Farinelli but died impoverished whilst Farinelli prospered.
Romantic, moody, emotional, spiritual, the choreography reminds me of Richard Alston, especially the baroque music. The end sees the dancers sit facing the lit backcloth, arms raised in a salute to the sun—or the future. A picture of hope after all the grief.
Contemporary dance lineage passed on from Martha Graham to her former pupil Robert Cohan (founder-choreographer of the London School of Contemporary Dance) to subsequent generations of dancers and choreographers. And it's lovely to see that dancers formerly with Rambert, Michael Clark, and Alston (not to mention Pajdak guesting) have found a new home in Yorke Dance Project. Like seeing old friends.
Reviewer: Vera Liber