Peter Pan
Adapted from the book by J M Barrie
UK Productions
Churchill Theatre Bromley
–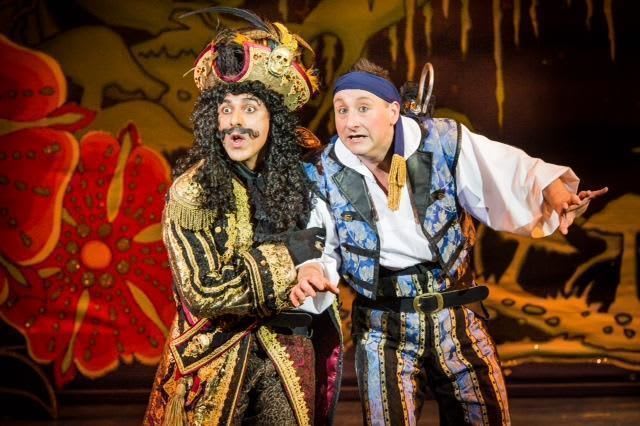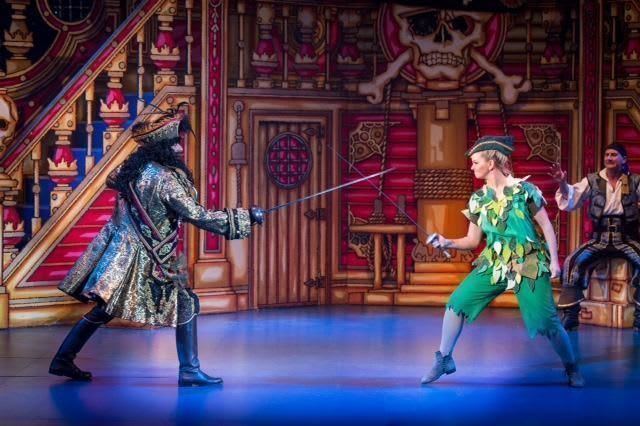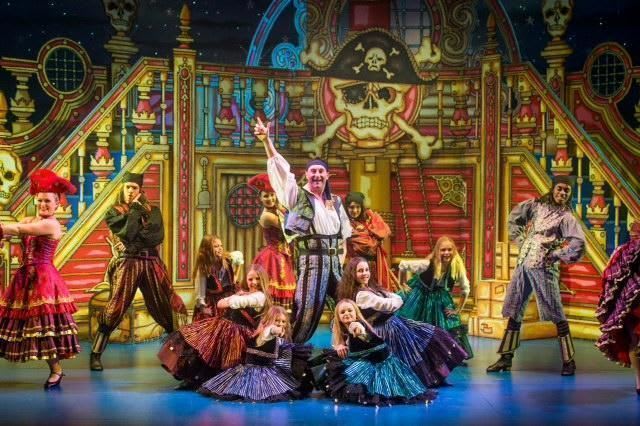 Being the first panto to which I took our children, I have a bit of a soft spot for Peter Pan, and despite seeing it several times since in various guises—as a play in Kensington Gardens, as a musical in Spanish and, of course, as a pantomime—there remains something delightful and true about the adventure had by Wendy, Michael and John with the boy who never grew up.
Despite all the love-them-or-hate-them distractions of modern pantomime, the heart of the story comes through in the Churchill Theatre's Peter Pan and the fun and warmth of this production will cheer even the dreariest of winter nights.
From the opening medley of Mary Poppins channelling Oliver! the Victorian London setting is established and Liverpudlian Peter, played by Jennifer Ellison, is a geographical as well as a more generally mislaid lost boy.
As is convention, contemporary tunes are injected into the action, some with revised lyrics, though these alterations didn't stop the lady behind us singing along somewhat idiosyncratically to the Peter and Wendy duet of "Live While We're Young", "The Edge of Glory" fronted by The Mermaid with backing singers Wendy and Tiger Lily, or "Flying Without Wings" which accompanied an attractive and well-composed projection of silhouetted London as Peter takes Wendy and the others off to Neverland. Fortunately, when the band played Carmina Burana to introduce Hook's first entrance the lady behind resisted joining in with "Old, Spice! Old Spice!".
Scouser Jennifer Ellison forsakes her Dancing on Ice skates to be a lively and likeable Peter, fought over by Wendy, tenderly played Jo Forest, and streetwise Tinker Bell played by Gemma Hunt with a good-humoured "Speak to the wings—the face don't want to know" petulance.
Ace Bhatti (of EastEnders fame) and Andrew Agnew (of Balamory fame) as Hook and Smee respectively are an excellent double-act exhibiting admirable comic timing. Bhatti is a wonderfully roguish Hook relishing the lovely torture of delivering every possible pun on Pan—"no more of your sauce Pan", "Ah! you're in bed Pan", whilst Agnew gets to deliver many of the old classics: "Where would we be if we didn't have laugher?"—"Croydon".
The flying works well, but visually the highlight is a slickly choreographed and executed acrobatic sequence involving Smee and the pirates which alone is worth leaving the house for on a cold evening. It was don't-try-this-at-home dangerous and joyfully comic with it.
In pantos past when Tinker Bell is dying, having drunk the poison intended for Peter, the audience has had to shout out "I believe in fairies" to save her. After years of proudly declaring my allegiance to fairies it wasn't the same to only chant "Tinks!" although this did, of course, revive her.
Whether "I believe in fairies" is now deemed too un-PC I don't know, but having a fay pirate for a quick laugh would suggest not, so I think I will just do as J M Barrie suggests—"Ask no questions, and believe".
Reviewer: Sandra Giorgetti