Rapture, Blister, Burn
Gina Gionfriddo
Hampstead Theatre
–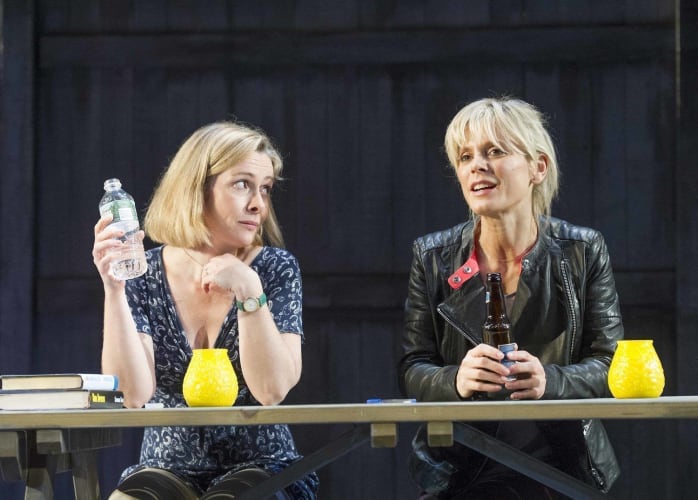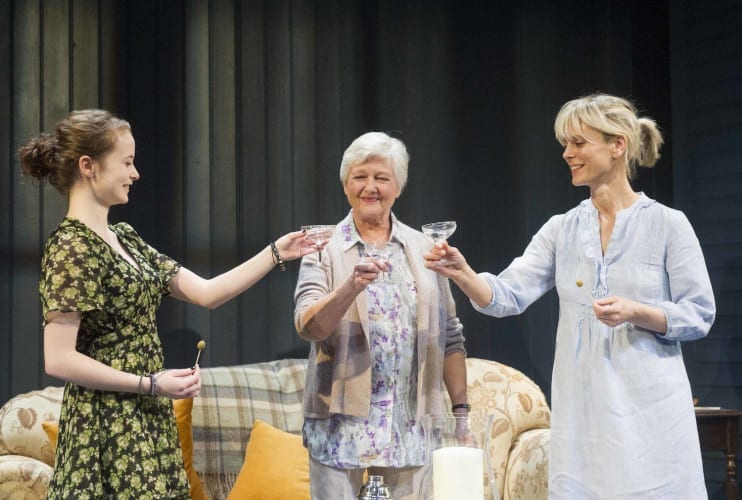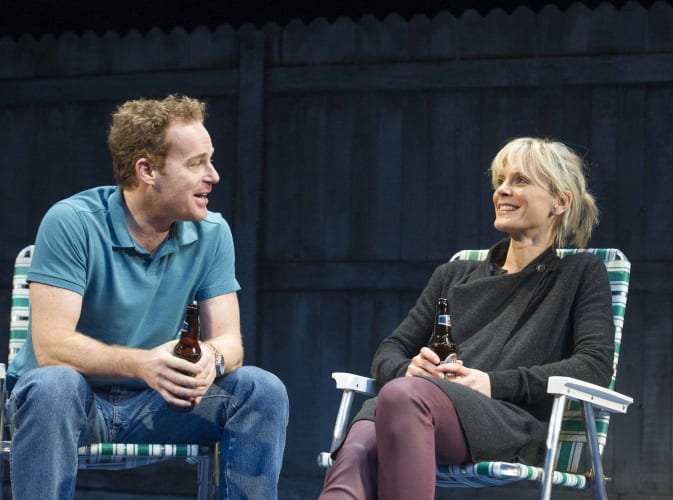 Quite how a play that for much of its duration delivers a high level class in feminist theory can be as much fun as Rapture, Blister, Burn is something of a mystery.
Londoners who were lucky enough to catch Becky Shaw at the Almeida will already have a good idea of the writing skills possessed by American playwright, Gina Gionfriddo, whose name will be familiar to TV viewers as a writer/producer on Law & Order.
With this new drama, capably fronted by Emma Fielding and Emilia Fox, she consolidates that view, demonstrating the ability to write really intelligently, while getting more than her fair share of laughs.
Indeed, so powerful is the writing and so realistic are the characters that at one point on opening night an audience member felt compelled to expostulate in astonishment, almost bringing the house down and challenging the two actors on stage to avoid corpsing, which they did with consummate skill.
Like her earlier piece, the playwright has been lucky enough to bring the American director, Peter Dubois from Huntington Theatre Company across the Atlantic to recreate his production in London.
The opening scenes threaten to descend into something rather too close to soap opera as two women in their forties, one a housewife and mother of two, the other "the hot doomsday chick" or in more familiar parlance, a glamorous academic with a regular TV presence, meet a couple of decades on from an old friendship.
Since one has married the other's old flame, viewers might well begin to associate the relationships with Harold Pinter's Old Times but this is a writer who is only too keen to go her own way.
Soon enough, Emelia Fox's cool Cathy is charming dowdy Gwen's dissolute husband Don. However, she is also having a dramatic effect on their former babysitter and her own mother, for whom mortality is becoming a serious issue following a heart attack.
The plotting contrivances are soon forgiven thanks to some exceptionally entertaining debates on feminism, pitting the opinions of forward thinking Betty Friedan against those of the right-winger, Phyllis Schlafly, who firmly believed that a woman's place is acting weak in the home.
Having set out the principles, it is then down to the characters to live out the life, which they do.
Cathy hankers after a quiet family life, not to mention the quietly impressive Adam James as Don, while Gwen, played by Emma Fielding, remembers back to the days of their youth when a successful academic career beckoned.
To embellish their midlife crises, the two women from opposing generations throw in their own two cents worth. Highly talented Shannon Tarbet shows more wisdom as Avery than any normal 21-year-old has any right to, while Polly Adams's Alice is also suitably enlightened and enlightening.
The result is a deeply thought-provoking play that could really change lives, while at the same time providing much amusement for anybody willing to accept a degree of self-recognition somewhere amongst this rich assortment of characters.
As such, Rapture, Blister, Burn should make the name of Gina Gionfriddo far more familiar to Brits and, if there is any justice, transfer to the West End as soon as the run at Hampstead finishes.
Reviewer: Philip Fisher