Red Velvet
Lolita Chakrabarti
Tricycle Theatre/The Kenneth Branagh Company
Garrick Theatre
–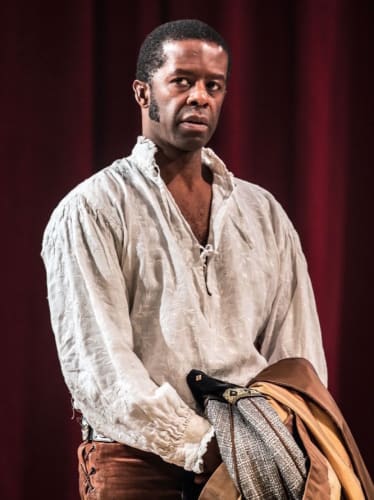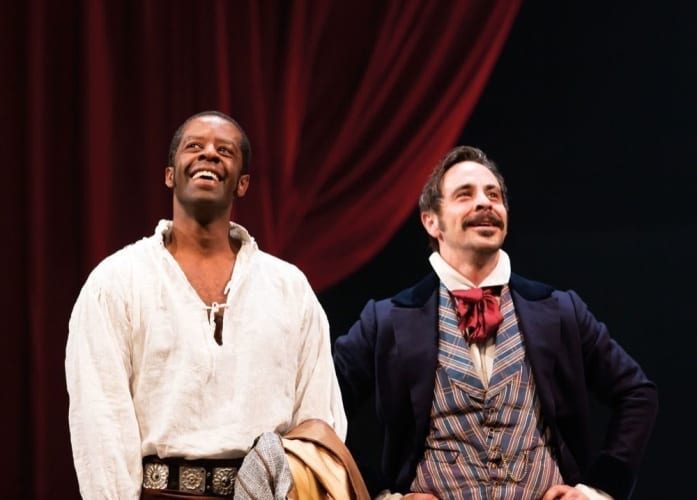 Red Velvet was first seen over three years ago as Indhu Rubasingham's debut play when she took over the Tricycle. Such is the work's power and humanity that it remains in the memory more strongly than much that has followed.
The impression largely derives from a strong story and a memorable central performance from Adrian Lester in a role written for him by his wife, Lolita Chakrabarti.
This revival forms part of the Kenneth Branagh Season and easily takes its place alongside Shakespeare and Rattigan, which is no mean feat. It is also timely, as the Oscar nominations draw recriminations for their failure to include any people of colour and Donald Trump attempts to win the presidency by flaunting his prejudices.
Above all, like another historical play currently wowing WestEnders, Mr Foote's Other Leg, this is a love letter to the theatre. However, it does not pull its punches in showing the state of show business in the early and mid-19th century through the eyes of Ira Aldridge, a black actor when that phrase was an oxymoron.
The opening and closing scenes, which frame the main drama, are set in Lodz (now Poland) where a tyro journalist played by Caroline Martin attempts to interview the dying, old actor about his career. Despite successes in Middle and Eastern Europe she embarrassingly asks why his London debut at the Theatre Royal Covent Garden lasted for only two performances. Thereby hangs a tale, as we discover during the remainder of the 2¼ hours.
In 1833, Edmund Kean was the Branagh of his day, running the biggest theatre in town while taking starring roles in every production.
After a possibly fatal collapse, the company was forced to retrench, his lightweight son Charles clearly unfit to move up from Iago to Othello. Instead, Emun Elliott, as the French producer Pierre Laporte, injected new blood in the shocking form of Ira Aldridge, a black man, though less polite terms were de rigueur. His reception by the company will amaze viewers in these enlightened days.
More amusing is the stylised "classical" form of acting that looks like a lampoon, so far is it from life and today's naturalism.
Aldridge's impassioned efforts to change his fellows' style are comical in the extreme. However, they take swift effect, as is demonstrated by a thrilling rendition of the handkerchief scene in which his acting is complemented by that of Charlotte Lucas, once again relishing the role of the leading actress of her day Ellen Tree.
Their natural empathy both on and offstage had its own consequences, not least because the actress was already engaged to Charles Kean, whose jealous reaction not only curtailed the run of Othello but change the course of the visiting New Yorker's career.
However, whether Ira Aldridge could ever have been a success in snobbish pre-Victorian London is open to question. The first night reviews, unlike those that will inevitably follow this bravura production, were damning for all of the wrong reasons.
Modern viewers will be shaken to the core by the overt racism, bordering on hatred, delivered by journals that are still popular almost 200 years later.
Red Velvet is not only an important play both politically and historically, it is also great fun, not to mention a wonderful showcase for the popular Adrian Lester. With a limited run, tickets will be hard to come by.
Reviewer: Philip Fisher