Rejoice in the Lamb / Burning / Nomadic / Madcap

Richard Alston Dance Company
Sadler's Wells
–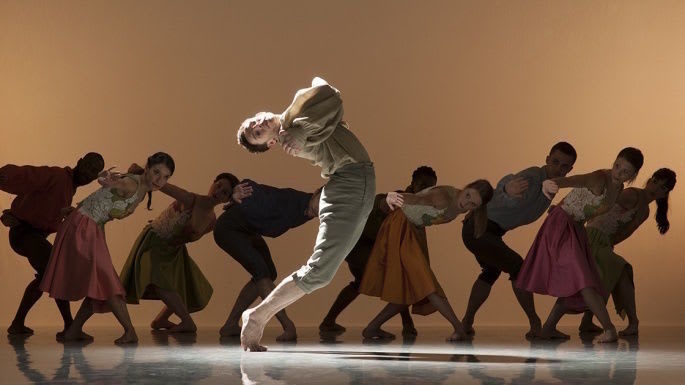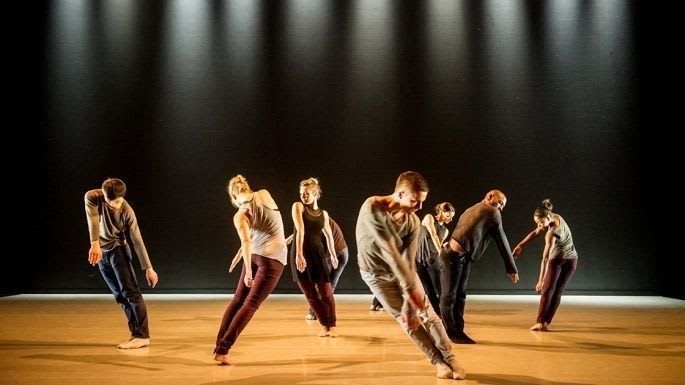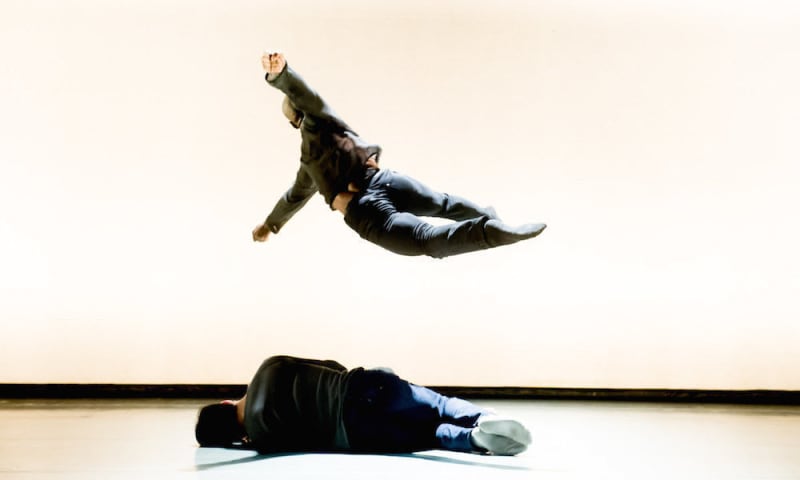 On the occasion of Richard Alston Dance Company's 20th anniversary celebration, we get to see the old and the new Richard Alston. After a career spanning forty-five years, he has decided to stand back, to reassess his own craft. And share the choreographic floor.
His response to his chosen music is instinctive in an elegant, lyrical idiom of contemporary dance. Benjamin Britten and he could be soul mates.
No surprises then in his Rejoice in the Lamb (2014): Britten's cantata for four soloists, choir and organ setting of Christopher Smart's eighteenth century ecstatic poem, sung beatifically by chamber choir, Montclair State University Vocal Accord, arranged behind the dancers on stage.
Taking Smart's poem at its literal best, Alston imagines a revivalist meeting, a preacher leading his people in country and courtly dance. Nicholas Bodych in grey breeches and flowing sleeved shirt, his cat Jeoffrey (Ihsaan de Banya) in orange and black (a marmalade cat…) and four couples illustrate the divine 'breath of life' being sung.
Uplifting, soothing, in stanzas of love and joy and light and some humour ten dancers colour in the cantata's words and music, Zeynep Kepekli's lighting shading the tone and highlighting the grace of supple supplicant bodies.
What does come as a surprise is Alston's commendable attempt at change, collaborating with emerging young choreographer and dancer Ajani Johnson-Goffe—in 'an exploration of the meeting point between hip hop and world music'.
Dance of course has many chambers unexplored by Alston—'sometimes I feel completely out of date', 'just hammering away at the same little patch'. Awakening to renewed possibilities, 'without jumping on the bandwagon' he has taken the plunge.
Far from 'being the embarrassing dad at a party' he has tamed the young upstart. The lamb has lain down with the lion and soothed its temper.
Nomadic, to music by Romanian Ursari Gypsy band Shukar Collective, who fuse Romany and electronic dance music, plays safe. The ten dancers led by Ajani Johnson-Goffe may be in vests and baggy pants, 'street' clothes', but the dance is far from 'street'.
The experienced hand of Alston has perhaps awed Johnson-Goffe into damping down hip-hop's natural exuberance: Nomadic is definitely not hip-hop by any stretch of the imagination or body language.
A soundtrack of eclectic songs, scat singing, funky percussive beats, jazzy and electronic rhythms draws some shoulder ripples, but the pace and tempo is Alston's own, stuck in a groove. Where is the heat? The passion?
Languid in the heat is how he sees it. An Englishman abroad. A heat haze on the backcloth and a red dance floor, but I don't feel it. Eleven dancers fill the stage but there is no abandon. Raw singing does not translate to the floor. There's a disconnect somewhere.
Burning passion in all its forms might have been the portmanteau phrase or underlying concept for the evening's quartet of dances—whether one buys that is a different story.
RADC's associate choreographer, Martin Lawrance, also presents two pieces: Burning (2014) set to Lizst's Dante Sonata (pianist Amit Yahav on grand piano on stage), and Madcap (2012) set to Lick and Believing by Bang on a Can American composer Julia Wolfe, played live by contemporary music ensemble Icebreaker.
Recalling Lizstomania, Liszt's (Liam Riddick) womanising, and tempestuous long affair with young, married Countess, Marie D'Agoult (Nancy Nerantzi), who, after bearing him children, despairs and leaves him, Lawrance uses dance as a musical embellishment as he charts the trajectory of a failed relationship, and Liszt's celebrity status. But it is no Marguerite and Armand.
Madcap, too, feels a throwback to another era: the fifties Beat Generation. Fast, frenetic, loud, MJQ and Brubeck jazzy, the music and the orchestra jolt me to attention, make me think of Howl, Allen Ginsberg's 'lament for the Lamb in America'.
Man in black (Ihsaan de Banya) scuttling across the stage—a crab, a beetle Georg Samsa—frames the dance. Is this all in his head? Interesting phrasing, great beats, and the dancers soar.
Athletic flips, gazelle leaps, catalysts for change, down lights suggest a club scene. Ohad Naharin and Batsheva Dance Company come to mind. Jerome Robbins, too. But RADC is a small travelling company and I do think the more intimate space of the Place, where it is based, shows them off to greater effect. I longed to get up close and personal.
Reviewer: Vera Liber