Revved
Patrick Quinn
An Grianán Theatre
Lyric Theatre, Belfast
–

Listing details and ticket info...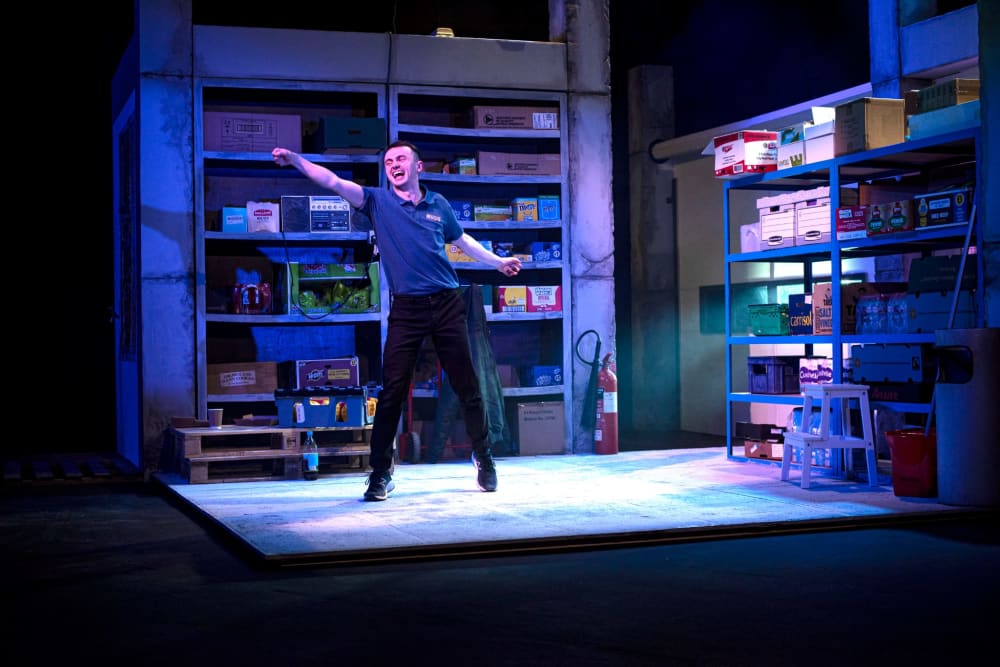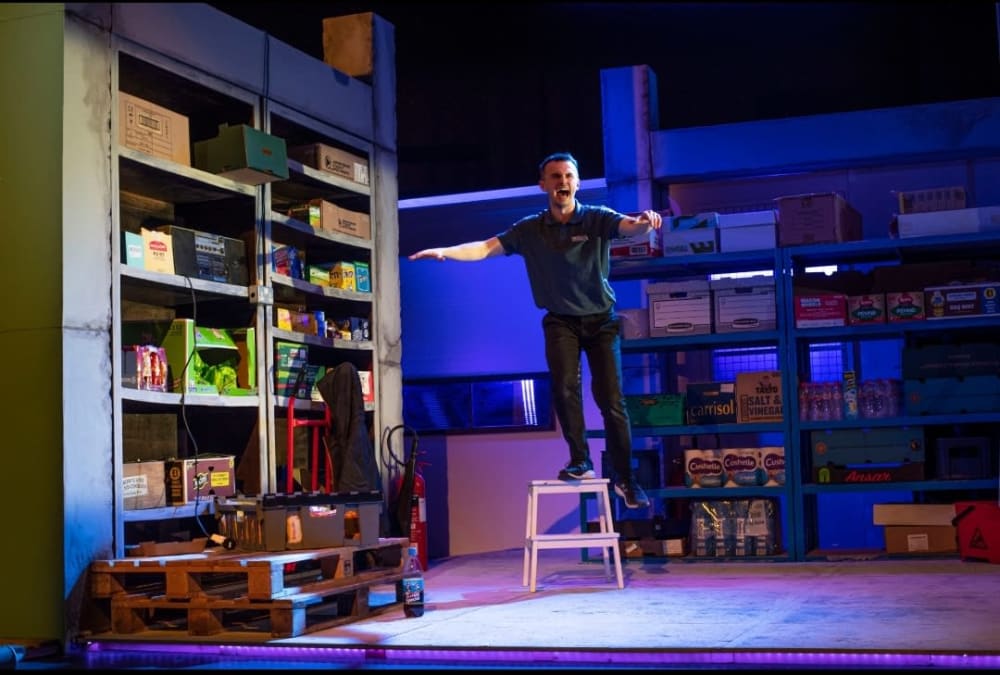 Revved, Patrick Quinn's debut play at the Lyric Belfast, depicts a dark rite of passage set against the background of the annual Donegal International Rally in which surging emotions compete with supercharged cars.
Set in a petrol station stockroom in Letterkenny, home to the "three-day bender" that takes over roads and lives in the town each year, it serves as part confessional, part act of contrition in a coming-of-age portrait of a teenager on the precipitous cusp of adulthood.
An animated monologue by Eamon, marooned in Robert Attewell's artfully designed stockroom that serves as both an echo chamber of past events and a bunker from present realities, it follows a spate of one-person plays on Northern Ireland's stages over the past year—Paul McVeigh's Big Man, Richard Clements's How to Bury a Dead Mule, Kat Woods's Birds of Passage in the Half Light, and Amanda Verlaque's This Sh*t Happens All the Time notable among them—and serves as a platform for Quinn (no relation) as both playwright and actor.
Boasting the strengths of a first play, untrammelled urgency fired by earnest sincerity, it is lit up by a becoming wit and striking splashes of poetic speech. But it is also hampered by inexperience. Assuming the dual role of performer, Quinn, a recipient of last year's James Ellis Bursary, affords a too generous allowance and indulgence towards his writer-alter ego.
Neither writing nor performance wholly persuade of the device of using stock goods—a loaf of bread, a multipack bag of Monster Munch snacks and a bottle of "Football Special"—to impersonate other characters. A clever theatrical sleight of hand it may be, but both Quinn the writer and actor (personable though he is) as yet lack the ability to interrogate and respond to each other. Or to sufficiently differentiate dialogue and vocal characterisation to prevent one blurring and blending into the other.
What can't be faulted is the ambition of a script in which multiple themes compete for attention—suffocating parochialism, testosterone-charged masculine assumption, the sense of dislocating otherness that comes from a thwarted awareness of a world elsewhere and of what might have been, of desire and disappointment, of regret while the past haunts the present—all compete with each other for attention and primacy. It isn't yet, but re-worked and re-fashioned, it could be the apposite metaphor for the conflicted, century-long Northern Irish experience it aspires to be.
The pulsing electronic thrum of Stuart Robinson's sound design provides its own discreet commentary, while director Emily Foran keeps proceedings motoring along with requisite changes of gear as an initially carefree surface is peeled back to reveal Eamon's secret tragedy beneath.
Reviewer: Michael Quinn