Richard III
William Shakespeare
Trafalgar Studios
–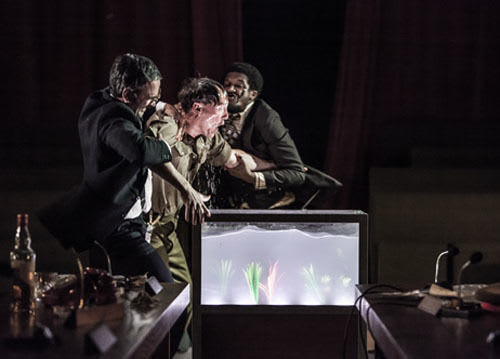 Jamie Lloyd's first Trafalgar Transformed Season was a breath of fresh air, his Macbeth starring James McAvoy one of the best in recent years.
The director's idea of moving Richard III to the 1970s also promised something completely different. However somehow, rather than using events from 500 years before to illuminate recent history, all that this production shows up is a culture clash in which Shakespeare's creation repeatedly fails to make sense in a modern context.
This high concept staging with a handful of viewers on stage behind the actors always looks as if it is being directed for television.
The scenes are short and most conversations seem to be taking place in close-up for invisible cameras. There is nothing wrong with this in principle but somehow the meaning bleeds away.
On the plus side, Soutra Gilmour's design, echoing her work in The Crucible, often looks stunning with lashings of blood. The brutal impression is compounded by a sometimes intrusively loud soundscape, created by Ben and Max Ringham.
Playing Richard in a varied assortment of military costumes is the ostensibly unlikely figure of Martin Freeman, an actor revered for his performances inter alia as Bilbo Baggins and Dr Watson.
Almost throughout, his bearded but unexpectedly nimble King seems jokey rather than evil, shoulder shrugging to please the audience, although he is still responsible for clearing the country of almost the whole of its royal family—who are also his own.
Richard gets involved in some odd scenes not written by the Bard, his literally single-handed strangling of his wife, Lauren O'Neill's Lady Anne, being a case in point.
Worse, when Richard offers a kingdom for a horse, he is obliged to do so ironically since the iconic line makes so little sense on a set designed like a wartime operations room.
The balance is altered to such a degree that the two most significant roles beyond the King are those of his usually unnoticed henchmen, Gerald Kyd's Catesby and Simon Coombs playing Caribbean criminal Tyrrel, each looking like gangster escapees from an episode of Starsky and Hutch.
Others most likely to catch the eye are a trio of regal women, Gina McKee as a Geordie Queen Elizabeth, Gabrielle Lloyd in the role of the Duchess of York and Maggie Steed playing a very spooky Queen Margaret.
There is little doubt that Jamie Lloyd is trying to attract a non-theatrical audience dominated by those that worship Martin Freeman and it is possible that they will appreciate the brash immediacy of the over-dramatised events during a running time cut to only 2½ hours.
Those that regard Shakespeare as an idol might do better to steer clear of what they are likely to view as a very lightweight interpretation of what is normally seen as a heavyweight contribution to the canon.
Reviewer: Philip Fisher