Roald Dahl's The Twits
Mischievously adapted by Enda Walsh
Royal Court Theatre Downstairs
–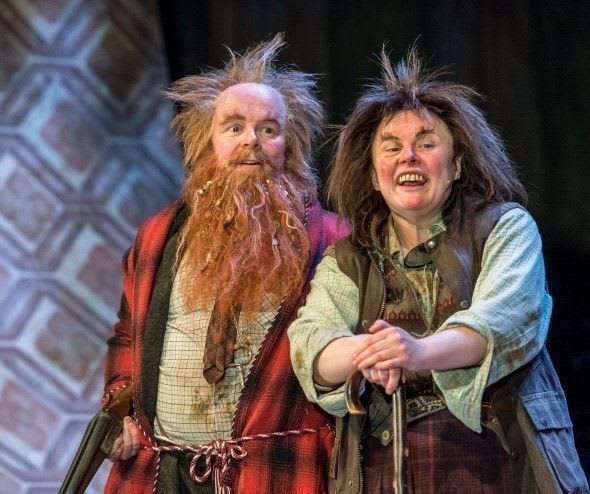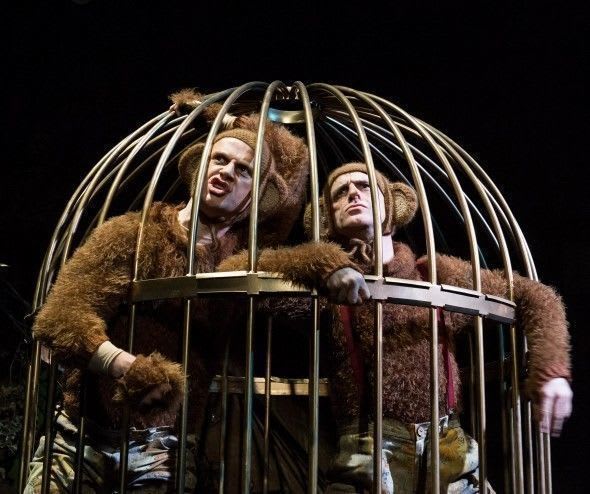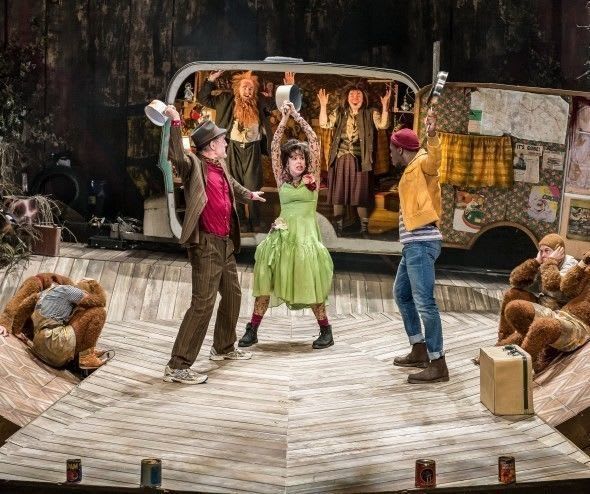 Depending upon your outlook, the creators of this stage adaptation of a Roald Dahl children's classic are either behind the eight ball or have a powerful marketing boost even before they start.
Following in the massive footsteps of Matilda the Musical, arguably the best show to have hit London in the last decade, pushes expectations to fever pitch, without even mentioning the still popular Charlie and the Chocolate Factory.
Roald Dahl's The Twits is a rather different animal, as a straight play (with songs), but with a similar target audience: everybody with a taste for mischief from 8 to 80.
John Tiffany's staging, in a kind of circular, upended fairground wall of death, designed by Chloe Lamford is eye-catching.
Here, three groupings build a sad tale. The pompous home team, Mr and Mrs Twit, might better have been christened the Sadists, such delight do red-bearded Jason Watkins and one-eyed, toothy Monica Dolan seem to derive from tormenting not only the other characters but even each other.
Kept caged are a family of likable Welsh monkeys, desperate to escape the despots but uncertain how to do so and, after so long in captivity, fearful of the wider world.
With their ability to speak, the downtrodden simians play a slavish role in tormenting the third grouping.
A trio of depressed Yorkshire carnies are invited to visit in order to recover their much-loved fairground, stolen long ago by the Twits.
However, what actually happens is not quite what they have been led to expect. In turn, each is reminded of his or her own folly so long ago in Great Missenden.
The instruments of their breaking are the monkeys, playing out vignettes designed to remind and humiliate, culminating in an appropriately hallucinatory reconstruction of the gulling of Amy Winehouse lookalike, Christine Entwisle's Tattooed Fortune Teller Lady.
Soon after the interval, little hope seems to remain for either the monkeys or the Yorkies, each seemingly destined to be victims forever, but this is a morality tale so most viewers will guess that the tables will be turned before the two hours have elapsed.
Enda Walsh's script takes a long time to fire, not really drawing viewers in until after the interval as more jokes are delivered and Roald Dahl's fiendish plotting gets close to fruition.
Before that, most of the fun comes from John Tiffany's directorial trickery and special effects combining with energetic performances from all concerned including much physicality in the hands of ace movement director Steven Hoggett.
This disjointed, dark comedy is no Matilda but probably has enough humour and invention to please youngsters and their chaperones through the run.
Reviewer: Philip Fisher