rock paper scissors
Olga Nikora
The Jack Studio Theatre/Write Now 6
The Jack Studio Theatre
–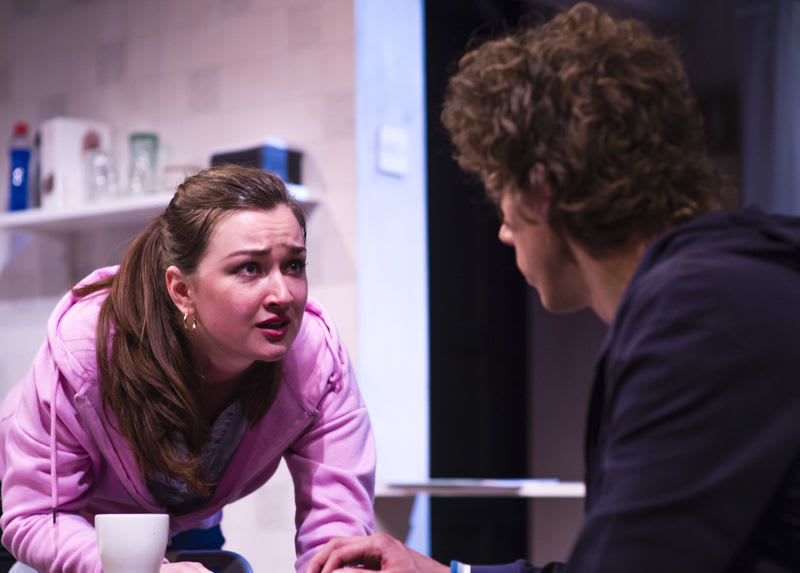 Each autumn for the last six years, The Jack Studio Theatre has invited submissions of new work from writers connected to south east London as part of its Write Now Festival held in the spring.
A panel selects three of the unpublished, unperformed works—one to have a full production and two 'runners up' to have rehearsed readings, which, together with an evening of shorts and a collection of writing workshops form the four-week-long event.
Olga Nikora's rock paper scissors came out top of the Write Now 6 submissions and opened last week at The Jack where it runs until 30 May.
Being, for the present, a resident of south east London, Nikora is eligible for selection though her origins are in far away New Zealand and Eastern Europe, and rock paper scissors is the first of her stage works to receive a full production.
She was shortlisted for the Verity Bargate Award for her first play, Tightrope Bonnie, a number of her plays have had staged readings including In The Company Of Strangers at London's Soho Theatre, and Then They Came For Me was part of an evening of shorts at Greenwich Theatre.
In rock paper scissors, the two central protagonists are Romanian brothers living in London, squashed against each other in a claustrophobic studio flat with a bucket under the leaking kitchen sink, a setting effectively created by designer David Shields.
The elder of the two, Roma, is violent and selfish, drinking too many lagers in front of a too-loud television, whilst his brother, the gentle Mihai, is diligent in his studies to obtain British citizenship and trying to save money. Even without their childhood baggage and the social pressure to visit home after the death of their mother, their relationship would be predictably turbulent.
Mihai is good natured and naive and a civilising influence on their relationship in marked contrast to Roma who is a bully and uses whoever he wants for whatever he wants, including Aine, Mihai's Irish girlfriend. When Mihai finds out she is pregnant, as in all things, he is out to do the right thing.
The small flat is a microcosm where no one really belongs. Charlie, the only other visitor, is the 'A' level student son of one of Mihai and Roma's landscaping business clients. With his privately educated accent, he sounds as foreign as any of them.
Mihai wants to improve himself and aspires to get an office job and Charlie wants to help him, but Charlie is driven by a crush on Mihai rather than wanting to do good.
Roma's jealousy and fraternal protective instinct piqued by Charlie's attentions leads to the dénouement which has Mihai alone and entirely out of his depth.
Nikora handles tensions well and raises several issues of identity faced by immigrants in this interesting play. The relationship between the brothers is also well handled.
That said, I found it difficult to warm to. Aine is so lightly drawn as a character, we find out nothing about her, not even how she feels about being pregnant, and she and Roma are so unlikeable that I didn't care for their predicament.
On a practical note, Nikora needs to let us judge a man by his actions and not just by the words said about him. Much reference is made to Roma's urological deficiencies but not once do we see him visit the loo in spite of all that lager, not even to flush the contents of the kitchen bucket down the toilet bowl, an activity that noticeably punctuates the narrative. I was similarly unconvinced that Mihai and Aine had a physical relationship.
The Jack artistic director, Kate Bannister, has assembled a strong cast.
I very much enjoyed the performance of Tice Oakfield as Mihai. He captured the torment and vulnerability of the character very well, in the same way that Mateo Rufino's Roma had a smouldering power beneath his nasty exterior.
Good support from Amy Molloy as Aine and new graduate Bruce Langley making his stage début as Charlie.
Reviewer: Sandra Giorgetti