Rosencrantz and Guildenstern Are Dead
Tom Stoppard
Old Vic Theatre
–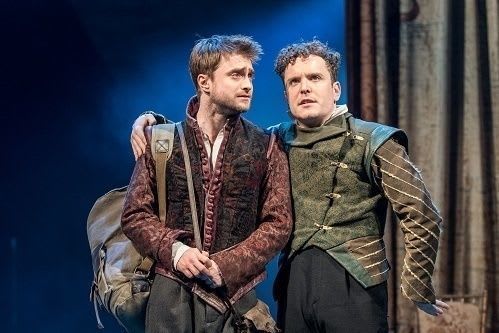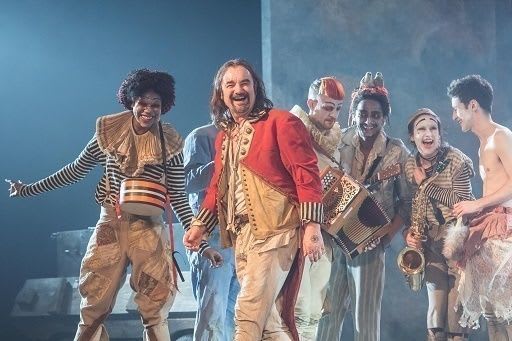 David Leveaux has pulled out all the stops for this fiftieth anniversary revival of Sir Tom Stoppard's exuberant play loosely based around Hamlet and combining youthful jollity with something very much darker.
Casting Daniel Radcliffe on a London stage is enough to sell out any run but he plays second (or third) fiddle, first to Joshua McGuire in a double act owing much to Vladimir and Estragon in Waiting for Godot, not to mention David Haig, hamming it up to perfection.
From its comical opening scene, on a large, bare stage with simple screens of clouds, the erudite play, astonishingly written by a man still in his twenties, mixes rich humour with deep philosophical speculation. Repeatedly through a 2½-hour running time, a narrative thread borrowed from Hamlet veers off into intellectual ingenuity and gaming, frequently inducing collective hilarity from a starry opening night audience.
Amongst the great and the good, this included the proud playwright enjoying the renewed success of his offspring, which has now reached the age of maturity without losing any of its wit or poignancy.
The plot, such as it is, follows the activities of the Danish tragedy from the perspectives of an interchangeable pair of bit-part players whose fate is pre-destined by the title.
At times, the big names like Hamlet and Ophelia impinge, as well as William Chubb, a man born to play Polonius, to advance the Shakespearean plot and add structure to the evening.
However, the core of the work lies in a double act in which Joshua McGuire takes the lead as lively, jokey Guildenstern, while Daniel Radcliffe seems satisfied to play second fiddle in the guise of straight man Rosencrantz, who gets few of the best jokes until late in the piece.
Beyond them, much of the fun comes from Haig as the sleazy Player, a bawdy fellow with great self-possession and a sense of showmanship second to none. He, in turn, receives excellent support from a grungy bunch of actor-musicians who demonstrate why, for centuries, their vocation was known to be filled by rogues and vagabonds.
Packed with philosophical musings about life and particularly death like some intellectual equivalent to the Olympic Games, Rosencrantz and Guildenstern Are Dead is still a pleasure fifty years on and now stands alongside Travesties on the West End stage in celebrating a playwright who lays a strong claim to be the best currently still practising his trade in this country or, quite possibly anywhere else.
Reviewer: Philip Fisher