Rottenchops' Revenge
Neil Armstrong and Paul Hartley
Gala Theatre, Durham
–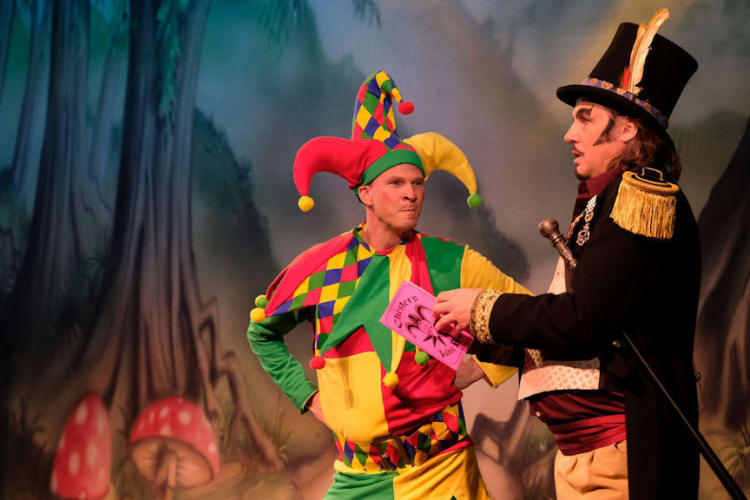 Billed as a comedy thriller for all the family, Rottonchops' Revenge, the film, replaces the panto at Durham's Gala Theatre that for obvious reasons can't take place this year. Screening now and available in four episodes, which will remain online to watch until midday on Christmas Eve.
Millie Binks is billed as Maid Marion, but confusingly she's all dressed up in panto-princess style rather than the forest green of Robin Hood. She's sleeping prettily in a plush chair on an almost empty stage. On waking, she tells us that there is no pantomime this year, however, she explains, there is one character who was determined to perform whether we like it or not.
Neil Armstrong gives us the dastardly Rupert Von Rottenchops, who was last seen hamming it up in Snow White. Against all the council rules, one of which prevents pantomime characters escaping from the theatre, Rottenchops escapes into the streets of Durham wreaking havoc round the city as he kidnaps the mayor and Cinderella, holding them to ransom, in a tale of treachery and blackmail. Rottenchops wants to set up a nightclub in the Town Hall so he sends a ransom note to the council telling them to hand over the deeds to the Town Hall or the Mayor gets it.
Characters from past Gala Durham pantomimes, including Aladdin, Cinderella and Jack and the Beanstalk, join forces to take him down. I loved the rather excellent John Murdoch as The Big Bad Bear of Bowburn, who provides the brawn and a very sensitive nose, to hunt out Cinderella using the smell of a rather nice shoe she bought recently at a cheap price.
Most of the action takes place in black and white at breakneck speed in the style of a silent movie. Stan Laurel would recognise the music as well as the black cards articulating the words spoken. There are funny walks, lots of slapstick, plenty of exaggerated movement and a really nice dance scene from the sexy choreographer, Amanda Woods, who looks as if she's just stepped off the set of Dirty Dancing.
However, there's a 'but'—whilst I appreciate the originality of this method, I'm not sure the younger generation would be able to read the cards fast enough or be able to understand what's actually going on. I enjoyed sightseeing with the cast as they chase around the city and surrounding countryside fully dressed in panto gear complete with make-up. Goodness knows what the general public thought whilst filming was taking place.
Acting quality is up to a very high standard, with great performances from Paul Hartley as Chester the Jester, Hazel Pude as Cinderella, as well as Jacob Anderton's Jack, Paul Dunn's Widow Twankey and Kylie Ann Ford's Tai-Chi.
The four episodes are each around ten minutes long, although the title, Rottenchops Revenge, is assembled in ransom-note style at the beginning of each episode, which is rather tedious; I was thankful for a fast-forward button. That's something you don't get in a pantomime.
As a comedy thriller, this is great, original and full of fun. I enjoyed the adventure, the theatricality and the downright sense of silliness. As a replacement for their normally brilliant pantomimes that always produce amazing entertainment for all the family, this is not, in my opinion, suitable for the under 10s.
The film was shot by George Crerar and edited by Glyn Towers.
Reviewer: Helen Brown