Saint Joan
George Bernard Shaw
Culture Project's Lynn Redgrave Theater, New York
–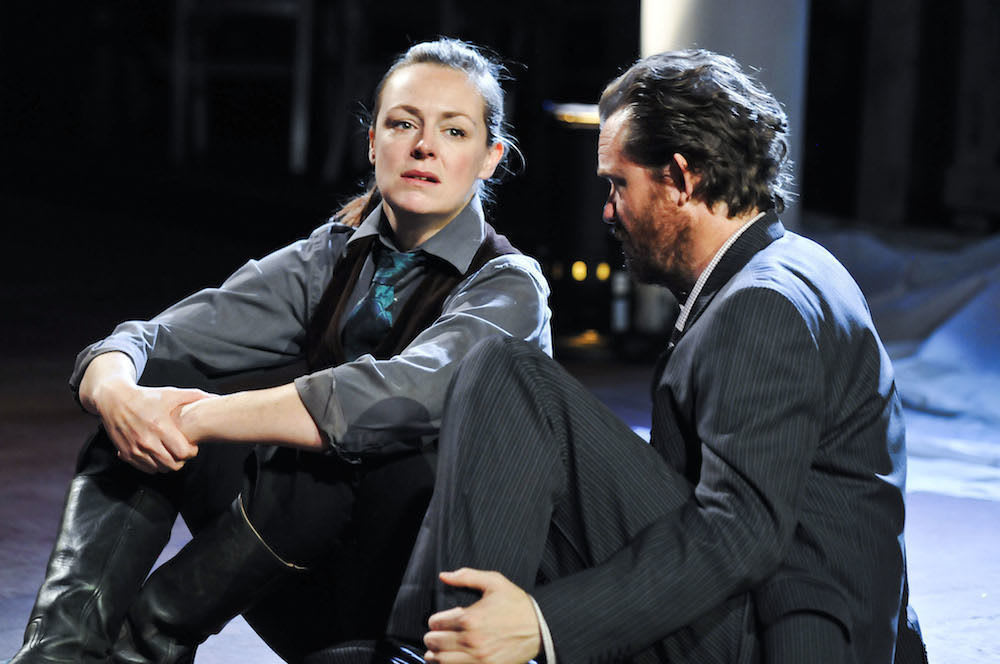 Andrus Nichols gives a superbly assured and ultimately desperately moving performance as the country maid possessed by a faith that eventually leads to immolation at the stake and (four centuries later) sanctification.
Oddly, Anne-Marie Duff, the last performer to excel in this role, is currently also in town playing the Scottish King's wife at Lincoln Center.
The difference between them is less in the quality of the acting, which is a huge compliment to Miss Nichols, but the nature of the experience.
The way that Bedlam works, spectators are often within a foot or two of plain-clothes warriors, priests and future saints, whereas at the National, Miss Duff was placed on a relatively distant pedestal.
As with their Hamlet, this company is not fazed by anything. It might seem like madness but they happily present a 3-hour Saint Joan with a cast of only four, co-Artistic Director, Miss Nichols playing the title role alone while her three fellows share the rest of the dramatis personae.
Without a miracle (the nature of which is explained well by Shaw), this shouldn't work at all but somehow you rarely lose track of proceedings in a gripping production that does the text and its central character proud.
During the performance, the style changes to maintain interest, brash Americanisms giving way to greater formality with respectful fun poked at the English, while men of the cloth are presented in their full hypocritical pomp.
The young innocent with a direct line to the saints starts out as a laughing stock but gradually wins over disciples as those miracles persuade doubters that she might just be the real thing. Even in modern dress, she is clearly a brave medieval soldier leading men on a divinely-ordained mission.
Inevitably, a woman of the people will threaten those in authority and, in the middle ages, that meant eventual conflict and an inquisition with demands for recantation with a heart-breaking decision for the driven young woman.
The play's director, Eric Tucker, does a good job as Joan's support, the Bastard Dunois, but also English Warwick, a model of fairness.
Edmund Lewis is at his best as the ineffectual Dauphin, while Tom O'Keefe plays a series of clerics most effectively as well as Gilles de Rais.
In New York, they generally seem to have forgotten that theatre is supposed to be exciting and dangerous. Anyone who tires of Broadway's search for safe ways to please the unadventurous should head downtown to watch this fine quartet who gleefully take risks and, as a result, deserve to be recognised as one of the best and most original companies in town.
Reviewer: Philip Fisher