Viscera / Infra / Fool's Paradise
Choreography by Liam Scarlett, Wayne McGregor, Christopher Wheeldon
Royal Ballet
Royal Opera House
–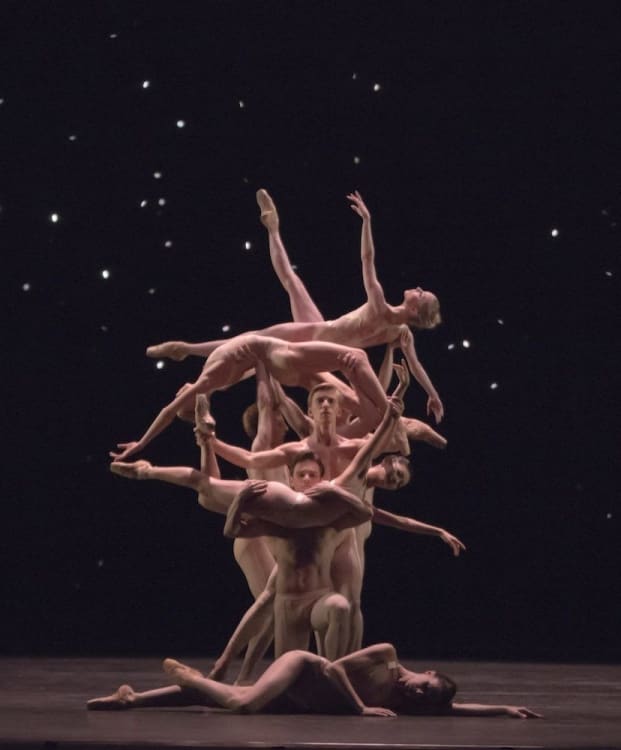 Wayne McGregor, Christopher Wheeldon, and Liam Scarlett, a trinity of homegrown choreographers, make up a triple bill for the 21st century, celebrating and showcasing the Royal Ballet's dancers and their own male choreographic triumvirate.
Scarlett, still only in his mid-twenties (McGregor is 42 and Wheeldon 39), has been appointed Royal Ballet Artist in Residence, a newly created post, so that he can concentrate solely on choreographic work, his dancing career as First Artist given up after the current Swan Lake run.
Sweet Violets, Asphodel Meadows, and, in collaboration with Will Tuckett and Jonathan Watkins, Diana & Actaeon from Metamorphosis: Titian 2012. And now with Viscera Liam Scarlett has entered the Royal Ballet pantheon.
Commissioned, on the strength of Asphodel Meadows, by Edward Villella of the Miami City Ballet, where it premiered in January this year, Viscera opens on home territory with a similar ROH first from Wheeldon, Fool's Paradise, which, granted, saw light of day in 2007 at Sadler's Wells, performed by Morphoses, his own company now defunct. McGregor's 2008 Infra is the spicy centre in the enveloping Pavlova meringues.
Scarlett works in the traditional classical ballet style, as evidenced by his Ashton musicality, use of upper body and footwork, and MacMillan daring panache and sexuality. In Viscera he adds Balanchine speed and port de bras to his palette.
Abstract, but with a dramatic momentum, it is a pure dance piece in three movements. Set to the (1983) First Piano Concerto by American Lovell Liebermann, it is defined by a synesthetic colour scheme. Costumes are designed by Scarlett in total control of his vision.
A passionate red suffusion opens the first movement: sixteen dancers in rich reds, purples and black fill the stage in a flurry of legs, arms, leaps, and turns. The mood darkens in the blue-grey second, a solemn contemplative pas de deux for Marianela Nuñez and Ryoichi Hirano. Complex conflicting lifts, is this a difficult parting?
Inevitably, even in an abstract work one tries to impose a narrative. Music and dance expression encourage it. Scarlett names it Viscera after all, though visceral it is not—too academic.
A roseate dawn full of promise greets the third. The sky turns blue, pink and finally blazes red again. The choreography is fast and furious, in perpetuum mobile. Emotional and literal journeys are taken in this demanding ballet exercise.
Emotional journeys could be the underlying theme of the evening. Wheeldon's Fool's Paradise suggests another otherworldly experience for his golden light drenched characters.
In designer Narciso Rodriguez's nude costumes under a golden hazy light, like the golden leaves or petals that fall in a triangle of light, three couples and a trio change partners in a fool's paradise.
Joby Talbot's 2002 score for a 1916 Russian silent film of The Dying Swan shades the drama of the dance: love, discord, dissonance, good and bad, and a fairy tale, a midsummer night's dream, narrative of sorts emerges. Sculptural, architectural stage pictures are created.
Wayne McGregor's urban Infra we know already from its previous two outings. And it's this ballet that the audience cheer. Gritty and real after the perfumed air of Viscera, this is down and dirty, and exciting. A tinnitus hum, station sounds and mysterious announcements: is this a matter of life and death? Are we in Hades or is this sin city?
Under a station walkway, where Julian Opie's LED lonely workers stride in continuous motion, meetings, partings, in your face exhibitionism, threatening posturing and extreme dance unfold. McGregor pushes the dancers to over-extend their over-extensions. Street dance sneaks into the moves.
The dancers are superb. They are the pleasure of the evening, rising to and beyond every challenge. Eric Underwood's rippling chest could be Jacob Epstein's Vorticist 'Rock Drill' Torso. He and Melissa Hamilton repeat their contortionist duet, a centrepiece that never fails to astonish.
The loneliness of the crowd, in window spotlights couples explain away their lives. McGregor's alter ego Edward Watson is outstanding, Sarah Lamb, Marianela Nuñez, and Yuhui Choe remarkable in their steely strength and serpentine suppleness.
It is good to see Choe exposed in all three works—she deserves to be seen more often. Indeed, several of the dancers perform in all three works. If anything it is their showcase. Laura Morera shows off her velocity in Viscera, Steven McRae, Federico Bonelli and Sarah Lamb are as dependable as ever, and young dancers are being pushed forward, the raw material that the Royal Ballet excels in.
Reviewer: Vera Liber