She Wins All the Races – A Tragicomedy with Biscuits
A devised play scripted by David Napthine
Mad Alice Theatre Company in association with Queen's Hall Arts and Action Transport Theatre
Binchester Community Centre, Co Durham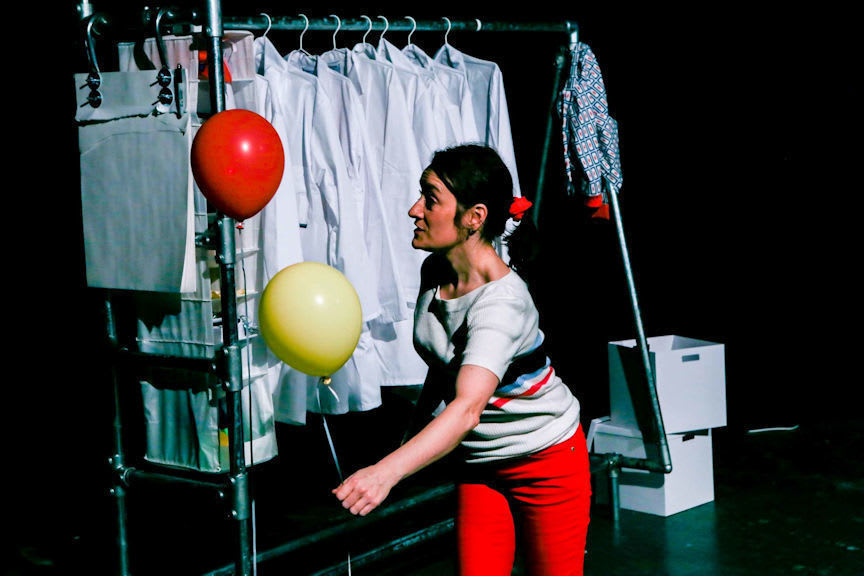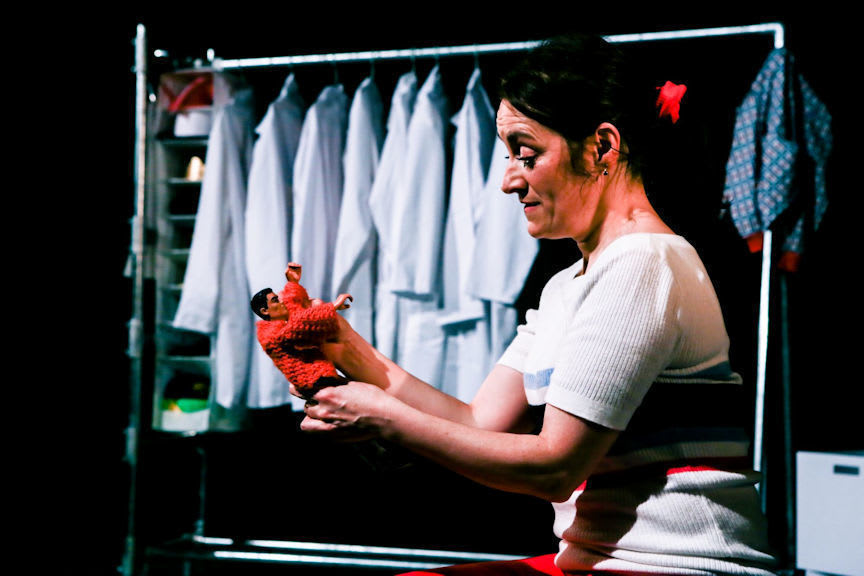 Strange things play titles. Sometimes they make it perfectly clear what the play is about; if it's called Fit for Work, then you know it's going to be about the DWP and benefit assessment. Some titles, however, make you wonder what on earth they could be about? Bacon Knees and Sausage Fingers, for example. Some seem to deliberately tantalise, seeming to suggest one thing but actually meaning something completely different. Pricks is perhaps the perfect example.
(All, incidentally, seen and mainly produced in the North East.)
So what are we to make of She Wins All the Races – A Tragicomedy with Biscuits? A teaser? Intended to baffle, to make us wonder?
Actually, it's a pretty accurate (albeit very—no, extremely—condensed) summary of the play. It's a one-woman piece, performed by Shelley O'Brien, founder and Artistic Director of Mad Alice Theatre Company, and it is autobiographical (if fictionalised).
It's the '70s and we meet a little girl, Belinda, who introduces us to her family and friends. The family consists of mother and father and older brother and younger brother (named, respectively, Older and Younger) who are represented on stage by two balloons. There's the local Catholic priest (a source of biscuits) and Jesus. Then there's Angela, her best friend, and her heroines, Beryl the Peril and Wonder Woman. Oh, and Abba, especially Frida and Agnetha (she's not bothered about the men).
Actually, we all got to sing along with "Fernando", a little reservedly, it's true, but enjoyably.
And she offers us biscuits! They are passed round the audience (but, sadly, never reached me).
She's good at sport, is Belinda. We see her taking part in every race at the school sports' day. But then things start getting a bit strange, worrying. Older has to start using a wheelchair, and later so does Younger. And there's a drawer in the sideboard that it is absolutely forbidden for anyone but mother to open. But one day Beryl (not Belinda. Oh no!) opens the drawer and reads the book and her life changes for ever.
We watch as this little girl gets older, learning to deal with earth-shattering news about her brothers. She doesn't just win races at the sports' day but, in comparison to her brothers, she's also won in the race of life.
A microphone, a trampoline, a large clothes rail made out of scaffolding which has concealed within it many surprises (as, in fact, does the trampoline!), two white boxes and some almost subliminal video projections are what O'Brien uses to tell this story, along with her own physicality, as the primary school child grows to adulthood, living a life massively influenced by the effects of Duchenne Muscular Dystrophy, not just on her brothers (for Duchenne only physically affects males) but on the entire family.
Surprisingly, given the subject matter, it's a gentle piece. It's suffused with sadness, of course, but we also feel the happiness of the family's life together and the consolations of religion. Jesus, we see, is always there.
In a piece which could, in other hands, involve much weeping, wailing and gnashing of teeth, O'Brien finds the positive and the good, and that's not just in David Napthine's writing but it also arises from the performance, from her portrayal of Belinda (Belinda, not Shelley, for although it is rooted in her own life, this is a play) who is so engaging, sweet, enthusiastic and full of life that she carries us along with her, through the happy and the sad times.
It is 75 minutes long, no interval, and we are totally absorbed into Belinda's world, thanks to O'Brien and very sensitive and imaginative direction from Nina Hajiyianni.
Reviewer: Peter Lathan