Shh…BANG

Peut-Être Theatre
Polka Theatre
–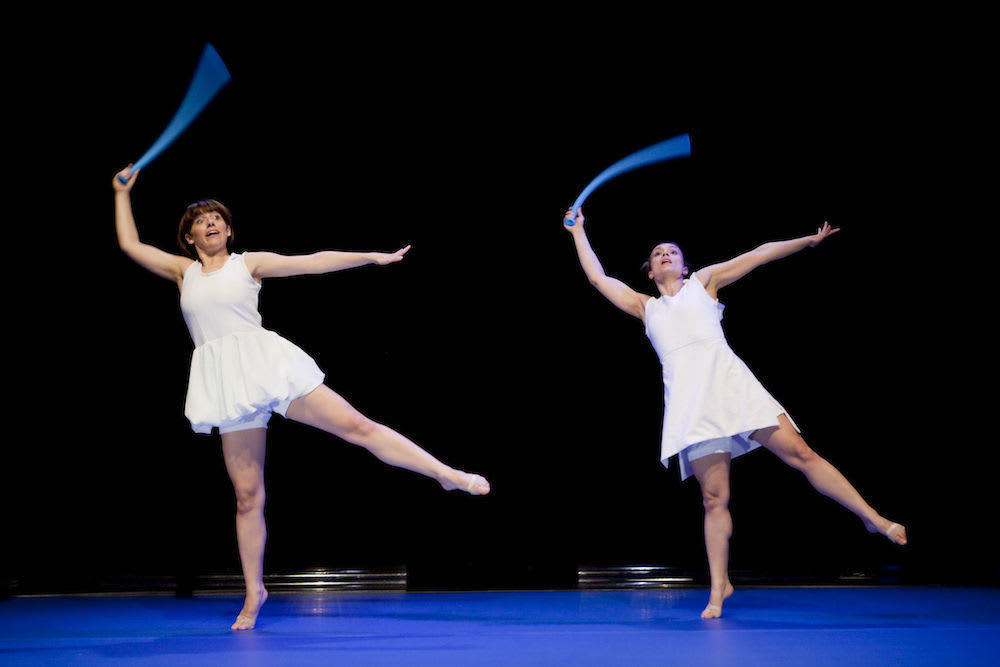 Shh…BANG may be a fun fifty-minute show for tiny tots, but there is intelligence and purpose underpinning its concept, as there always is with Peut-Être Theatre, a company that never talks down to its audience, in this case 3+.
Though on the day I see it I'd say it's three and under. Adults have permission to shed inhibitions, too. We're an Equal Opportunity organization, says Maya Politaki, inviting all to take the stage at the end. And, do they, children all…
Working with Great Ormond Street Hospital (how we hear or not) and the Institute of Acoustics and Vibrations in Southampton University (how sound is generated) the company explore noise and silence (is there such a thing), feel noise and see sound.
In simple white outfits on a floor that changes colour Maya Politaki, a familiar Peut-Être Theatre performer, and Anna Woolhouse, new to me, with few simple props produce a cacophony of sounds, some of which have the children covering their ears, some generating laughter.
A handheld microphone is a wondrous thing, two are better still, timing to Yaniv Fridel's music and sound design is crucial, get it wrong and the spell crumples.
Biscuit crunching, tummy gurgling, brain churning, joints creaking and locking, Velcro straps, zips, mummy's watch ticking, enhanced by dance and Politaki's facial expressions.
That's for starters. It gets zanier. Button noses are pressed – bleeps and foghorns. Yes they come amongst us, some like it, some shy away, but it's all gentle fun.
Tubes whirl and whirr, metal rods conduct sound, Jewish harps call to each other creatures from under the floor, red flouncy skirts are an invitation to the dance. Press them and you'll see.
A world of white noise gives way to a white world of muted sound, to feathers falling, to outer space silence. A feather crashes to the floor, an unexpected phone vibrates in daddy's pocket, Politaki's body becomes an accordion of sound.
Surreal? Of course not, imaginative play is very real to children. Peut-Être Theatre reminds us that there is more on heaven and earth than is imagined… You just have to believe. Or be convinced by expert practitioners of the magic of theatre.
Created and directed by Daphna Attias, devised and performed by Maya Politaki and Anna Woolhouse, there is more to the show than meets the eye and ear. And there is to be no shushing, but shoes will have to come off if children want to set foot on the magical floor.
Movement direction is by Ayse Tashkiran, set, lighting, and design by Jackie Shemesh, costume and props design by Jenny Hayton, dramaturgy by Richard Shannon – so much investment in a show for a small audience… 
Reviewer: Vera Liber