So You Want To Be In Musicals?
Ruthie Henshall with Daniel Bowling
Nick Hern Books
From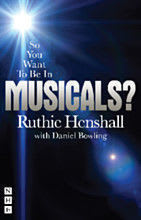 The latest volume in this helpful series has been written by a major exponent of the art of musical theatre, Ruthie Henshall, with the assistance of musical director and lecturer, Daniel Bowling.
While the publishers might like to believe that everybody involved in musical theatre from top to bottom will be rushing out to buy a copy, in reality its most likely target market is the modern day equivalent to Noel Coward's Mrs Worthington and, of course, her enthusiastic young daughter.
Whether you are at school and become tantalised by the prospect that you might be the next Liza Minnelli or Julie Andrews (or of course Ruthie Henshall) considering applying for drama school or a graduate desperate to show your talents to the public, So You Want To Be In Musicals? will prove helpful and informative.
At times, while reading it, even the most enthusiastic 21st-century version of Mrs Worthington's daughter could find herself put off a career on the stage. Physically, learning to become a triple threat i.e. simultaneously good at acting, singing and dancing is extremely hard work and performing eight times a week on the West End stage sounds killing.
In reality, any youngster that is bitten by the musical bug, whether they start out as a dancer like Miss Henshall or are stronger in one of the other two suits, is not going to put off by a little hard work.
As with every other aspect of this profession, the second downside is the struggle to get and maintain work. This is a particular strength of Miss Henshall's advice throughout the volume.
The main thing that she has to offer is practical experience derived from enjoying the ups and downs of life in musical theatre beginning with an early career that featured more waitressing than tap dancing through the slog of being a swing on the chorus line to the days when it became worth paying an agent and manager a third of your income between them to maximise her earning potential.
She is particularly good at suggesting the best ways to go through preparing and auditioning, as well as reconciling yourself to the constant rejections that are almost inevitable, even for a star who has become famous by starring in musicals on both sides of the Atlantic including Chicago, Cats and Marguerite.
Ultimately, poor Mrs Worthington's successor is never going to persuade her daughter to steer away from the stage, so she might as well reconcile herself now and, in preparation for what could be a glittering career filled with fame and fortune, give her daughter a copy of this book.
Reviewer: Philip Fisher