Superior Donuts
Tracy Letts
The Trick and Sarah Stribley Productions
Southwark Playhouse
–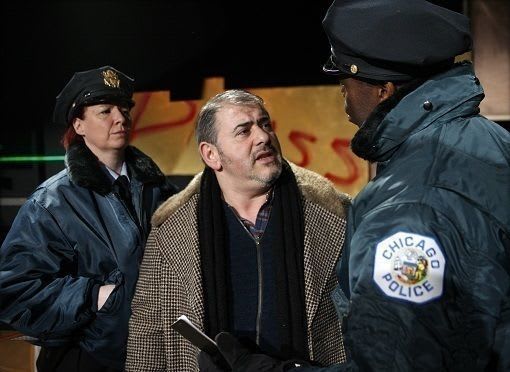 With all due respect to everyone involved in this outstanding production directed by Ned Bennett for The Trick, Superior Donuts is far too good a play to enjoy its British première in the Little Theatre at Southwark Playhouse.
After all, Tracy Letts is a hot proposition at the moment as the movie version of his masterpiece August Osage County hits the big screen up and down the country.
Despite a short run on Broadway, which demands star casting for straight plays, one would have thought that a smaller West End theatre or somewhere just a little beyond would have taken the plunge.
In any event, Bennett and his excellent cast have come up with a presentation that seems just as good as Steppenwolf's version seen on Broadway starring Spinal Tapper Michael McKean, although Fly Davis's set betrays an extremely limited budget.
Tracy Letts's play is strongly reminiscent of August Wilson on top form and offers a deep but often funny and incisive view into the psyche of America today and in flashbacks extends its radical vision over events of the last fifty years.
What looks like a quirky comedy plays out in the eponymous deli/diner in Uptown but far from upmarket Chicago into something considerably darker.
The customers are not so much few and far between as non-existent, at least anyone willing to pay for a doughnut or a coffee.
The 60-year-old family business is run by Arthur P, a left-over 1960s hippie who has always hated to get involved in any kind of conflict, proudly proclaiming himself a Vietnam evader thanks to a Canadian sojourn. In this role, Mitchell Mullen gives an entirely convincing performance at the head of a strong cast who all deliver.
Arthur is so permanently distracted that he can't even recognise that Randy, a female cop played by Sarah Ball, has the hots for him until a new arrival begins to humanise the natural outsider.
Turning up after a random act of vandalism, Jonathan Livingstone's Franco is too good to be true, immediately taking on the role of a good, prodigal son.
He is representative of pretty much every visitor to the establishment, capable of dispensing almost unlimited amounts of wisdom while completely unable to manage his own life properly.
He has however written the great American novel by the age of 21, presumably in the gaps between running with a couple of seriously bad guys.
Other locals drift in and out including Nick Cavaliere as rotund Russian Max, a comic cliché who just happens to be very funny even when delivering racist insults to Franco and the other cop, Trekkie James. Then there is Amanda Walker's baglady Lady, another secret source of good sense for others.
The comedy drifts into something much more serious as violence builds to a stirring battle between the forces of good and evil and an ending, after almost three engrossing hours, suggesting that there is hope for us amidst life's vicissitudes.

Superior Donuts combines a moving plot with some excellent modern aphorisms and good jokes Ned Bennett's memorable British premiere that and richly deserves an instant transfer to a smaller West End theatre.
Reviewer: Philip Fisher