Swan Lake
Production & additional choreography Liam Scarlett, music Pyotr Tchaikovsky
Royal Ballet
Royal Opera House
–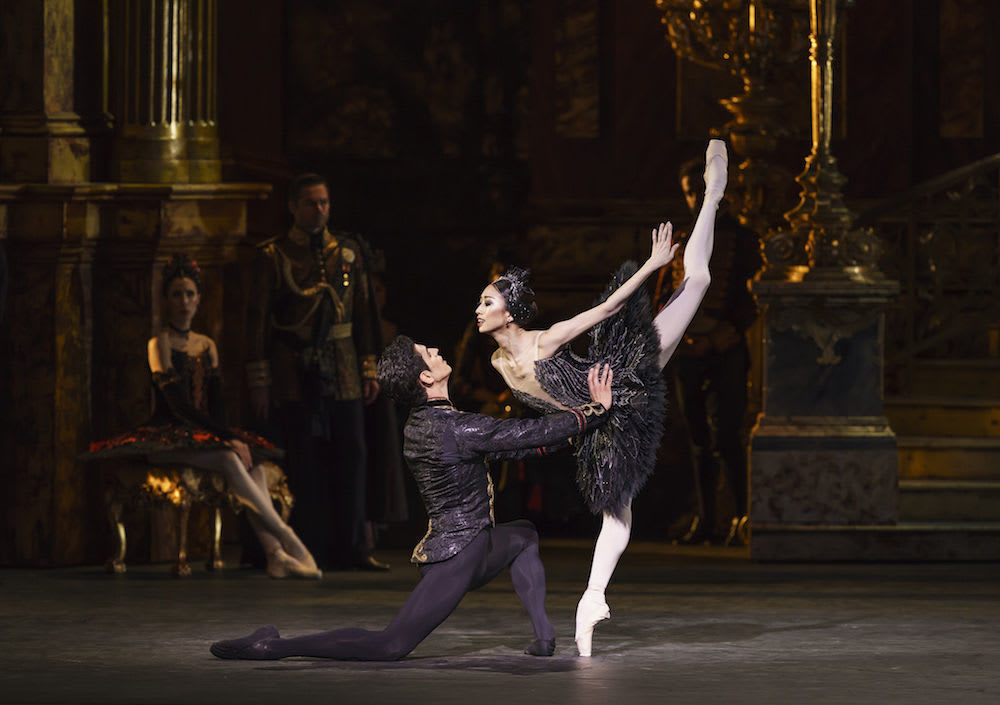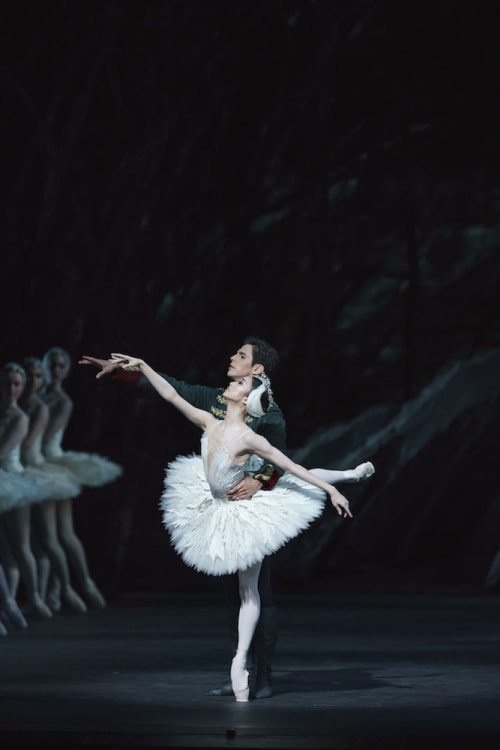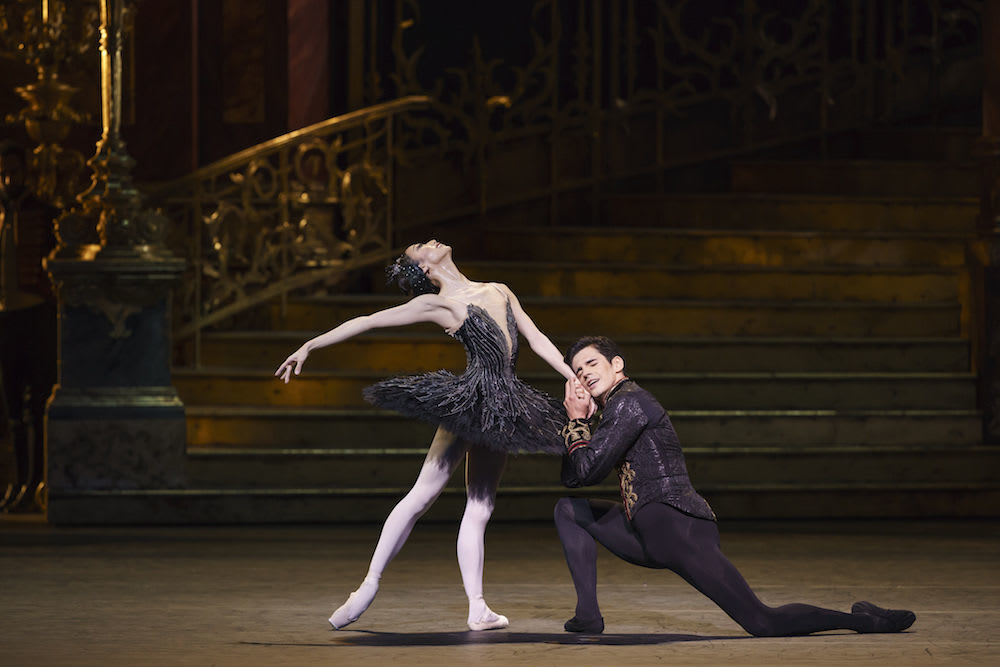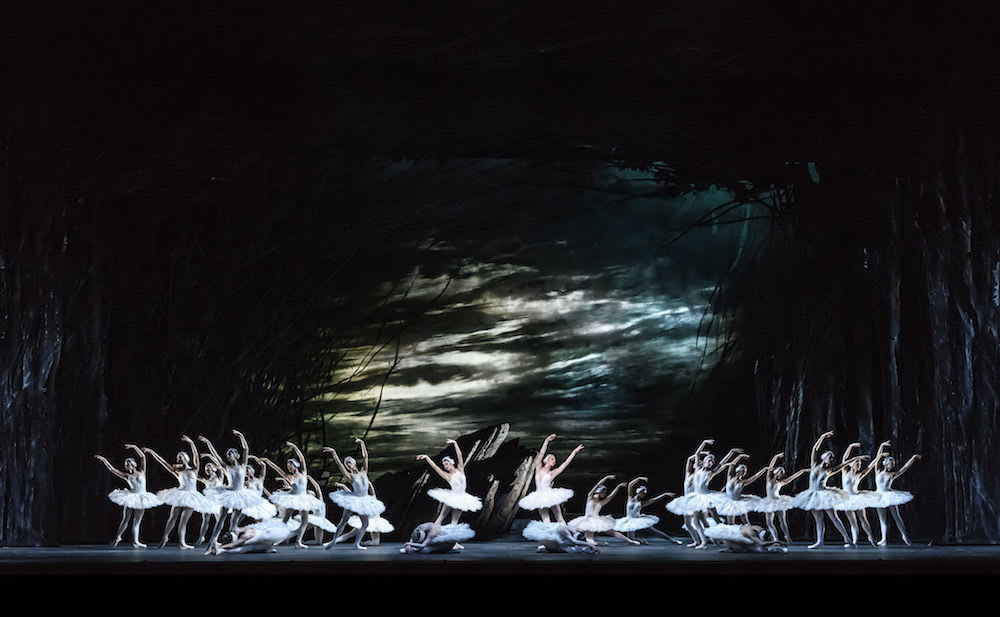 It seems Anthony Dowell's 1987 production of Swan Lake has had its time. Yolanda Sonnabend's design, with its knee-length skirts for the corps de ballet swans, has been retired.
Time for a new generation's thoughts on it, and has Artist in Residence Liam Scarlett rethought it... There are new sets and a mind-boggling 390 magnificent costumes have been made of John Macfarlane's designs. Leg revealing traditional tutus are back in style.
To Tchaikovsky's sublime first score for ballet, Swan Lake has inevitably seen many re-incarnations since its not entirely well received debut production in 1877, but for most, Marius Petipa and Lev Ivanov's (Petipa act one and three palace scenes, Ivanov act two and four white swan lake scenes) successful 1895 Swan Lake is the benchmark of the classical ballet world.
In the Royal Ballet repertoire since 1934, much has been invested in Scarlett's commissioned remake (an evolution he calls it) of Swan Lake. First night was the Royal Ballet's 1,006th performance. I see the 1,010th.
Scarlett can breathe a sigh of relief: on the whole, the first night reviews have been positive with some reservations, ranging from five to three stars. I'd like to see it again before adding my pennyworth—new productions need time to bed in. Scarlett may yet want to tinker with it.
I was unable to see the first night's pairing of Marianela Nuñez (celebrating twenty years with the company) with Vadim Muntagirov (four years with the company and going from strength to strength), but one can see them in the cinema on 12 June.
Six casts are fielded. I seize the opportunity to see Lauren Cuthbertson with Federico Bonelli. It is not to be—injury sees Cuthbertson replaced by Akane Takada, who debuted in the role only a couple of days before.
Not only set, costumes and adapted storyline but Takada as Odette / Odile is a revelation. Promoted to principal in 2016, she has the strongest technique, untroubled by the demands of the role, paired with the most exquisitely expressive arms.
Physically she is a dream, speaking with her body what her face fails to say. Bonelli as Prince Siegfried is a dutiful young man under his mother's imperious thumb. Maybe this is why I fail to catch any spark between the two leads: a princess-turned-swan under the sway of an evil Koshchei-like monster and a prince repressed by the dowager queen (a splendid Elizabeth McGorian) and her scheming Ras/Putin advisor Von Rothbart (Bennet Gartside).
I can see Scarlett's thinking: if the lead ballerina has to be bi-polar as Odette / Odile why not have Von Rothbart transform from the queen's trusted advisor to grotesque sorcerer, marrying the real with the unreal… Act three sees Von Rothbart triumphant, snatching the crown from the queen's head, causing her collapse—is that his aim, to end the dynasty?
From a distance, Gartside has an uncanny Putin physiognomy—I've commented on this before—and here it is used to excellent effect. Dressed in Transylvanian 'Bela Lugosi' black, with his widow-peak hair tied back in long ponytail, he is as much a sinister manipulative presence in court as he is necromancer to the swans.
In act one, we are in what looks like the gardens of the Summer Palace at Tsarskoe Selo; in act three in the opulent gold and rosy marble Winter Palace of St Petersburg in the late nineteenth century. Court, old and young, cadets and debutantes, dressed in couturier costumes. Siegfried now has two sisters, his friend Benno (James Hay) their pas de trois partner (Yuhui Choe a particular delight).
Scarlett has seamlessly incorporated his ideas and changes into Petipa and Ivanov's original, making the company dances in act one and the folk dances, Hungarian, Polish, Spanish, in act three his own, wisely leaving Frederick Ashton's Neapolitan Dance alone, saying "I danced it so often and love it so much, I don't think I could or should touch it." Paul Kay and Anna Rose O'Sullivan dance it with bubbly ballon.
Ivanov's white act two is mostly intact, but act four is Scarlett's—"based on the musical running order that was also used by Ashton"—with something of La Bayadère Shades about it. Here Macfarlane's black set, offsetting the flock of swans' gorgeous white feathery tutus, is indebted to Caspar David Friedrich's Romanticism.
Scarlett's approach, one reads, is to jettison what has always irritated him and Mcfarlane. Hmm. Not all purists will find this matches their ideal. The ending may make better sense to him, but not to all. Gone is that wonderful apotheosis. Scarlett has brought it down to earth. But, he has great musicality, and this is an intelligent production.
I wonder if he's borrowed from Michael Keegan-Dolan's version, in which the White Swan is found at the bottom of the lake? The only way to break the evil spell is for Odette to kill herself. Siegfried has been tricked into betraying his love for her, what else can she do?
Von Rothbart expires on the rocky escarpment by the lake and she lifeless, now once more a princess, in Siegfried's arms. Who said, "all life is an unbroken alternation of harsh reality with swiftly passing dreams and visions of happiness"? Tchaikovsky, of course. A lesson for Siegfried.
Not a supernatural but a melodramatic ending. Scarlett does like to tell a story, the darker the better (Frankenstein, Hansel and Gretel, Sweet Violets).
Reviewer: Vera Liber