Sweet Charity
Book by Neil Simon, music by Cy Coleman, lyrics by Dorothy Fields, based on an original screenplay by Federico Fellini, Tullio Pinelli, Ennio Plaiano
The New Group
Pershing Square Signature Center, New York
–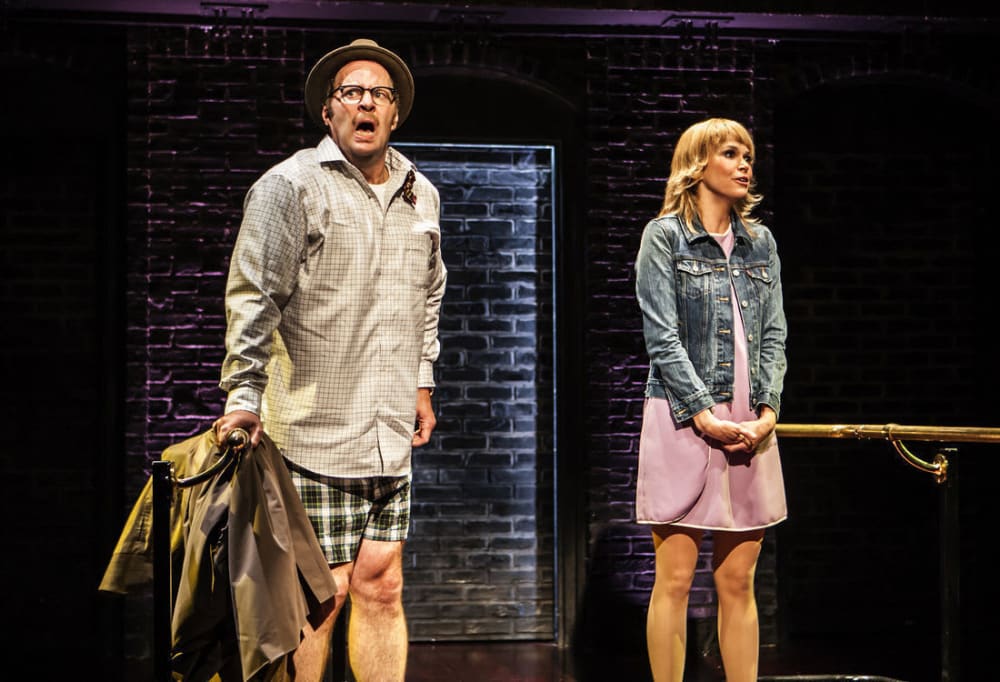 Two factors work together to ensure that anyone lucky enough to have obtained a ticket for The New Group's revival of this classic musical will love the evening.
First, director Leigh Silverman has managed to entice Sutton Foster from the Broadway stages where she excels around the corner to the Pershing Square Signature Center.
Secondly, the New Group has hired the smaller, wide thrust Romulus Linney Courtyard Theater. This means that everything is up close and personal, to the extent that viewers can literally stare into the star's warm brown eyes as she portrays the innocent Charity Hope Valentine in a performance that is competing with Shirley MacLaine who created the film version of a role that Londoners will recall in Sheridan Smith's interpretation at the Menier and then in the West End.
Miss Foster is the ultimate triple threat. In this role, she convincingly exudes innocence, which is not that easy when her character is not that far from a good time girl in her job as a paid-by-the-minute dancer in a seedy hall. Next, she dances like a demon, especially in a tap number that can be dizzying. Lastly, her singing is all that the role requires, even if she may not be an obvious candidate for operatic engagements.
There is more to this production than a glorious solo though. Miss Silverman has deliberately chosen to keep things simple visually.
Her six-piece all-female band is on view sited above and behind the stage. Below, props roll on an off but are kept to a minimum, requiring the cast to fill the imagination.
They do so from the opening numbers. The scene is set as Charity gets dumped, literally, by the beau whose name is tattooed on her arm and callously drops her into a lake, having first rescued her purse and $200.
Next, when the dancers in glittery red dresses that leave little to the imagination get close enough to seduce audience members, let alone the punters at the Fandango Ballroom, as they sing one of a stream of timeless classics, "Hey Big Spender".
Charity's luck is always out but ours is not as, despite the down-to-earth warnings of her colleagues led by Asmeret Ghebremichael and Emily Padgett, she ploughs through potential escape route husbands at a rate of knots.
These include Joel Perez's Vittorio, the film star whose need is for revenge not companionship but does create a farcical closet scene handled with great humour and then Shuler Hensley as Oscar the comical overweight neurotic, who gets close to leaving the 2½-hour show with the happiest of endings.
Along the way, there is much bittersweet comedy that is frequently assisted by Miss Sutton's fragility, kookiness and timing, some great numbers of which "The Rhythm of Life" and "If My Friends Could See Me Now" are memorable in different ways and Joshua Bergasse's literally breath-taking choreography.
This feels far too intimate an evening to enjoy a Broadway transfer but, given the New Group's forays into London, most recently with Buried Child, perhaps that could be an avenue to allow greater numbers to share what is always an intoxicating experience.
Reviewer: Philip Fisher