The Changeling
Thomas Middleton and William Rowley
Young Vic
–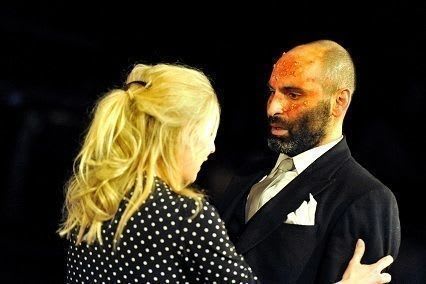 The Young Vic's Deputy Artistic Director, Joe Hill-Gibbins is making a habit of enjoying returns of plays at the Young Vic.

The reason is simple. Like The Beauty Queen of Leenane, The Changeling which has transferred from the Maria Studio to the main stage demands to be seen by much larger audiences than could be accommodated first time around.

Largely recast, this updated revival of a 1622 Jacobean revenge tragedy to savour crackles with gory drama and black humour, providing an exhilarating couple of hours' entertainment.

Shakespeare's contemporaries (and reputed collaborators) really knew a thing or two about firing up their audiences but even the co-writers could not have envisaged a 21st Century version quite like this.

The dress is modern and Ultz's staging determinedly downbeat. This features a set behind netting, bounded by breezeblock walls and looking like nothing so much as a real tennis court, filled with makeshift prefabricated or second-hand props and surrounded by three steep levels of baying spectators.

Rather than stage blood, the gore generally comes by way of foodstuffs, numerous trifles biting the dust generally via actors' costumes.

The tone is set early by Alex Beckett as Jasperino, a servant who specialises in low, lusty humour and somehow manages to be simultaneously threatening but very funny.

The story is told pretty faithfully, with the language only mildly souped up for the present day. The central character, Beatrice-Joanna, is a spoilt little rich girl who, in the person of Sinead Matthews, might be no more than 13.

Daddy has found her a rather tiresome husband in Piracquo but on seeing Harry Hadden-Paton's Naval Officer Alsemero, she gets tragically lustful ideas.

In order to fulfil her wicked dreams and make an assignation with fate, the girl enlists the assistance of the repulsive but very aptly named De Flores, played by Zubin Varla, though her natural instinct is to treat the devoted servant like a rabid dog.

However, this horribly disfigured monster, seemingly modelled on Jonny Lee Miller as Frankenstein, loves her with a vengeance and cold-blooded murder is not an issue if he can share her bed as a reward.

While the courtly shenanigans are going on in the big castle, they are ironically mirrored in a madhouse down the road allowing Eleanor Matsuura to have great fun as slutty Isabella. The actress is one of a number of performers who inventively double parts, also making hay as Beatrice-Joanna's servant Diaphanta in a post-Shakespearean bed-swapping escapade.

What makes this impeccably acted production so lively is the pacing but also the director's unique vision which cleverly combines period plotting with scenes bringing things up to date.

The best of the modern introductions is a joyous speeded-up, disco-wedding that veers uncertainly between dream and nightmare to a heady soundtrack including Mendelssohn (plus bass beat), Beyoncé and Phil Collins. Then again, the sex scenes are really something else, as is the patented virginity test.

Anyone that enjoys seeing the classics updated or relishes over the top post-modern auteur's theatre would do well to head down to Southwark for an unforgettably raucous antidote to the traditional Christmas fare.
Reviewer: Philip Fisher