The Doctor
Robert Icke, Very Freely Adapted from Arthur Schnitzler's Professor Bernhardi
Almeida Theatre
–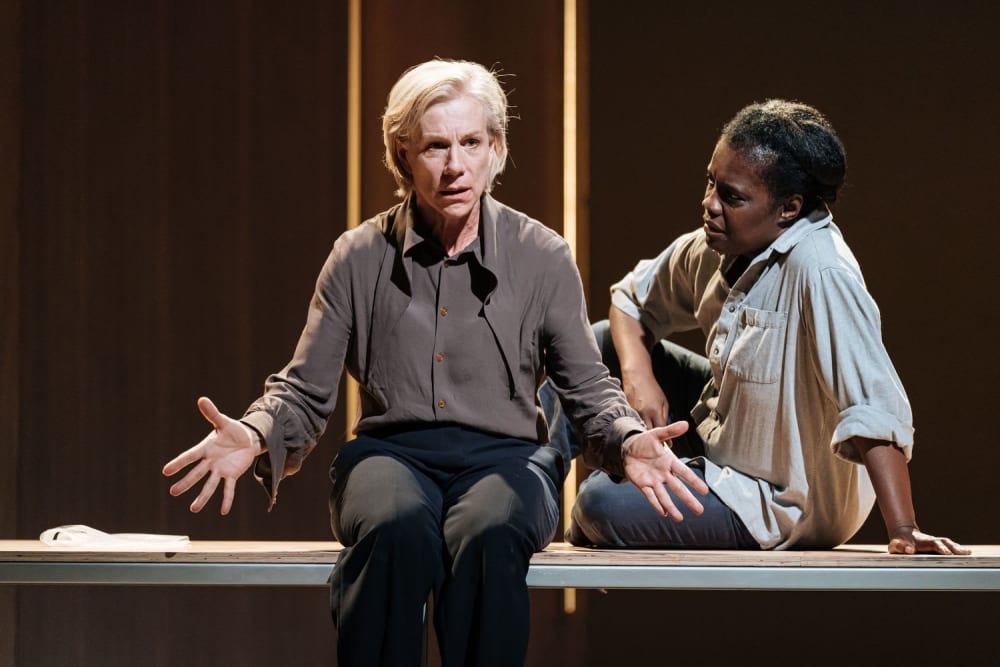 As auteur Robert Icke readily admits, this 2¾-hour presentation in his characteristic bare-stage style has been "very freely adapted" from a 1912 play by the writer best known for La Ronde a.k.a. The Blue Room.
What starts out as a promising evening with echoes of Ibsen's An Enemy of the People very soon loses its dramatic shape and becomes a series of arguments or debates masquerading as a play.
Much of the underlying subject matter addresses some of the most important issues that we face today but the attempts to hang these on the structure of a story in which Dr Ruth Wolff, brilliantly played by Juliet Stevenson who peaks as her character succumbs to anguish and despair, almost disappear after the interval.
Before that, much of the drama takes place in a medical Institute where the strong-willed doctor repels the efforts of Paul Higgins's Catholic priest to give the last rights to a 14-year-old girl dying following a botched self-abortion attempt.
The evening is not helped by a very worthy but extremely confusing effort to promote gender and race neutrality and blindness. It takes a great deal of explanation to persuade viewers that several of the characters they are observing are not as they seem. Indeed, the gender of the Doctor's (life) partner, who drift in out of the action as if in a dream, is never established.
The overheated debate takes place amongst the doctors at the privately-funded Institute, so influential that it is being mooted as the perspective home to a Nobel Prize-winner and attracts the attention of Nathalie Armin as a sly government minister keen on some positive publicity.
In one camp are those who are keen to maximise income, while on the other people who might best be described as Catholic fundamentalists.
The racial element also begins to gain momentum, while in a subplot we see a relationship growing between a bright but uncultured youngster, played very convincingly by Ria Zmitrowicz, who inexplicably wishes to treat the doctor as a surrogate mother.
As with so much else in this play, this plotline takes second place to contrivance designed to allow the writer/director to get views across.
One consequence is that a theme that probably deserves 90 minutes of playing time takes not far short of twice as long to reach a somewhat clunky conclusion.
After the interval, a series of scenes is used to explore issues of media intrusion, race, religion and gender including an unbelievable encounter with the deceased's emotional father and a strange TV panel during which the doctor is excoriated by a completely unrepresentative but wholly opinionated grouping, she behaving most uncharacteristically throughout.
This review might suggest that The Doctor has little merit. In fact, some of the debate is fascinating, while the acting is strong, particularly from Juliet Stevenson who could find herself nominated for awards as a result. The experience could have been even better, had there been greater concentration on following the plot through to its natural conclusion, while getting lost along the way a little bit less frequently.
Reviewer: Philip Fisher