The Four Temperaments / Untouchable / Song of the Earth
Choreography by George Balanchine, Hofesh Shechter, Kenneth MacMillan
The Royal Ballet
Royal Opera House
–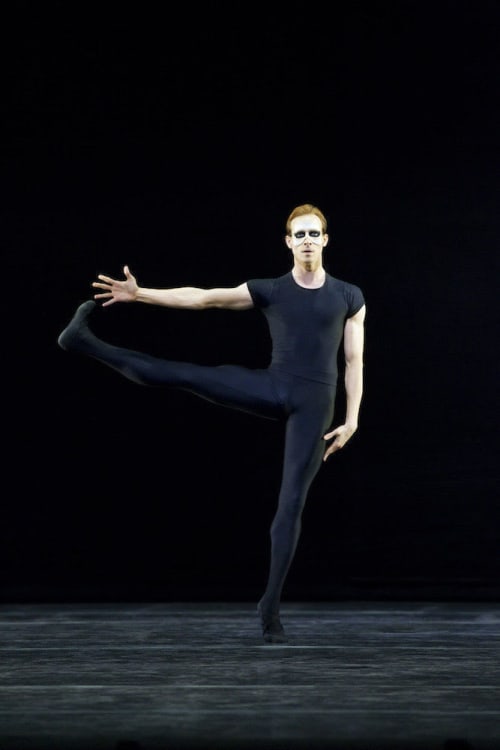 Much has been made of the fact that an outsider (whatever that means) has been commissioned by the Royal Ballet to create a work that will probably be out of the comfort zone of The Royal Opera House's regular patrons… A clash of cultures... Would you be intimidated? Or would you think it validates your talent? Both I'd say.
A tenuous link, but Balanchine was an alien in New York, and MacMillan had to take his Song of the Earth to Stuttgart when the Royal Opera House board turned him down, though both were masters of their classical ballet craft.
Hofesh Shechter (the outsider) claims not to know the work of these maestri buffering his central piece—George Balanchine's 1946 The Four Temperaments and Kenneth MacMillan's 1965 Song of the Earth—and chooses not to be exposed to them in order 'to come to the piece clean'. I wish he'd grasped the nettle and watched them.
Would it have made any difference? Maybe some cross-fertilisation between classical discipline and contemporary freedom… As it is, what we get in the half-hour-long Untouchable is the usual singular Shechter loping hunched huddled masses style.
More Roundhouse than Royal Opera House: Shechter has said that he likes people to go to his work as if it were a gig, a club scene (though the decibels have been curbed for the august House), to leave their brains behind and just feel it.
If you feel it, it is amazing. Gut-wrenching layers of sound: viola strings, drums and electronica. His work is personal, political, and for everyone, for the community: the music invites you to join in. No inhibitions, rise to the dervish arm-waving folk dancing of Israel, the Balkans, the Middle East.
Twenty dancers—from 'the younger ranks of the corps de ballet, coryphées and soloists', more men than women, moulded into an army of insurgents in Holly Waddington's designer-chic unisex desert fatigues—appear out of the fog. A boot camp?
Military formation and marching in step, martial arts, ballet arms in salute, controlled disorder, sudden stillness, chest beatings, and crazy hypnotic rhythms. Very simple, very familiar, repetitive vocabulary and syntax—it runs out of sustaining language towards the end—but strangely affective.
Stealthy earthbound realignments, angry gestures, and a pulse drawn from deep within the body—not the usual workout for Royal Ballet hothouse blooms, but they come at it with ferocious sinuousness, Kristen McNally in particular.
Lee Curran backlights them to powerful effect. The attraction of being part of this group, of a collective identity, may even suggest the misguided lure of ISIS. The romance of it, the primitive pull, but the horror does come. Some try to peel away, but are drawn back. Challenge us if you dare…
How many choreographers compose their own score, keeping a tight grip on their vision (which has not changed much over the years)? This time, percussion-trained Shechter and regular collaborator Nell Catchpole have the Orchestra of The Royal Opera House at their disposal, including twelve percussionists on bass and frame drums.
And a new audience… Well, not entirely. His loyal fan club has followed him: the loud cheers, the deafening applause, and the empty seats after the interval. They don't stay for MacMillan's Song of the Earth. Sacrilege…
Another trope is a teasing wit: Consuelo Velásquez' Besame Mucho and what most people are convinced are repeated shouts of 'Nigel Farage'. Surely not, this must be the ear deceiving us: Arabic / Israeli words that sound very like…
Balanchine's thirty-minute piece that precedes Untouchable—to Paul Hindemith's themes and variations on human emotional dispositions—is a cool number by comparison, bearing evidence of his Broadway work and love of Stravinsky.
Women in black leotards, men in white T-shirts and black tights—practice clothes—form patterns, thrust pelvises, stab the floor with pointe shoes, flex feet and high kick in entangled relationships.
Second cast Vadim Muntagirov is a soulful Melancholic (very suitable for a Russian) dreamer, Eric Underwood wonderfully cool as a wrist-flicking Phlegmatic, Akane Takada and Federico Bonelli delightfully Sanguinic—the American idiom seems to suit him very well—and Zenaida Yanowsky a fabulous diva as Choleric, her long legs seeing everyone off.
Yuhui Choe continues to work her spell here and in MacMillan's Song of the Earth. Sixty-five minutes of Mahler, his six songs sung by tenor Thomas Randle and mezzo-soprano Catherine Wyn-Rogers, may not be the best way to end the evening—on a melancholy meditative note of absence and loss. What if the MacMillan and the Balanchine were to swop places?
Edward Watson replaces an indisposed Steven McRae as the Messenger of Death—I hear some disappointed people—and brings his usual intensity to the role. Laura Morera is an enigmatic Woman, and Nehemiah Kish a respectful submissive Man, their relationship inscrutable.
The company evokes the content and Chinese origins of Mahler's songs, girls picking flowers, boys a-courting and a-drinking; all unaware that Death stalks them, as it stalked Mahler (eldest daughter dead, and he with a heart condition) when he wrote it.
Horns, drums, strings call them to the inevitable. Enjoy your youth and ephemeral beauty whilst you can, for death is close by, shadowing, riding your back, hands covering your eyes so you don't see it.
Puppets all, MacMillan's choreography seems to be saying. Bourrée as much as you like, play peekaboo, but you won't get away. Light and joyful, sad and soulful, lyrical and mournful, Song of the Earth is no less than the drama (I want to put capitals here) of life, a breath away from that eternal bright light.
Reviewer: Vera Liber