The Head and the Load
Concept and director William Kentridge, music Philip Miller and Thuthuka Sibisi
Tate Modern Turbine Hall
–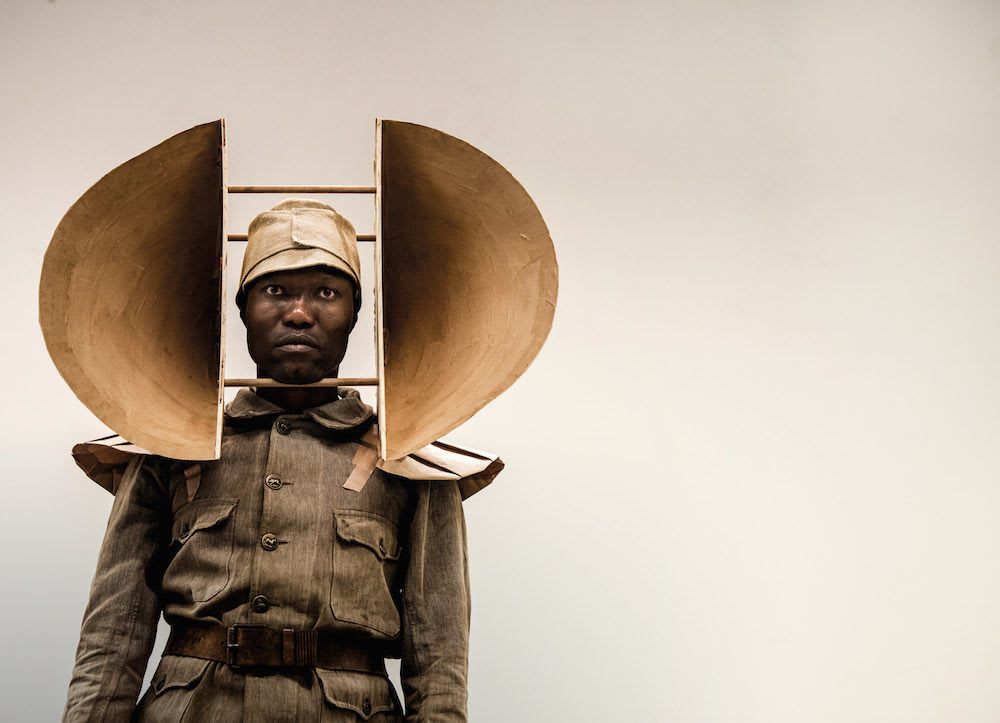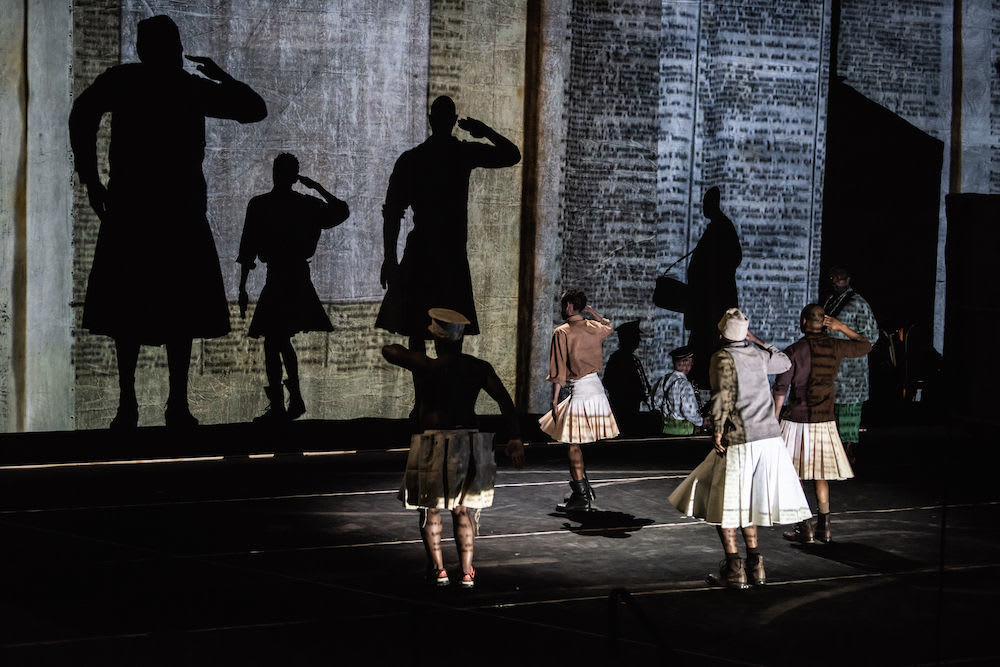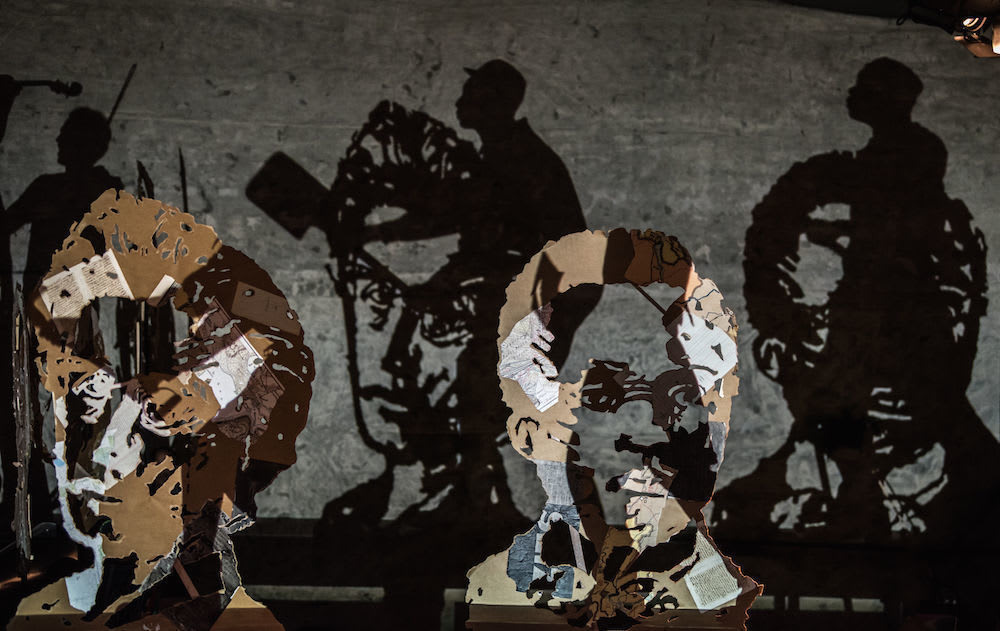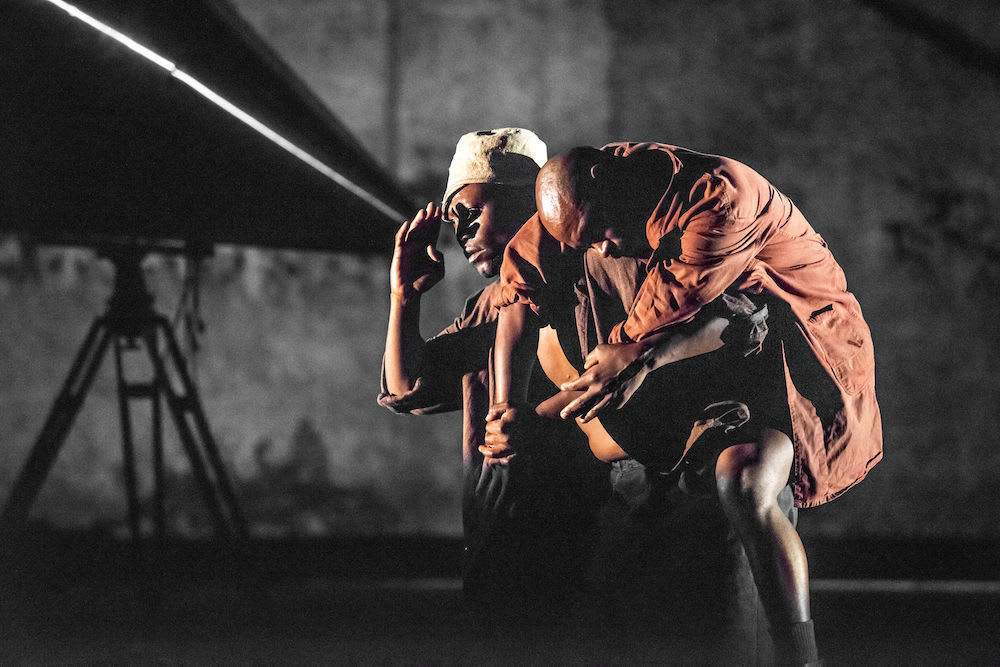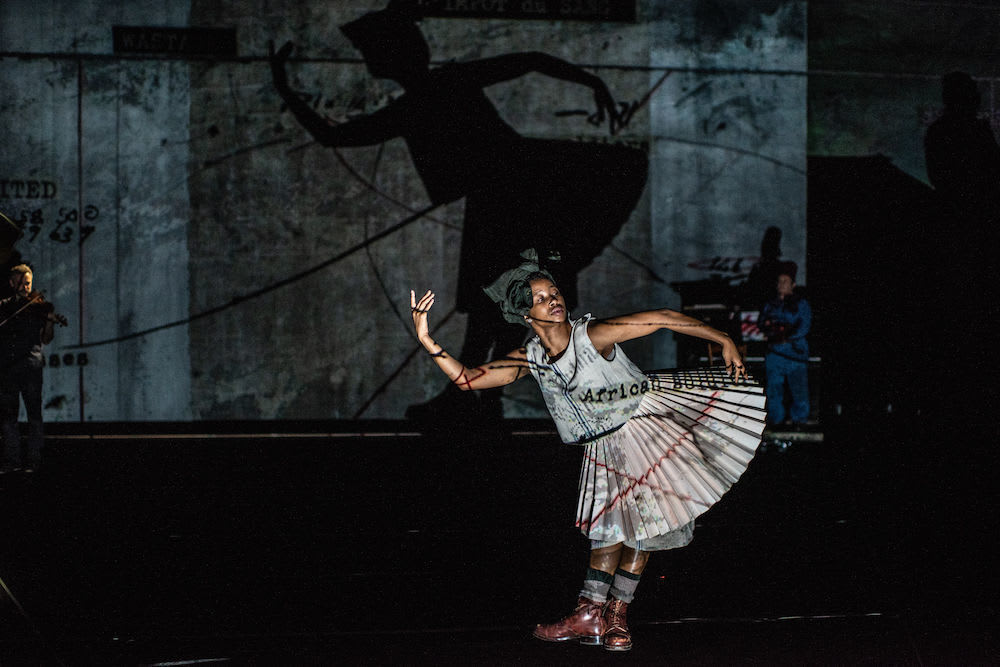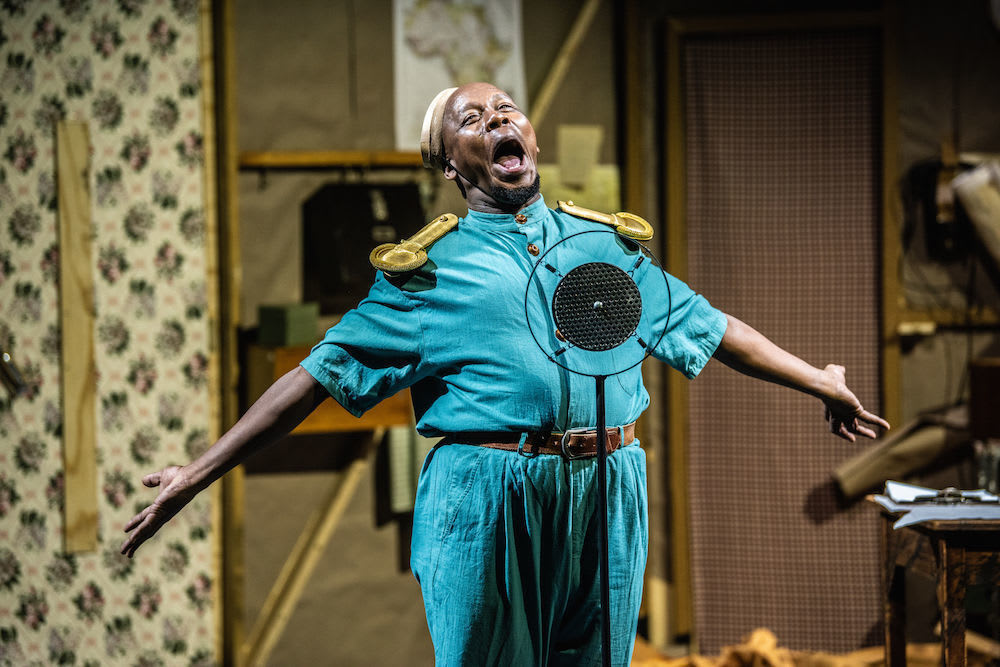 Where to begin with this seventy-minute no interval, fabulous, complex, epic assault on the senses, which tells the shaming untold story of the African porters and carriers who served in British, French and German forces during WWI? A necessary history lesson and a workout for the brain... "Wisdom killed the wise man."
And what's with the English National Anthem, sung so brilliantly and sincerely by Africans, fourteen of them spread across the stage? Is this meant to be ironic? Or colonial subjugation?
The imaginative landscape—it stretches like a railway track across the length of the flat part of the Turbine Hall—of The Head and the Load is a stimulating jumble, a collage of ideas, words, music, dance (a poignant male duet), film projections, mechanised sculptures (a bit Jean Tinguely) and shadow play. Not to mention the unforgiving sultry heat inside—one could easily imagine being in the wide African veld?
One has to read the stage like a musical score, right to left, and then left to right—a game of tennis perhaps. Events take place far away and close to wherever one is sitting. The answer is to watch and listen to whatever catches the eye and ear.
My notebook is a jumble of connections (Tacita Dean even), trigger points and quotes. I wonder what others dredge up in their mind's eye. That's the beauty of art, or in this case, performance art. It gets a lengthy standing ovation on its fourth night. Although I think I hear Kwame Kwei-Armah having a grumble…
The creative team is amazing: composer Philip Miller, co-composer / music director Thuthuka Sibisi, video designers Catherine Meyburgh, Janus Fouche, Žana Marović, choreographer Gregory Maqoma, designers Greta Goiris (costume), Sabine Theunissen (set), Urs Schonebaum (lighting), Mark Grey (sound), cinematographer Duško Marović, orchestration Michael Atkinson and Philip Miller.
Plus "an original score that draws on a wide range of traditions". Orchestra collective The Knights perform along with an international cast of singers, dancers and performers, many of whom are based in South Africa, and the musicians and singers are superb. Operatic voices, jazzy, ethnic, voices as sirens and foghorns, a lovely fin de siècle song, a waltz. Wondrous sounds. They remind me of the Isango Ensemble.
I could have happily closed my eyes. But what are these fantastical creatures in their motley outfits: speaker heads, Prussian spiked helmet, white pleated kilts? I think Woyzeck, I think Oskar Schlemmer; Kentridge references Kurt Schwitters.
I think the Picasso-designed Parade ballet to Erik Satie's music (1917); he talks of Tristan Tzara, Wilfred Owen and a dog barking. He mentions Satie in the programme notes, and Ravel, Hindemith and Schoenberg. I see Pabst's Lulu and a Metropolis robot in one woman… Influences and references—I wonder do we coincide or am I imagining this. Reality and imagination… the variable and malleable mind… a work of art completed by the viewer…
Basically, it's Africa intercut with the European avant-garde of the World War I period. A cacophony of sound and voices, a multitude of voices, but what is anyone saying? The Head and the Load… "are the trouble of the neck" is the subtext on the wall. A soldier performs a mechanical dance, a drill routine, turning this way and that.
Read the images that speak louder than words on the wide screen: old film of African conscripts marching; cut-out shadows of their heavy loads intermingle with animated sketches. On and on they tramp—I think of Daniil Kharms and his surreal and absurdist verse. And finally liberty: is that Jomo Kenyatta, Kwame Nkrumah, polling stations?
The moveable set—giant megaphone, huge camera flashlights (I think), magical boxes, crates that open into rooms filled with bands of superlative musicians; lookout towers that make me think of Tatlin, a man in a gasmask of Rodchenko's design for Mayakovsky's Bedbug. He is the last one standing, a little man looking up in wonder at the quiet sky.
The last one of "hundreds of thousands" of forgotten men of Africa forcibly conscripted into the white man's war, the First World War. For The Head and the Load is about righting a wrong, about remembering them, about colonialism at its most venal, where the black man was more expendable than the animals. Wastage was high and was factored in.
This is a typical William Kentridge project mixing multiple artistic disciplines with political art, with his anti-apartheid and anti-colonialism sentiments. He has a degree in Political Sciences and African Studies; he studied with Jacques Lecoq; he makes animated films, stages Dadaist plays; directs avant-garde operas. To say I am a fan is an understatement.
His dramatic charcoal drawings over newsprint have exhibited at the RA Summer Show. His 2012/13 Tate Modern Tanks video installation show, I am not me, the horse is not mine, referenced Russian modernism. His 2016/17 exhibition at the Whitechapel gallery, Thick Time, included his Avignon Festival's 2012 Refuse the Hour / The Refusal of Time (music Philip Miller, choreography by Dada Masilo of Swan Lake fame.
All of these I've seen and I go back for more. He stimulates and intrigues. His exhibitions and shows sell out, as has The Head & the Load, co-commissioned by 14-18 NOW: WWI Centenary Commissions, Park Avenue Armory, Ruhrtriennale and MASS MoCA with additional support from Holland Festival.
British Theatre Guide has reviewed his Woyzeck on the Highveld (Barbican 2011), Ubu and the Truth Commission (Edinburgh Festival 2014) and his Alban Berg Lulu (ENO 2016). I wish I'd seen his production of Shostakovich's The Nose at New York's Metropolitan Opera in 2010.
A man of many talents—he directs, acts, designs in a distinctive style, which he acknowledges as Dada. But what strikes me at tonight's world première is that he is also playing with language, which leads me to ZAUM (early Russian avant-garde 1913), which translates from the Russian as beyond the mind. And to the 1913 Victory Over the Sun, a Futurist Russian opera.
A quote from nineteenth century poet Fyodor Tyutchev also springs to mind: "Russia cannot be understood with the mind alone". That certainly applies here: a strange crew and a strange brew.
Sound symbolism, a Babel of languages: various African, the acquired colonial languages, some subtitled, some not, comical German and French sounds. Much sounds gibberish. But let's not forget body language (the German general posturing like Trump) or semiotics.
I wish I could list them all, the singers, dancers and musicians, but you can access a PDF programme online, where you will see that the 'play' has three acts: Manifestos (six subheadings), Paradox (six again), and War (nine subheadings). And there is plenty on Kentridge online. If the absurd is to your taste and you don't know his work, try him.
His mission statement is worth quoting in full: "The Head & the Load is about Africa and Africans in the First World War. That is to say about all the contradictions and paradoxes of colonialism that were heated and compressed by the circumstances of the war. It is about historical incomprehension (and inaudibility and invisibility). The colonial logic towards the black participants could be summed up: 'Lest their actions merit recognition, their deeds must not be recorded.' The Head & the Load aims to recognise and record."
I remember seeing a film of Kentridge working in his studio, ripping pages out of old dictionaries—layers of meaning. Here he draws birds on them, only to have them blown up as target practice. Metaphor enough.
Reviewer: Vera Liber